ESSENCES OF CUSCO
03 DAYS | 02 NIGHTS
Cod: CUS01
DAY 01: CUSCO
Arrival in Cusco, reception and transfer to the selected hotel. Rest of the day free to acclimatize to the altitude of 3,350 m.a.s.l. Approximately.
Accommodation in Cusco.
DAY 02: CUSCO - MACHU PICCHU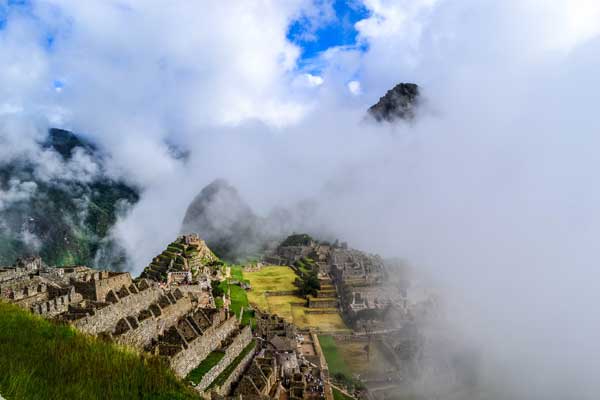 At the agreed time, transfer to the train station to start our trip to the citadel of Machu Picchu, after a 3:15 hrs. tour. We will arrive at Puente Ruinas station, where we will take the buses that will take us to the Lost City of the Incas, "Machu Picchu", the most famous example of Inca architecture, was discovered in 1911. We will enjoy a guided tour of the main buildings of the citadel such as: El Mirador, Templo of the three windows. El Intihuatana, The square principal, etc. At the end of this tour we will take the bus down to the city of Aguas Calientes where we will have lunch in a local restaurant. In the afternoon, departure by train to Cusco. Arrival to Cusco city and transfer to the hotel.
Accommodation in Cusco.
DAY 03: CUSCO
Breakfast at the hotel. At the appropriate time transfer out.
END OF OUR SERVICES
Important:
Breakfast on this day will depend on the time of departure from the hotel.
The hours of the excursions will be reconfirmed at the destination.
INCLUDES:
Transfers In / Out in Cusco.
02 Nights of lodging in Cusco with breakfasts.
Machu Picchu with lunch, by Expedition Peru Rail or Executive Inca Rail (subject to availability).
Shared services with professional Spanish or English speaking guides.
Entrance fees to the attractions included
NOT INCLUDE:
National or international air tickets.
Services not detailed in the program.
Tours Relacionados
Included: Cusco City tour, Sacred Valley of the Inkas, South Valley of Cusco and Machupicchu Inca City. We leave every day

WONDERS OF CUSCO : You found the perfect package that is more adapted to the interests of our travelers arriving in Cusco, in short is the best designed trip of Cusco and in the exactly time needed

Cusco is the capital of Tahuantinsuyo, the Inka´s Country, the center of the empire of the four regions and the navel of the Inka world