Humantay Lake Full Day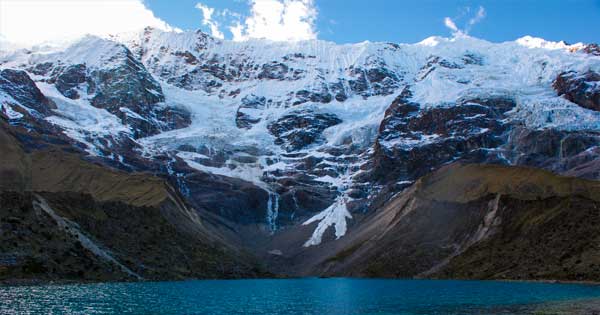 At Humantay Lake Full Day you can find spectacular scenery with exotic flora and fauna along this trek adventure you will find beautiful valleys and snow-capped mountains and one of the most important and sacred lake.
ITINERARY
Pick up from your hotel, we will begin our adventure towards Lake Humantay with a 4 hours private transportation to Soraypampa (3850 masl).
Soraypampa is the camp for the first day of the Salkantay Trek. In Soraypampa we will have a delicious breakfast to start our day before starting our trek. In Soraypampa we will begin our trek to Humantay Lake (4200 masl) with beautiful views and if the sky is clear enough, we can even see the impressive Apus Salcantay and Humantay (The Apus are the spirits of the mountains).
It is a 1.5 hour walk to the lake with a low to moderate difficulty, but it will be more than worth it when you see the magical view. It is also possible to rent a horse in its place. We will have enough time to take photos, bring an offer to the Apus, and for the true bravest; Swim in the lake when it's sunny! After some free time, we will begin our descent to Soraypampa of approximately 1.5 hours, which is much easier than climbing. In Soraypampa we will wait for lunch and after a bit of rest we will return to Cusco where we will arrive at 6:00 pm
END OF OUR SERVICES
INCLUDES
Transport to/from Soraypampa
1 Breakfast
Professional English/Spanish speaking guide
1 Lunch.
First aid kit and oxygen tank.
Vegetarian options / special diet available
Not Included
Horses
Additional Personal horse for riding 30.00 USD
Tips for the wranglers and guides
YOU HAVE TO BRING
Poncho/raincoat.
Warm clothes.
A bottle of water.
Strong walking shoes/tennis shoes
Sunscreen
Camera and films
Extra money for souvenirs, drinks and TIPS.
Tours Relacionados
El clásico Salkantay trek a Machu Picchu es una alternativa al tradicional Camino Inca. El camino sagrado es una experiencia de vanguardia para la aventura.Para viajeros que buscan un poco más de privacidad y autenticidad. Con más vistas espectaculares, la caminata a Machu Picchu ofrecen tranquilidad y la contemplación de la naturaleza rica del parque nacional de Machu Picchu.

El Camino Inca este corresponde a una ruta de 45 kilómetros aproximadamente, pasando por altas montañas y extraordinarios paisajes; transitando por diversos pisos ecológicos con abundante variedad de Flora y Fauna; el camino en algunos tramos presenta empedrados originales, para recorrerlo se requiere de 4 dias y termina en la imponente Ciudadela Inka del camino inca a Machu picchu.

Este tour de aventura le ofrece los mejores vistas del valle, gente de los andes, diferentes nevados, lagunas en los campamentos serán en diferentes comunidades donde podremos apreciarla belleza de vistas panorámicas, cada día recorriendo una ruta alternativa al camino Inca clásico de lares trek.