INCA TRAIL TO MACHU PICCHU 04 DAYS AND 03 NIGHTS
This trek is a calmly variant of the traditional Inca Trail with Machu Picchu as its final destination. It is the most popular route and known among domestic and foreign tourists.
The total hike is about 50 kilometers and takes five days, including a day visiting the archaeological site of Machu Picchu.
There is a breathtaking surrounding nature . With breathtaking views of snow-capped mountains, walk along the Inca Trail to Machu Picchu is through the jungle in the middle of astonishing archaeological remains. It is an unforgettable experience on the Inca Trail to Machu Picchu.
PROGRAMA:
DAY 1
6:30 a.m. - 4:00 p.m.
Transfer by bus from (Cusco)Hotel to Km 82
Trekking in Piscacucho.KM 82 (way to Wayllabamba)
PISCACUCHO - WAYLLABAMBA
DAY 2
8:00 a.m. - 4:00 p.m.
Trekking
WAYLLABAMBA – LLULLUCHAPAMPA
LLULLUCHAPAMPA – PACAYMAYU
DAY 3
8:00 a.m. - 4:00 p.m.
Trekking
PACAYMAYU –PHUYUPATAMARCA
PHUYUPATAMARCA-WIÑAYHUAYNA
DAY 4
Trekking
4:30 a.m. – 8:00 a.m.
WIÑAYHUAYNA – MACHUPICCHU

8:00 a.m. - 11:00 a.m.
INKA CITADEL guided tour of Machu Picchu.
Afternoon, Free time in Machupicchu.

Optional: Machupicchu Pueblo, visit "HOT SPRINGS".

Afternoon: train return to Ollantaytambo and bus to Cusco.
ITINERARY:
DAY 01: CUSCO - KM 82 (PISCACUCHO) - WAYLLABAMBA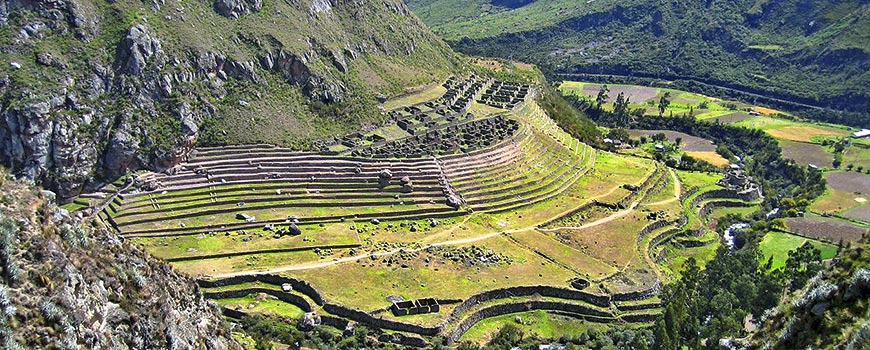 At 6:30 a.m. Our guide will go through the hotel and then transported by bus to Km 82 where we will be arriving approximately 10:00 am in this place we will be happy to know the team that will accompany us during our trek, such as porters, camp assistants, cooks, etc..start walking.
This first day is pretty easy in the first km, have a beautiful view of Mount Veronica and walk along the river Vilcanota until Patallacta archaeological site, after lunch we continue until Huayllabamba where we'll set up camp for our first night.
Meals: Lunch, Dinner.
DAY 02: WAYLLABAMBA - LLULLUCHAPAMPA - PACAYMAYO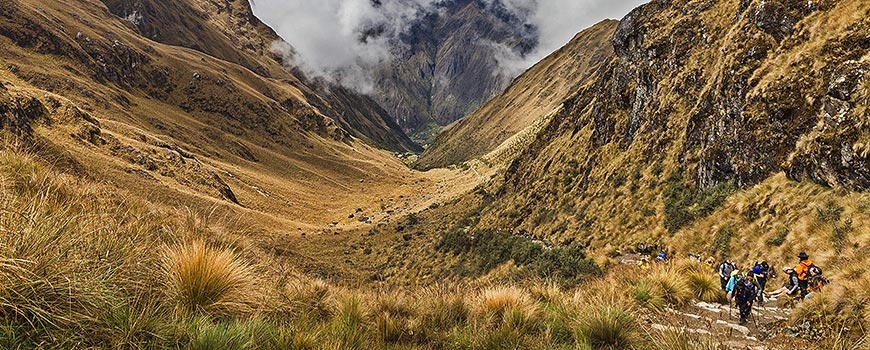 After a hearty breakfast, begin our second day of trekking, perhaps the most difficult, because we have to climb to a pass of Warmihuañusca, at 4,200 m .. In this place, the highest in the Inca Trail, we can enjoy a panoramic view of the mountains that surround the open. After lunch the descent into the valley of Pacaymayo, where we will make our second camp.
Meals: Breakfast, Lunch, Dinner
DAY 03: PACAYMAYO - PHUYUPATAMARCA – WIÑAYWAYNA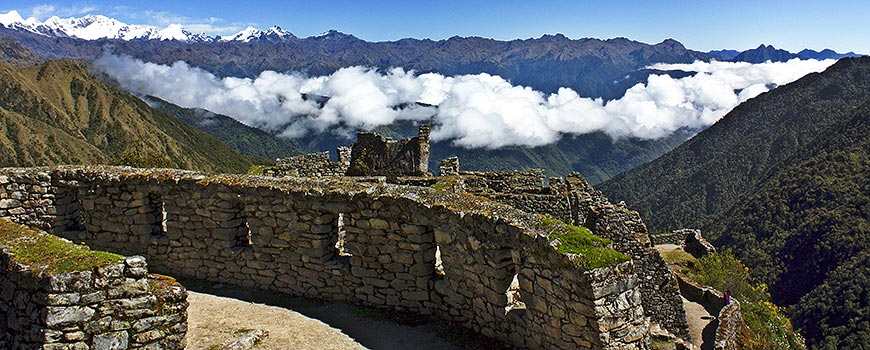 Early morning after our delicious breakfast we return to the path. We head off towards Runkuracay to visit its archaeological remains, then continue hiking to the 3,900- meter mountain pass with the same name, where we begin our descent to the ruins of Sayacmarca. After lunch, our hike takes us to WiñayWayna, which will be our last night in camp.
Optional: we can use the showers of the restaurant that exists in the place, good choice to take a cold or hot shower.
Meals: Breakfast, Lunch, Dinner.
DAY 04: WIÑAYHUAYNA - MACHU PICCHU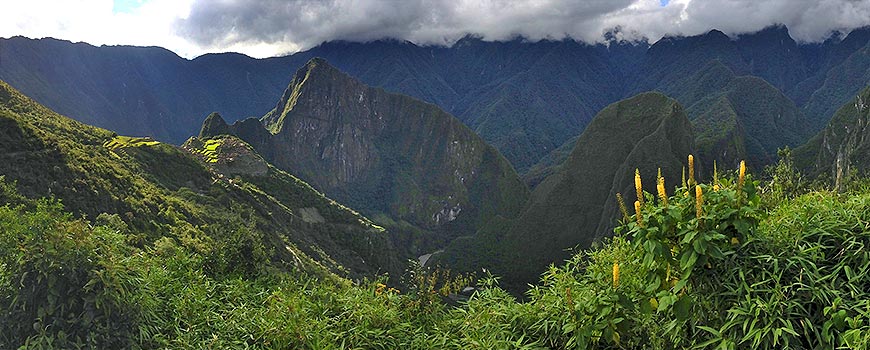 After breakfast continue the hiking to reach Intipunku (Door of the Sun), where we have a spectacular panoramic view of the citadel of Machu Picchu. We descent to the city of Machu Picchu and the start a walking tour (approximately 2 hours) by your guide and after this you can explore the mysterious city by yourselves.
You will meet your guide in AguasCalientes, Optional evening visit to the Hot Springs. Overnight in Machupicchu Village.
Afternoon train back to (to Ollantaytambo) and bus to Cusco. We'll be in Cusco approximately at 22:30 pm.
Meals: Breakfast.
NOTE:
Itinerary is subject to change depending on time of booking and campsites provided by INC (an institution that runs the Inca Trail).
The camps can vary depending on climate and health status of clients.
Train Included in all tours is Expedition Service (to Ollantaytambo) Train times will only be confirmed close to the time of the trek, if join a group late in the day we can't guarantee you will travel on the same trains as the rest of the group.
Train time is subject to change depending on Peru Rail timetable and availability.
To qualify as a student, it is necessary to have a valid ISIC card. scan and email us at the time of booking.
Included:
Transfers In / Out
Transportation Cusco-Km 82. Piscacucho. (Start walking)
Professional bilingual Tour guide.
Assistant tour guide (for groups of 9 or more people)
Entrance Fee to Inka Trail and Machu Picchu.
03 breakfasts, 3 lunches, 3 afternoon snacks, 3 dinners and various snacks to be eaten throughout the day "breakfast on day 1 and meals after last breakfast (on day 4)are not included"
Cook. (Professional) Vegetarian (vegan) food on request at no extra cost!
Drinking water along the Inka trail only on meals times.
Dining tent with tables and chairs
first Aid Kit
01 Oxygen Ball
Porters (to carry tents, food and cooking equipment)
Quadruple & waterproof Camping tent "02 people only"
01 Sleeping Mattress per person
Touristic Bus from Machu Picchu to AguasCalientes.
Return train tickets Expedition (Machupicchu.Ollanta and bus to Cusco) transfer to Hotel.
You need:
Original passport (and *International Student card (ISIC) if applicable)
Sleeping bag (not included but can be hired from us)
Walking boots
Waterproof jacket/rain poncho
Warm jacket, hat and gloves
T-shirts
Comfortable trousers
Sun hat
Sunglasses
Sun protection cream (factor 35 recommended)
Re-usable plastic or metal water container or camel bags.
Water (only for first 4 hours of trek, then we will provide you with drinking -previously boiled- water).
Insect repellent
Toiletries
Personal medication
Camera and films
Torch with batteries.
Some thing else:
Shorts
Walking stick (with rubber tip)
Plasters and bandages
Sandals
Extra money
Bathing suit (for hot springs in AguasCalientes)