INCA TRAIL TO MACHU PICCHU 04 DAYS AND 03 NIGHTS
Diverse ways of Connection existed with Machu picchu, but at present the most well-known is the one that is used like Tourist circuit, named properly "Inca Way" this one corresponds to a 45 kilometers route approximately, happening for high mountains and extraordinary sceneries; going along along diverse ecological apartments with abundant variety of Flora and Fauna; the way in some stretches presents original stone pavements, to cover it it is needed 4 days and it finishes in the imposing Citadel Inka of the Inca way Machu picchu.
PROGRAMA:
DAY 1
6:30 a.m. - 4:00 p.m.
Transfer by bus from (Cusco)Hotel to Km 82
Trekking in Piscacucho.KM 82 (way to Wayllabamba)
PISCACUCHO - WAYLLABAMBA
DAY 2
8:00 a.m. - 4:00 p.m.
Trekking
WAYLLABAMBA – LLULLUCHAPAMPA
LLULLUCHAPAMPA – PACAYMAYU
DAY 3
8:00 a.m. - 4:00 p.m.
Trekking
PACAYMAYU –PHUYUPATAMARCA
PHUYUPATAMARCA-WIÑAYHUAYNA
DAY 4
Trekking
4:30 a.m. – 8:00 a.m.
WIÑAYHUAYNA – MACHUPICCHU

8:00 a.m. - 11:00 a.m.
INKA CITADEL guided tour of Machu Picchu.
Afternoon, Free time in Machupicchu.

Optional: Machupicchu Pueblo, visit "HOT SPRINGS".

Afternoon: train return to Ollantaytambo and bus to Cusco.
ITINERARY:
DAY 01: CUSCO - KM 82 (PISCACUCHO) - WAYLLABAMBA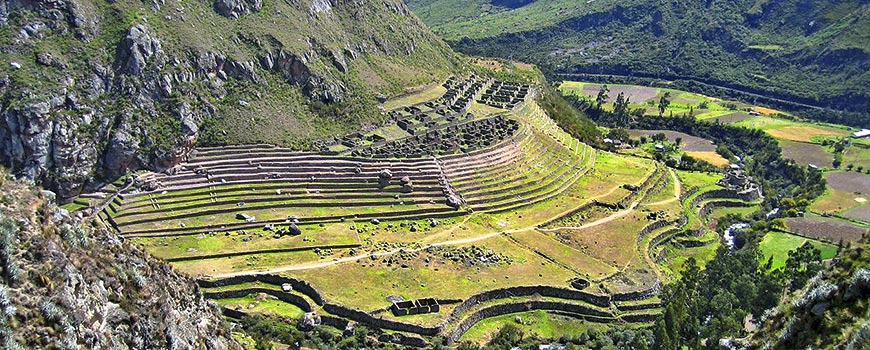 At 6:30 a. m. our guide will happen for the hotel then to transport in bus up to the km 82 where we will be coming approximately at 10:00 a. m. in this place we will be glad of meeting the team of persons who will accompany us during our trekking, as cooks are porters, carperos, etc. we will begin the walk.
This first day is quite easy in the first km, we will have a beautiful sight of the snow-capped mountain Verónica and will walk next to the river Vilcanota up to coming to the archaeological group of Patallacta, where we will be able to have lunch to recover forces and then to continue up to coming to Huayllabamba, where we will realize our first camp.
Meals: Lunch, Dinner.
DAY 02: WAYLLABAMBA - LLULLUCHAPAMPA - PACAYMAYO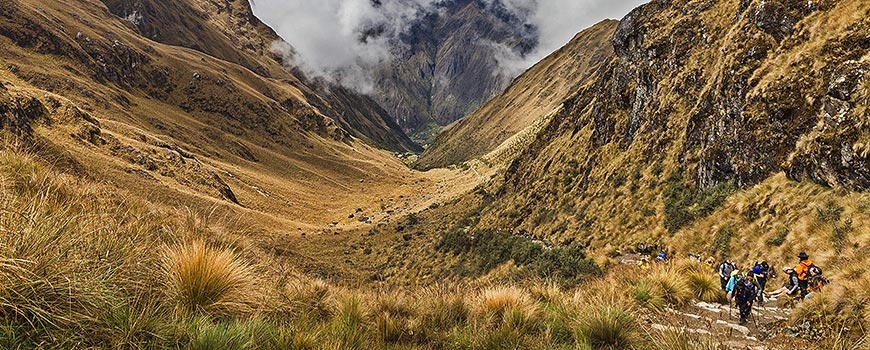 After a comforting breakfast, there will begin our second day of trekking, perhaps the most difficult, since we will have to climb up to the Warmihuañusca cove, 4,200 m. s. n. m. . . In this place, the highest of the Way Inka, we will be able to enjoy a panoramic sight of the snow-capped mountains that make a detour to the cove. After the lunch the descent begins towards the vale of the Pacaymayo, where we will realize our second camp.
Meals: Breakfast, Lunch, Dinner
DAY 03: PACAYMAYO - PHUYUPATAMARCA – WIÑAYWAYNA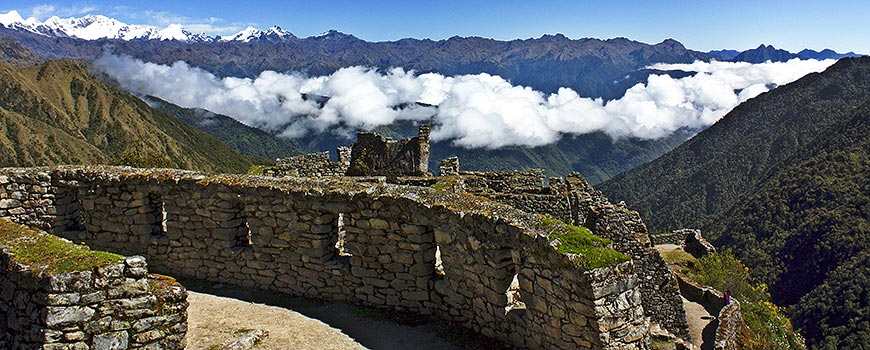 In the morning early after our energy breakfast again we recapture the way. Initiated the march, to half an hour we will find the archaeological group of Runqurakay. From this point the footpath is cobbled. In certain places it goes so far as to have up to 2 mts. Of breadth and it is possible to observe the quality of the engineering incaica. We will visit Sayacmarca, beautiful architectural complex; we will happen across a tunnel dug in the stone of the mountain, to come to the archaeological group of Phuyupatamarka, where from the descent begins for an extremely attractive way, with dense vegetation of the eyebrow of forest, very rich in flora and fauna. After two we will come to Wiñayhuayna, where we will install our third and last camp.
Optional: we will be able to use the showers of the restaurant that exists in the place, good option to take a rich shower of cold or warm water.
Meals: Breakfast, Lunch, Dinner.
DAY 04: WIÑAYHUAYNA - MACHU PICCHU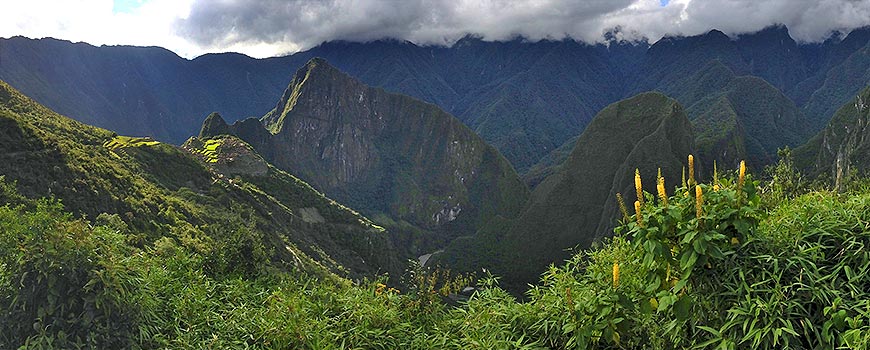 After the breakfast we will continue the walk up to coming to Intipunku (Puerta del Sol) where from we will have a spectacular sight of the shanty town of Inkas Machu picchu, we will descend on foot, then we will have approximately for 2 hours a visit as the most important enclosures along with its guide, then you will be able to explore the mysterious city to your own rhythm.
We take the bus up to the Hot waters people to spend the night in a standard hotel. You will meet its guide in Hot waters, optional visit to the thermal springs of the people "$ paid for admission right 4 dollars in the revenue".
In the evening Comeback train to Ollantaytambo. Service Bolt Expeditión (to Ollantaytambo) and bus Cusco. We will be in cusco approximately at 22:30pm. Meals: I have breakfast.
Meals: Breakfast.
NOTE:
Itinerary is subject to change depending on time of booking and campsites provided by INC (an institution that runs the Inca Trail).
The camps can vary depending on climate and health status of clients.
Train Included in all tours is Expedition Service (to Ollantaytambo) Train times will only be confirmed close to the time of the trek, if join a group late in the day we can't guarantee you will travel on the same trains as the rest of the group.
Train time is subject to change depending on Peru Rail timetable and availability.
To qualify as a student, it is necessary to have a valid ISIC card. scan and email us at the time of booking.
Included:
Transfers In / Out
Transportation Cusco-Km 82. Piscacucho. (Start walking)
Professional bilingual Tour guide.
Assistant tour guide (for groups of 9 or more people)
Entrance Fee to Inka Trail and Machu Picchu.
03 breakfasts, 3 lunches, 3 afternoon snacks, 3 dinners and various snacks to be eaten throughout the day "breakfast on day 1 and meals after last breakfast (on day 4)are not included"
Cook. (Professional) Vegetarian (vegan) food on request at no extra cost!
Drinking water along the Inka trail only on meals times.
Dining tent with tables and chairs
first Aid Kit
01 Oxygen Ball
Porters (to carry tents, food and cooking equipment)
Quadruple & waterproof Camping tent "02 people only"
01 Sleeping Mattress per person
Touristic Bus from Machu Picchu to AguasCalientes.
Return train tickets Expedition (Machupicchu.Ollanta and bus to Cusco) transfer to Hotel.
You need:
Original passport
Sleeping bag (not included but can be hired from us)
Walking boots
Waterproof jacket/rain poncho
Warm jacket, hat and gloves
T-shirts
Comfortable trousers
Sun hat
Sunglasses
Sun protection cream (factor 35 recommended)
Re-usable plastic or metal water container or camel bags.
Water (only for first 4 hours of trek, then we will provide you with drinking -previously boiled- water).
Insect repellent
Toiletries
Personal medication
Camera and films
Torch with batteries.
Some thing else:
Shorts
Walking stick (with rubber tip)
Plasters and bandages
Sandals
Extra money
Bathing suit (for hot springs in AguasCalientes)
Tours Relacionados
Extraordinary landscapes, diverse ecological, variety of Flora and Fauna, the 2-days Inca Trail to Machu Picchu, presents original cobblestones and visit the most important Inca complex of all this route

The tropical Inca Jungle Trail is a new route offered by our company, which involves biking, trekking and just Adventure.

Visit the most important Inca complex of all this route, Wiñayhuayna Forever Young to follow it requires 5 to 6 hours and ends at the impressive Inca citadel of Machu Picchu