INCA TRAIL TO MACHU PICCHU in 02 DAYS / 01 NIGHT
(Included Sunrise in Machu Picchu)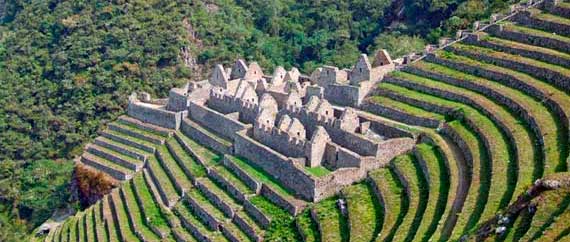 Extraordinary landscapes, diverse ecological, variety of Flora and Fauna, the 2-day Inca Trail to Machu Picchu, presents original cobblestones and visit the most important Inca complex of all this route, Wiñayhuayna "Forever Young" to follow it requires 05 to 06 hours and ends at the impressive Inca citadel of Machu Picchu
PROGRAM:
DAY 1
6:30 a.m. to 4:30 p.m.
Train Cusco- KM 104.CHACHABAMBA

10:00 am. Trekking
CHACHABAMBA - WIÑAYHAYNA-MACHUPICHU
Optional: Machupicchu Pueblo, visit "HOT SPRINGS"
DAY 2
6:00 a.m.
FULL DAY –MACHUPICCHU
guided tour of Machu Picchu.
Afternoon Free time in Machupicchu
return by train to Ollantaytambo and Cusco.
Itinerary:
DAY 01: CUSCO - CHACHABAMBA - WIÑAYWAYNA - MACHUPICCHU
We pick you up from your hotel at 5.40am (depending on train time) and take you to the train station. We travel by train, on a very picturesque route for 2 and a half hours until we reach kilometer 104 – Chachabamba, the start of the trail for us. From here, we have a walk of approximately 4 hours up to the Inca site WiñayWayna ('Forever Young') (2680m/8792ft). You have joined the path in time to see the most impressive site on the whole Inca Trail!!
We will then continue on to 'IntiPunku' ('Sun gate') (2730m/8792ft) from where you will have your first view, of the Majestic Machu Picchu (2400m/7873ft). We will walk down the last part of the trail towards the ancient city itself. Before reaching Machu Picchu, short rest and then descend to AguasCalientes or Machupicchu Pueblo by tourist bus. Arriving at around 16:30, transfer to hotel and overnight.
Meals: Lunch, Dinner
DAY 02: MACHUPICCHU FULL DAY
We have breakfast and then take the bus (6 am) up to Machu Picchu to enjoy the beautiful sunrise, after that, a walking tour (approximately 2 hours) is given by your tour guide and after this you can explore the mysterious city by yourselves.
Afternoon return by the train back to Ollantaytambo and by bus to Cusco. We'll be in Cusco approximately at 22:30 pm.
Meals: Breakfast
Note
Itinerary is subject to change depending on the time of booking provided by INC (an institution that runs the Inca Trail).
The itinerary can vary depending on climate and health status of clients.
Train Included in all tours is Expedition (to-from Ollantaytambo). Train times will only be confirmed close to the time of the trek, if join a group late in the day we can't guarantee you will travel on the same trains as the rest of the group.
Train time is subject to change depending on Peru Rail timetable and availability.
To qualify as a student, it is necessary to have a valid ISIC card. scan and email us at the time of booking.
Included:
Transfers In / Out
Train tickets to-Km. 104 Chachabamba. (Start walking)
Professional bilingual Tour guide.
Assistant tour guide (for groups of 9 or more people)
Entrance Fee to Inka Trail and Machu Picchu.
Bus tickets to Machupicchu Inca City and to Machupicchu town.
1 breakfast, 1 lunch, 1 dinner and snacks to be eaten throughout the day "breakfast on day 1 and meals after breakfast (on day 2)are not included"
First Aid Kit
01 Oxygen Ball
01 night in a hotel in Aguas Calientes.
Return train tickets Expedition (Machupicchu.Ollanta and bus to Cusco) transfer to Hotel.
You Need
Original passport (and *International Student card (ISIC) if applicable)
Walking boots
Waterproof jacket/rain poncho
Warmjacket, hat and gloves
T-shirts
Comfortable trousers
Sunhat
Sunglasses
Sun protection cream (factor 35 recommended)
Re-usable plastic or metal water container or camel bags.
Water (only for first 2 hours of trek, then we will provide you with drinking -previously boiled- water).
Insect repellent
Toiletries
Personal medication
Camera and films
Torch with spare batteries (headlamps are useful)
More Items To Take:
Shorts
Walking stick (with rubber tip)
Plasters and bandages
Sandals
Extra money
Bathing suit (for hot springs in AguasCalientes)