Inca Jungle Trail to Machu Picchu 4 days / 3 nights
Empires Travel Peru offers you the best adventure trip to Machu Picchu, the Inca Jungle trail is to ride a bike, and a trekking to the Inca city of Machu Picchu.
Camino del Inca Jungle trail was recently discovered and belongs to the Royal inca trail to Machu Picchu, are appreciated archaeological sites and beautiful scenery along the route, we can even see the plantations of the leaf sacred of the Inkas " Coca Leaf" which are cultivated legally and with permission from the Peruvian Government, this tour is an unforgettable experience.
Cycling and walk in the eyebrow of the Peruvian jungle, four-day trip, which ends with scenes of sunrise in the Inca city of Machu Picchu. The tour includes a guided visit to the Inca Citadel of Machu Picchu.
If you book before one month of the start of their tour to Machu Picchu, probably confirm the entry to the sacred mountain of Huaynapicchu "which has income restricted by the Government of Peru".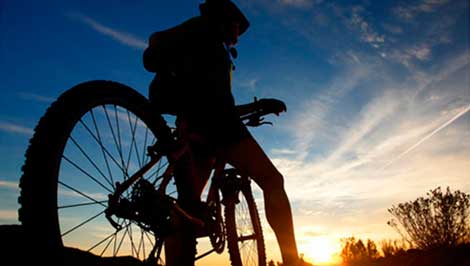 ROUTE:
DAY 01: CUSCO - MARIA (cycling) open SANTA - ALFAMAYUC - MALAGA
At 7:30 am start the excursion of the Inca Jungle trail with the pick up from your hotel, depart at 8:00 am and we will go on mini van through the Sacred Valley of the Inkas, crossing the snow-covered open Malaga with an altitude of 4,350 m, and descend to a place called Alfamayuc, there we are preparing to start our descent by mountain bike ready with the helmet on the head we started a downhill road of 45 km. This day is very fun because we went through different climates with cold, rain and Sun and the best is that along the way anger finding streams where you soaked to pass through them...
This descent leads to the town of Santa Maria, 1. 430msnm, upon arrival we expect a refreshing lunch, we got ready to start a new adventure, this time we will do a rafting tour in rio; We will begin this exciting journey in the bridge of Santa Maria, where we will have a distance of 1 1 / 2 hrs by the sacred river of the Vilcanota, where you can see beautiful landscapes, finding fast class 2, 3 and 3 +, (dry season), becoming a trip intense and very emotional, always accompanied by a kayak safety, to give us the security of the case.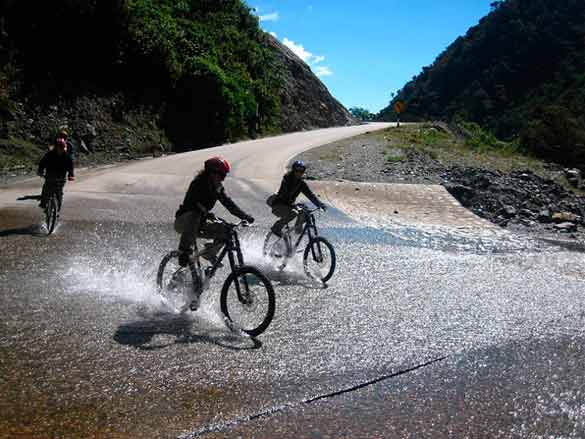 In this part of the river rapids are considered as one of the best of Cusco, and warm climate make this service an unforgettable adventure once made travel, the vehicle will be waiting for us to bring us back to the town of Santa Maria where we will have dinner and spend our first night in a local family shelter.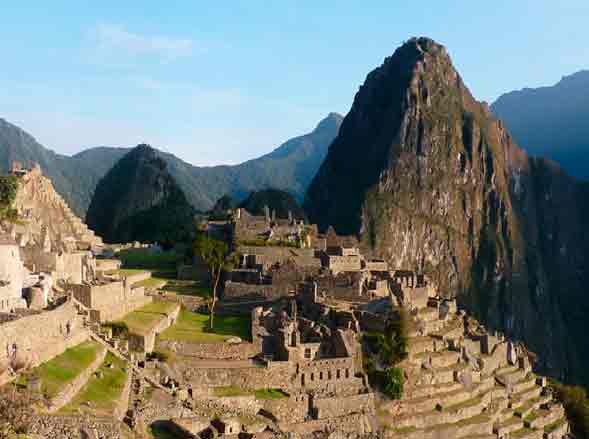 Meals: Lunch, dinner.
DAY 02: SANTA MARIA - QELLOMAYO - SANTA TERESA
The second day is the most intense since part of the original inca trail connecting the inca city of Machu Picchu with other Incan villages such as Vilcabamba cross "the last refuge of the Incas". We have to walk from Santa Maria to Santa Teresa, leave at 8 am and we arrived at our destination at 17:30 pm, we will have many stops by the inca trail, total Trek is about 8 hours. Walking through the jungle, we climb mountains, cross rivers, sweat, we get wet and our guide will be giving us information of the typical plants of the region. We will cross through trees of mangoes, avocados, papayas and coffee plantations of Coca, the sacred leaf of the Incas and which is legally cultivated with permission from the Peruvian Government.
The best of this day will be that for an hour and half walked an original Inka trail. The Inca roads are built with stones and cross the mountains. The views are incredible and it is that this path is through the highest point that can be accessed during the walk. We stopped to rest in a "bin", which were the points of release of the chaskis "messengers of the Empire Inka". The chaskis road messages in the form of quipus, a string with knots that had a meaning for the Incas according to the number of knots. After 7 hours of trekking, we arrived at the hot springs of Santa Teresa, "Qolcalmayo". A real paradise, the environment is truly spectacular and swimming pools with water to about 30 ° and which enjoy. Then we continue our trip to the town of Santa teresa, located 20 minutes away from the place. Then the hosting and ready to enjoy a good shower.
Meals: Breakfast, lunch, dinner.
DAY 03: SANTA TERESA – HIDROELECTRICA – MACHU PICCHU PUEBLO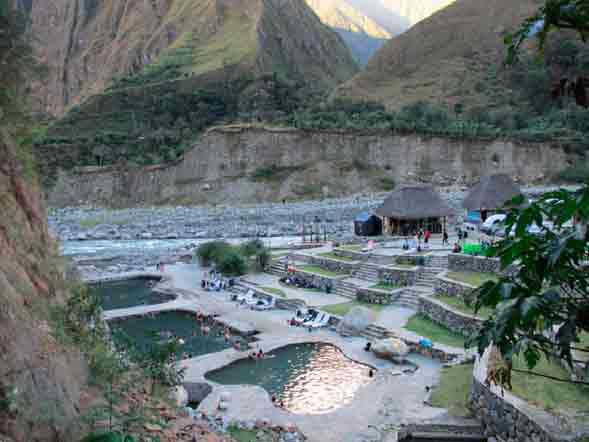 We got up around 6:00 a.m. To enjoy a comforting breakfast then visit the canopy walkway of the tour where we will enjoy this activity of adventure consisting of anchored cables of one mountain to another, where a person slips through a pulley attached to a waist harness. The tour lasts 2 hours approximately and points of departure and arrival are platforms of soil or aerial installed in rock. The maximum speed of a landslide by cables is 60 Km / h. completed our Canopy experience take a walk across the floor Valley from Santa Teresa to hydroelectric an approximate 2:30 hours, appreciating the landscape surrounded by mountains and nature, reaching hydroelectric power, have a comfortable lunch to continue our trek to the town of aguas calientes a 3 hrs approx , by the banks of the River as well as following the via railroad from the train until you reach the village of Aguas Calientes, you can be seen on this hike, vegetations in the area as also the fauna, it is exciting to get to Aguas Calientes, this day because you see the mountain of Machu Picchu, which you go up the next day, just want to pass the hours quickly to finally see it. canopy-machu-picchu-incatrail reaching the town of Aguas Calientes, accommodation at the hotel, then we will have dinner at a tourist restaurant in the village. Optional night tour to the hot springs of the village.
"Meals: breakfast, lunch and dinner"
DAY 04: MACHU PICCHU "Exit of the Sun" - full day
(4:00 am) after breakfast, climb through the last stretch of the inca trail to reach the Inca city of Machu Picchu, arrived approximately at 6:00 am, during this time we can appreciate the beautiful sunrise in Machu Picchu, as well as being one of the first groups, we will arrange our visit at Machu Picchu unforgettable, visiting the most important sectors of this Inca city we will have a guided tour of 2 hours It is a visit by the most important venues, after that you can explore the mysterious city of Machu Picchu at your own pace and discretion. At this time you can visit the bridge of the Inka, the puerta del Sol, all depending on the energies that have.
For many travelers, among which we include, the visit to the "city of Machu Picchu" is the highlight of a trip to South America. It is a magical place, the most spectacular archaeological site of the continent, with a stunning location and a mysterious past. 10:00 am optional if you wish to also can climb the mountain of Huayna Picchu (2720m / 8923 ft)! "It takes 45 minutes to reach the top, there are Government Park and the stretch is an Inka trail, by which the Peru Government has added more security" by which only need desire to bequeath to the top, where apart from the sacred precincts found, you will have wonderful views of all national historic park of Machu Picchu. We took the bus back to the village of Machu Picchu. You will meet with your guide to take the Expedition tourist train and the bus back to Cusco. We will be in cusco approximately at 22:30 pm of the last day.
Meals: breakfast.
Includes:
Transfer income and output.
Cusco transportation – Alfamayuc. (Start of cycling)
Professional tour guide.
Cycling mountain bikes and all your equipment
Canoeing on the River with all attachments
Trekking
Canopy tour "Zipline!
Entrance tickets to Machu Picchu.
3 breakfasts, 3 lunches, 3 dinners.
1st aid kit
01 tkt's Bus Tour of Machu Picchu village at the Inka city.
02 nights at basic hotel in Santa Maria and Santa Teresa.
01 night at basic hotel in Aguas Calientes."
Train tickets from returning to service of tourism Expedition (bus to Cusco and Machu Picchu.Ollanta) and transfer to the hotel.
You need
Original passport (and card international student (ISIC) if I apply this option)
Walking Boots
Waterproof jacket / rain poncho
Wool jacket for heating, hat and gloves
Polos or t-shirts
Comfortable pants
Sun Hat
Sun lenses
Sunscreen (factor 35 recommended)
Reusable bottle with plastic or metal water or camel bags container.
Water "can buy it along the way"
Insect repellent
Hygiene items
Personal medications
Camera and films
Flashlight with spare batteries (headlamps are useful)
Shorts
Cane (with rubber tip)
Bandages
Sandals
Extra money
Bathing suit (for the hot springs in Aguas Calientes)
Discounts | Inca Jungle Trek to Machu Picchu:
To qualify as a student, it is necessary to have a valid card ISIC-CARD (worldwide student card). Scan and send us a copy in an email at the time of booking.
NOTE:
The itineraries are subject to change depending on the time of booking.
The camps may vary depending on the weather and the health status of travellers.
The train included in all tours is in service tourist Expedition (to Ollantaytambo), the train schedule only days before the start of the journey, is confirmed if he joined a group of our days of the beginning of the excursion, we can not guarantee that you travel on the same train with the rest of the group.
Train schedule subject to change depending on the table of Peru Rail schedules and availability.
HUAYNAPICCHU: This entry is optional and additional, income is restricted only 200 people may enter at 7:00 am and 200 others at the 10 a.m. for what if you wish to have your right of entry must confirm in advance your excursion.
Additional tours in Peru
Empires Travel tour operator has professional staff in our offices in Lima and Cusco, with correspondents in all the Peru and Bolivia. We ask our cultural itineraries, adventure, mystical and nature, will be always happy to attend them.
Tours Relacionados
El Camino Inca este corresponde a una ruta de 45 kilómetros aproximadamente, pasando por altas montañas y extraordinarios paisajes; transitando por diversos pisos ecológicos con abundante variedad de Flora y Fauna; el camino en algunos tramos presenta empedrados originales, para recorrerlo se requiere de 4 dias y termina en la imponente Ciudadela Inka del camino inca a Machu picchu.

El clásico Salkantay trek es una alternativa  al tradicional. El camino sagrado es una experiencia de vanguardia para la aventura para viajeros que buscan un poco más de privacidad y autenticidad. Con más vistas espectaculares, la caminata del camino inca a Machu Picchu ofrecen tranquilidad y la contemplación de la naturaleza rica del parque nacional de Machu Picchu.

Este tour de aventura le ofrece los mejores vistas del valle, gente de los andes, diferentes nevados, lagunas en los campamentos serán en diferentes comunidades donde podremos apreciarla belleza de vistas panorámicas, cada día recorriendo una ruta alternativa al camino Inca clásico de lares trek.