INKA JUNGLE TRAIL TO MACHU PICCHU
5 DAYS | 4 NIGHTS
(Included biking and a full day in Machupicchu)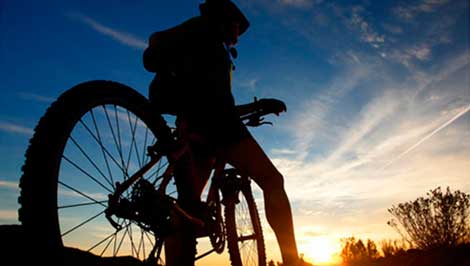 Imperios Travel Peru Inka Trail Trail Expeditions Peru offers you the best adventure trip to Machu Picchu, the Inca Jungle trail consists of biking, and a trekking to the Inca City of Machu Picchu, the Inca Jungle trail trail was recently discovered and belongs to the royal road from the Inca to Machu Picchu, archaeological remains and beautiful landscapes can be seen on the route, including the Inkas' Sacred Leaf plantations "the Coca Leaf" which are legally cultivated and with the authorization of the Peruvian Government, this excursion is an unforgettable experience. Cycling and hiking in the Peruvian Jungle Eyebrow, a four day trip, which ends with the sunrise scenes in the Inca city of Machu Picchu. The trip includes a guided visit to the Inca citadel of Machu Picchu.
If you book within a month of the start of your tour to Machu Picchu, you will probably confirm your entry to the Sacred Mountain of Huaynapicchu "which has restricted entry by the government of Peru".
SERVICE LEVEL: BASIC
PROGRAM
DAY 1
7:00 a.m. - 17:00 p.m.
transfer hotel– CUSCO -ALFAMAYUC

BIKKING. 4hrs approximately
ALFAMAYUC - SANTA MARIA.
DAY 2
Trekking 8:00 a.m. -16:00 p.m.
SANTA-MARIA - QELLOMAYO - SANTA TERESA

Visiting the Hot springs
DAY 3
Trekking 8:00 a.m. - 4:00 p.m.
SANTA TERESA- LUCMABAMBA-LLACTAPATA.

HIDROELECTRIC-MACHUPICCHU TOWN
DAY 4
Full day MACHUPICCHU.

8:00 a.m. - 16:00 p.m.
Afternoon Optional. VisitHot Spring
DAY 5
Morning, return to CUSCO

8:00 a.m. - 12:00 p.m. MACHUPICCHU Village to OLLANTAYTAMBO and bus to CUSCO
MEALS INOUR TRIP
BREAKFAST (B)
Fruit Salad,oatmeal, pancakes, cereal, te, caffe, milk, bread
with a seleccion for it, butter, flavoured jam,honey,etc
SNACKS (D)
included a bag with,buscuits, a few sweets, perhaps an apple, bananas or orange
LUNCH (L)
the biggest meal of the day, always with a soup,cream of asparagus, tomatoes, corn, or vegetables and noodle soup.and then a meat (poltry,fish,pork,beef+ a grain "most likely quinoa or white rice" + veggies + variety salad+ drinks "hot and cold drinks"
TEA TIME (T)
at 4 o'clock every afternoon (tea, coffee,chocolate muffins,cookies, popcorn,etc).
DINNER (D)
mously like Lunch, included dessert. chocolate pudding.Rice pudding, and others

But I know we had dessert each night.

Every meal we offerhot drinks , including coca leaf tea which are excellent for the altitude.
Menu is along the trip, no all on the same Day
IMPORTANT.
Vegetarian (vegan) food on request at no extra cost! if you have any dietary requirements,
!!You literally get treated like royalty when you're on the Trail!!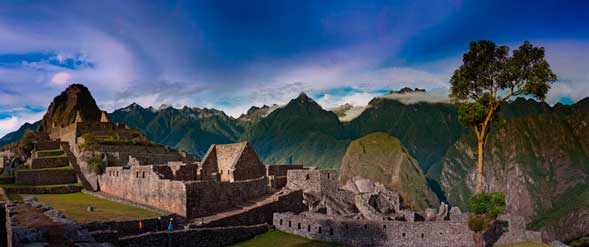 Itinerary:
DAY 1: CUSCO- ALFAMAYUC- SANTA MARIA. (BIKING)
At 7:30 am the excursion of the Inca Jungle trail will begin with the pick up from your hotel, we leave at 8:00 am and we will go in mini van passing the sacred valley of the Inkas, crossing the snow-capped Abra Malaga with an altitude of 4,350 meters above sea level, and we descend to the place called Alfamayuc, there we prepare to begin our descent on the mountain bikes, ready to begin our descent with the helmet on our heads we begin a descent by road of 45 km.
This day is a lot of fun because we pass through different climates, with cold, rain and sunshine and the best thing is that along the way you will find streams where you get soaked when you cross them.
This descent takes us to the town of Santa María, at 1.430masl, at the arrival we will have a comforting lunch, we will get ready to start a new adventure, this time we will do a river canoeing tour;
We will start this exciting trip on the Santa Maria bridge, where we will have a 1 1/2 hour tour of the Sacred River Vilcanota, where we will appreciate beautiful landscapes, finding rapids of class 2, 3 and 3+, (dry season), becoming an intense and very exciting trip, always accompanied by a safety kayak, to give us the safety of the case.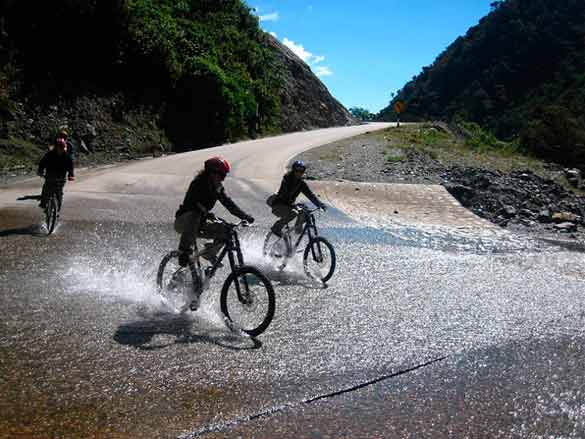 The rapids in this part of the river are considered one of the best in Cusco, and the warm weather makes this service an unforgettable adventure. Once the tour is over, the vehicle will be waiting for us to return to the town of Santa Maria where we will have dinner and spend our first night in a local family lodge.
Meals: Lunch, Teatime, Dinner.
DAY 2: SANTA MARÍA - SANTA TERESA(TREKKING)
The second day is the most intense as we will cross part of the original Inca trail that connects the Inca city of Machu Picchu with other Inca villages such as Vilcabamba "the last refuge of the Incas".
We have to walk from Santa Maria to Santa Teresa, we leave at 8 am and arrive at our destination at 17:30 pm, we will have many stops along the Inca Trail, in total the trekking is about 8 hours.
Walking through the jungle, we will climb mountains, cross rivers, sweat, get wet and our guide will give us information about the typical plants of the region.
We will cross through mango trees, avocados, papayas and coffee plantations and Coca leaf, the sacred Inca leaf which is legally cultivated with the authorization of the Peruvian government.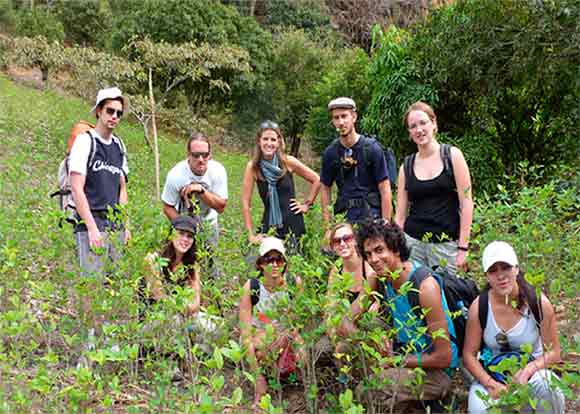 The best thing about this day will be that for 1 hour and a half we will walk along an original Inca trail. The Inca trails are built with stones and cross the mountains. The views are incredible and this path passes through the highest point that can be reached during the walk.
We stopped to rest in a "tambo", which were the relay points of the chaski "messengers of the Inca Empire". The chaskis carried the messages in the form of quipus, a knotted cord that had meaning for the Inkas according to the number of knots.
After about 7 hours of trekking we arrive at the hot springs of Santa Teresa, "Qolcalmayo". A true paradise, the environment is truly spectacular and the pools with water at about 30 degrees and which we will enjoy.
Then we continue our trip to the village of Santa Teresa, located 20 minutes from the place. Immediately the lodging and ready to enjoy a good shower.
Meals: Breakfast, Lunch, Teatime, Dinner.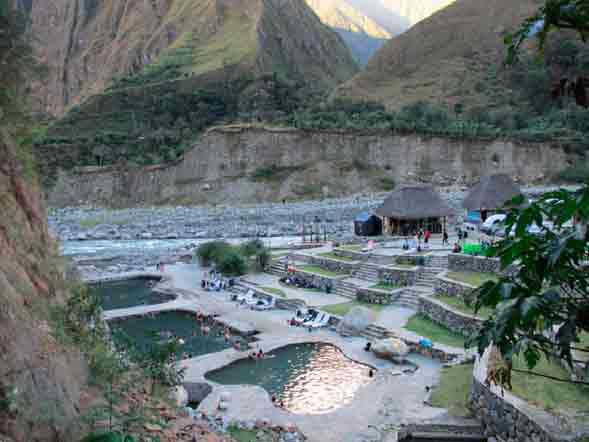 DAY 3: SANTA TERESA - LUCMABAMBA - ARCHAEOLOGICALSITE PATALLACTA. HYDROELECTRIC - MACHUPICCHU PUEBLO.
We get up around 6:00 a.m. For a comforting breakfast we will then visit the Canopy tour where we will enjoy this adventure activity which consists of cables anchored from one mountain to another, where a person slides through a pulley hooked to a waist harness.
This canopy is the highest in South America. There are 2500 meters of cable distributed in 6 sections, where the longest is more than 400 meters away and the highest is more than 150 meters high.
The tour lasts approximately 2 hours and the departure and arrival points are ground or aerial platforms installed on rock. The maximum speed of a cable slip is 60 km/h.
After our Canopy experience we will take a walk through the valley floor from Santa Teresa to hydroelectric power plant about 2:30 hours, appreciating the landscape bordered by mountains and nature, arriving at hydroelectric power, we have a comfortable lunch to continue our hike to the town of Aguas Calientes for approximately 3 hours, by the riverbanks as well as following the railroad track of the train to reach the town of Aguas Calientes, It is exciting to arrive at Aguas Calientes, this day you can already see the mountain of Machu Picchu ,which you will climb the next day ,you just want to spend the hours fast to finally see it.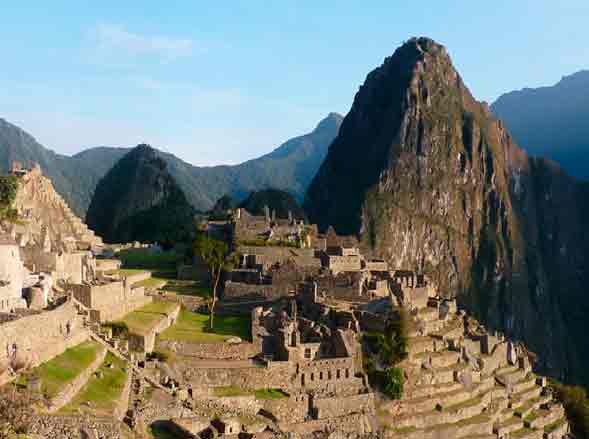 Arriving at the town of Aguas Calientes, Accommodation in the hotel, later we will have dinner in a tourist restaurant in the town.
Optional night visit to the thermal springs of the village "payment for admission fee $ 4 dollars at the entrance".
Meals: Breakfast, Lunch, Teatime, Dinner.
DAY 4: FULL DAY MACHUPICCHU
(4:00am) After breakfast, we ascend through the last stretch of the Inca Trail to reach the Inca city of Machu Picchu, we arrive at approximately 6:00 am, during this time we can appreciate the beautiful sunrise in Machu Picchu, in addition to being one of the first groups, we will make sure that our visit in Machu Picchu is unforgettable, visiting the most important areas of this Inca city.
We will have a guided tour of 2 hours, is a visit to the most important sites, after that you can explore the mysterious city of Machu Picchu at your own pace and criteria. During this time you can visit the bridge of the Inka, the gate of the Sun, all depending on the energies you have.
Meals: Breakfast.
DAY 05:MACHU PICCHU - CUSCO.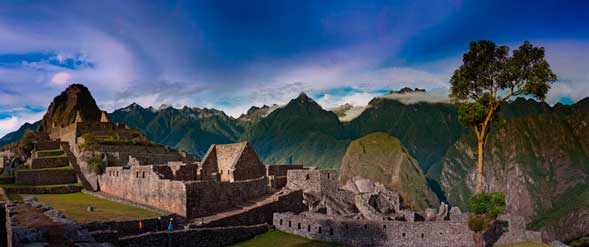 After breakfast train back to Ollantaytambo. Cerrojo backpacker (to Ollantaytambo) and bus to Cusco. We'll be in Cusco approximately at noon.
Meals: Breakfast.
NOTE:
Itinerary are subject to change depending on time of booking and campsites spaces in the moment that we arrive in there).
The camps can vary depending on climate and health status of clients.
Train Included in all tours is Cerrojo Backpacker(to-from Ollantaytambo) Train times will only be confirmed close to the time of the trek,if join a group late in the day we can't guarantee you will travel on the same trains as the rest of the group.
Train time are subject to change depending on Peru Rail timestable and availability.
To qualify as a student, it is necessary to have a valid ISIC card. scan and email us at the time of booking.
INCLUDED:
Transfers In / Out
Transportation Cusco-Alfamayuc. (Start bikking)
Professional bilingual Tour guide.
Assistant tour guide (for groups of 9 or more people)
Entrance Fee to Machu Picchu.
Bus tickets to Machupicchu Inca City and to Machupicchu town.
4 breakfasts, 3 lunches, 3 afternoon snacks, 3 dinners and various snacks to be eaten throughout the day "meals after last breakfast (on day 4)are not included"
Cook. (Professional) Vegetarian (vegan) food on request at no extra cost!
Drinking water along the Inka trail.
First Aid Kit
01 Oxygen Ball
Duffle bag (in which to put 6 kilos of personal belongings-included sleeping bag) and transfer of them to the next camp sites.
Bikes and biking equipment.
02 night in basic hotel in Santa Maria and Santa Teresa.
02 night in basic hotel in Aguas Calientes.
Return train tickets Cerrojo Backpacker (Machupicchu.Ollanta and bus to Cusco) transfer to Hotel.
YOU NEED:
Original passport
Walking boots
Waterproof jacket/rain poncho
Warm jacket, hat and gloves
T-shirts
Comfortable trousers
Sun hat
Sun protection cream (factor 35 recommended)
Re-usable plastic or metal water container or camel bags.
Water (only for first 4 hours of trek, then we will provide you with drinking -previously boiled- water).
Insect repellent
Toiletries
Personal medication
Camera and films
Torch with spare batteries (headlamps are useful)
OPTIONAL ITEMS TO TAKE:
Shorts
Walking stick (with rubber tip)
Plasters and bandages
Sandals
Extra money
Bathing suit (for hot springs in Aguas Calientes)
Tours Relacionados
SALKANTAY TREK A MACHU PICCHU 06 DAYS | 05 NIGHTS: The classic Salkantay trek is an alternative to the traditional Inca Trail. The Sacred Path is a state-of-the-art adventure experience for travelers looking for a little more privacy and authenticity.

The Inca trail to Machu Picchu is one of the most popular treks in Peru and South America. Inca Trail Expeditions Perú offers you different trekking options on the Inca Trail, so you can combine this adventure along some other highlights from this fantastic country. And as always, all the different travelling ingredients on this tour have been precociously selected by specialists of voyaging so you just have to enjoy the wonderful landscapes while hiking to Machu Picchu.

Lares Trek to Machu Picchu has a Sacred Valley of the Incas and its rich variety of cultures. The Sacred River help to produce the best qualities of corn and potatoes all over the world, Lares surrounded by magnificent snow-capped peaks and many hot water springs