Inca Trail to Machu Picchu in 5 days + Huayna Picchu Mountain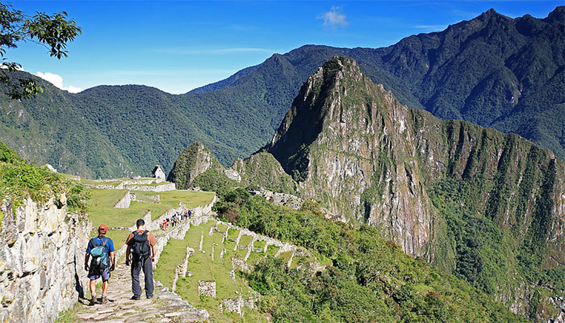 The Inca Trail to Machu Picchu is rated among the best trekking trips in the world because of the exquisite beauty of its natural surroundings; these include different ecological areas from high deserts to Andean Tropical rain forests. Following this ancient Inca Trail we will be walking past mysterious archaeological sites, half covered by jungle overgrowth, that looks like you are discovering them for the first time, and finally arriving at the lost city of the Incas: Machu Picchu.
The Inca Trail 5d/4n is for those people who want to do the Classic Inca Trail trek and climb the Huaynapicchu or Machupicchu sacred mountains.
Only the Peruvian Cultural Institute INC sell the Huayna Picchu or Machu Picchu permit. To get the best value you should stay the night in Aguas Calientes and re-visit Machu Picchu the next day, the beginning of that following day being dedicated to climb up to the Huayna Picchu Mountain; this way you get to enjoy Machu Picchu for a full extra day (a walk to Inca bridge can complete this great experience). This is especially a good opportunity in wet season to give you a second opportunity to see Machu Picchu with a good clear weather!.
So this package includes the second entrance to Machu Picchu on the 5th day, permits to climb Huayna Picchu Mountain, the train in the afternoon to go back to Cusco and arriving at around 9 pm on your 5th day.
Note: tickets to Huaynapicchu and Machupicchu Mountain are limited by the Peruvian Culture Institute. Inka TrailExpeditions Perú advices you to book yours in advance, better if it is at the same time of your Inca trail reservation.
ITINERARY
Day 1: Cusco – Piscacucho – Wayllabamba (L, D)
Everyone is collected early from their hotels and we all travel by bus for a bit more than three hours, passing by the picturesque villages of Chinchero, Urubamba, and Ollantaytambo, until reaching the kilometer 82, the actual start of the trail.
We start our trek escorted by native "Quechua" porters going through semi-arid terrain along the Urubamba River valley, with magnificent views of the snowcapped mountain, Veronica (5822 meters).
We cross the Vilcanota River and follow the trail to the right as it climbs steeply up from the river. After passing through a small village, the ruins of the Inca hillfort of Huillca Raccay come into view high above the mouth of the river Cusichaca ("Happy Bridge"). It is then a simple descent down to the Cusichaca River.
For a further 7 km the path follows the left bank of the river up to the village of Wayllabamba (3,000 meters). The name in Quechua means "Grassy plain". We spend the first night here beside some spectacular ruins which, if you have the energy, we have time to explore.
Day 2: Wayllabamba – Llulluchapampa – Pacaymayu (B, L, D)
After a delicious breakfast, we start our second day of trekking, perhaps the most difficult, as we have to climb to the pass of the impressive Warmihuañusca ("Dead woman's Pass") at 4,200 meters high. In this place, the highest in the Inca Trail, we enjoy a spectacular view of the Andes. The path continues on following a mountain stream up past hummingbirds and amazing stunted cloud forest. We pass by the beautiful grassy area at Llulluchapampa (3680 meters), which also possesses outstanding views down the valley.
After lunch, we start the descent towards the valley of Pacaymayu, where we make our second camp.
Day 3: Pacaymayu – Phuyupatamarca – Wiñayhuayna (B, L, D)
From Pacaymayu, it takes about an hour to climb up to the ruins of Runkuracay. These small circular ruins occupy a commanding position overlooking the Pacaymayu valley below. Another 45 minutes' hike brings you to the top of the second pass: Abra de Runkuracay (4,000 meters). At last, you feel that you are walking along the trail of the Incas with preserved paving for the most part.
The descent down the steps from the pass is steep so take care. This section of the trail, up till the 3rd pass, is particularly beautiful as the path crosses high stone embankments and deep precipices. After about 1 hour from the 2nd pass you arrive at Sayacmarca by way of a superbly designed stone staircase. The name Sayacmarca means "Inaccessible Town" and describes the position of the ruins perfectly, protected on three sides by sheer cliffs. Even though untill this very day no one knows the exact purpose of these ruins.
You have to backtrack a little to rejoin the trail as it passes Conchamarca, a small Inca dwelling situated in the shadows ofSayacmarca, which was probably a Tambo for weary travelers on their way to Machu Picchu.
Day 4: Wiñayhuayna – Machu Picchu (B, L, D)
After an early morning chance to catch the sunrise on the surrounding snowcapped mountains of Salcantay and Veronica, we offer a farewell to our porters with a traditional song and dance. Our final day of hiking brings us down the cloud forest on a series of Inca stairs to Winay Wayna, another interesting ruin full of swallows and orchids. Finally we reach Inti Punku, the gateway of the Sun and our first glimpse of Machu Picchu. We pass through the ruins and catch a bus down to our hotel in the colorful town of Machu Picchu Pueblo (formally known as Aguas Calientes) and celebrate our return to civilization.
In the late morning we have Machu Picchu virtually to ourselves for a full guided tour, after which you have a couple of hours for more exploring on your own, or just collapse under a tree in the central plaza area. If you are exhausted from so much walking just stay in Aguas Calientes and enjoy its hot springs as you have a second opportunity to see all of Machu Picchu well rested the day after!
Machupicchu is officially open from 6 am to 5:30 pm so could also soak in the hot springs in the afternoon or evening after you Machu Picchu tour.
Day 5: 2nd entrance to Machu Picchu / Free time to climb Machu Picchu or Huayna Picchu Mountain (B)
After an early breakfast you can walk or take the bus back up to explore more of Machu Picchu and of course go for your climb of Huayna Picchu or Machu Picchu Mountain. If you were tired yesterday then this is the right time to really capture Machu Picchu today so better start out early as buses are available from 5:30 am and depart every 10 minutes.
You can store your backpack in your hotel and make sure you get back down to Aguas Calientes at least an hour before your train departure which is generally at 6:45 pm but you should recheck this with your guide on day 4. Grab some snacks and drinks before boarding the train as the journey back to Cusco is about 4 hours long!
Tours Relacionados
El Camino Inca este corresponde a una ruta de 45 kilómetros aproximadamente, pasando por altas montañas y extraordinarios paisajes; transitando por diversos pisos ecológicos con abundante variedad de Flora y Fauna; el camino en algunos tramos presenta empedrados originales, para recorrerlo se requiere de 4 dias y termina en la imponente Ciudadela Inka del camino inca a Machu picchu.

El Camino Inca real a Machu Picchu tiene unos extraordinarios paisajes, diversos pisos ecológicos, variedad de Flora y Fauna; el Camino Inca a Machu Picchu en 2 dias, presenta empedrados originales y visita el Complejo Inca mas importante de toda esta ruta, WIÑAYHUAYNA. Para recorrerlo se requiere de 05 a 06 horas y termina en la imponente Ciudadela Inca del Camino Inca a Machu Picchu.

El clásico Salkantay trek es una alternativa  al tradicional. El camino sagrado es una experiencia de vanguardia para la aventura para viajeros que buscan un poco más de privacidad y autenticidad. Con más vistas espectaculares, la caminata del camino inca a Machu Picchu ofrecen tranquilidad y la contemplación de la naturaleza rica del parque nacional de Machu Picchu.