AUSANGATE TREK
4 Days 3 Nights
The Ausangate Trek offers a true wildlife experience, and is the most challenging trek offered in the Cusco region. This is a great hike for nature lovers, you can observe a lot of wildlife. The landscape in this part of Peru is very impressive: snow-capped peaks of white snow and bright blue and green lagoons are just some of the scenic highlights. There is also a cultural element to this Ausangate trek as it passes through several isolated Andean communities where the way of life has changed little since the reign of the Incas.
Some high-altitude hikes or more strenuous activities, but accessible for most healthy travelers.
STRENUOUS:Full-day hikes (8-10 hours), mountainous, steep terrain (hiking up or down as much as 3,500 feet) on many hikes. Trips with hiking at average altitudes of 9,515 to 10,005 feet are in this category.
Distance: 56 km /34.79 miles
Altitude: 4050 – 5100 m. / 13287ft – 16732ft
Max. Elevation: 5,200m (17,060 ft)
Duration: 04 Days – 03 Nights
Overall Difficulty – Difficult
The Distance: The Ausangate trek difficulty starts with the distance. It's 56 km (34.79 miles) in total, covered over 4 days and 3 nights. The hike is generally broken down into:
Day 1: Cusco - Tinke - Upis
Total distance: 10 km (6.21 miles)
Estimated walking time: 5 to 6 hours
Maximum altitude point: 4 447 m (14 589 ft)
Campsite altitude: 4 400 m (14 435 ft)
Day 2: Upis - Arapa Pass - Lake Ausangate
Total distance: 16 km (9.94 miles)
Estimated walking time: 8 to 9 hours
Maximum altitude point: 4 750 m (15 583 ft)
Campsite altitude: 4 447 m (14 589 ft)
Day 3: Lake Ausangate - Palomani Pass - Huchuy Finaya
Total distance: 16 km (9.94 miles)
Estimated walking time: 8 to 9 hours
Maximum altitude point: 5 200 m (16 060 ft)
Campsite altitude: 4 600 m (15 091 ft)
Day 4: Huchuy Finaya - Q'ampa – Pacchanta- Cusco
Total distance: 14 km (8.69 miles)
Estimated walking time: 7 to 8 hours
Maximum altitude point: 5 080 m (16 666 ft)
Campsite altitude: 4 100 m (13 451 ft)
Day 1 / Cusco - Ocongate - Tinki-Upis.
Private transportation from Cusco. The road goes toward Puno, past the Wari site of Pikillacta ruins and the colonial towns of Andahuaylillas and Huaro (we may spend some time visiting them) afterwards a road starts winding its way up hill until we reach small villages with shepherds and weavers in the highland puna. In the afternoon the Vilcanota Range will loom in the distance with Ausangate and ColqeCruz mountains dominating the landscape.
The trail starts crossing the puna or highland meadow approaching the base of the impressive Ausangate with amazing views of the rolling landscape. Continuing the hike, the trail take you up through the andean villages still traditional in many of their customs and habits. Camp at Upis with a chance to enjoy the thermal baths.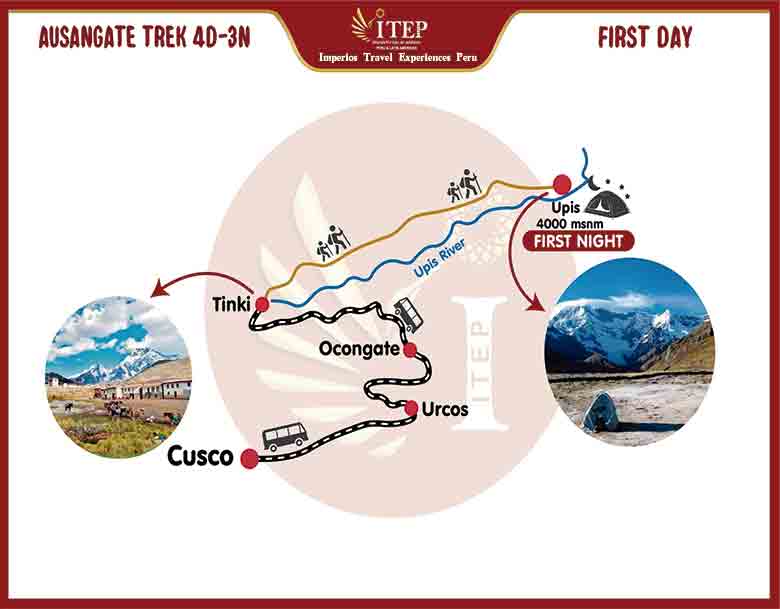 Day 2 / Upis - Pucacocha - Laguna Ausangate.
Ascending the slopes we cross over the pass at 4,500 mts. (14,760ft) and make our way to lake Pucacocha for lunch with the western ice-fall of Ausangate mountain dominating the view of this campsite. After lunch we head up to Apacheta pass 4700mts( and afterwards make our way down to Ausangate lake. From tonight camp you can appreciate just why Ausangate has for centuries commanded so much reverence for the local people.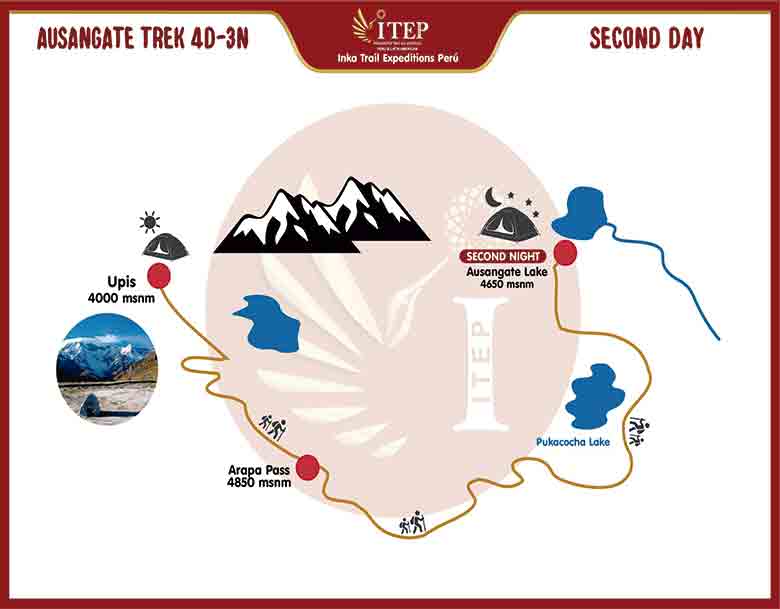 Day 3 / Pucacocha - Palomani-Finaya (Soraycucho).
We cross the highest pass on our trip at Palomani (4,800mts) (15,744ft), with a spectacular view of the southeastern ridge of Mount Ausangate. Camp at Soraycucho.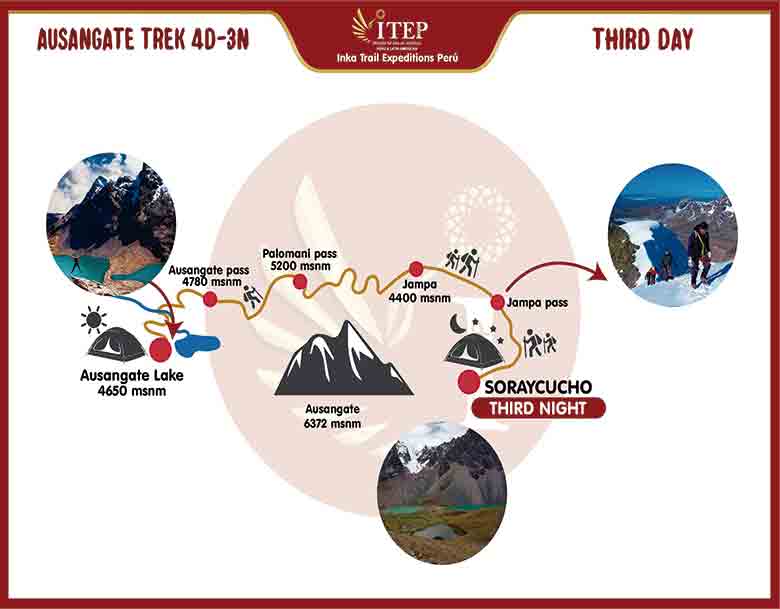 Day 4 / Soraycucho - Pacchanta-Cusco.
We circle northwest over Ticllacocha Lagoon and over the last Pass 4,650m (12,250ft) reaching the small meadow of Pacchaspata, or the shores of lake Q'omercocha Camp for lunch. Today the route is littered with natural beauty; like: deep valleys, alpacas, llamas, and vicuñas being kept in their original natural environment, and if lucky the rare Andean condor will be seen. The trail descends towards the village of Pacchanta where for enthusiasts, thermal baths are available. After lunch we return home.