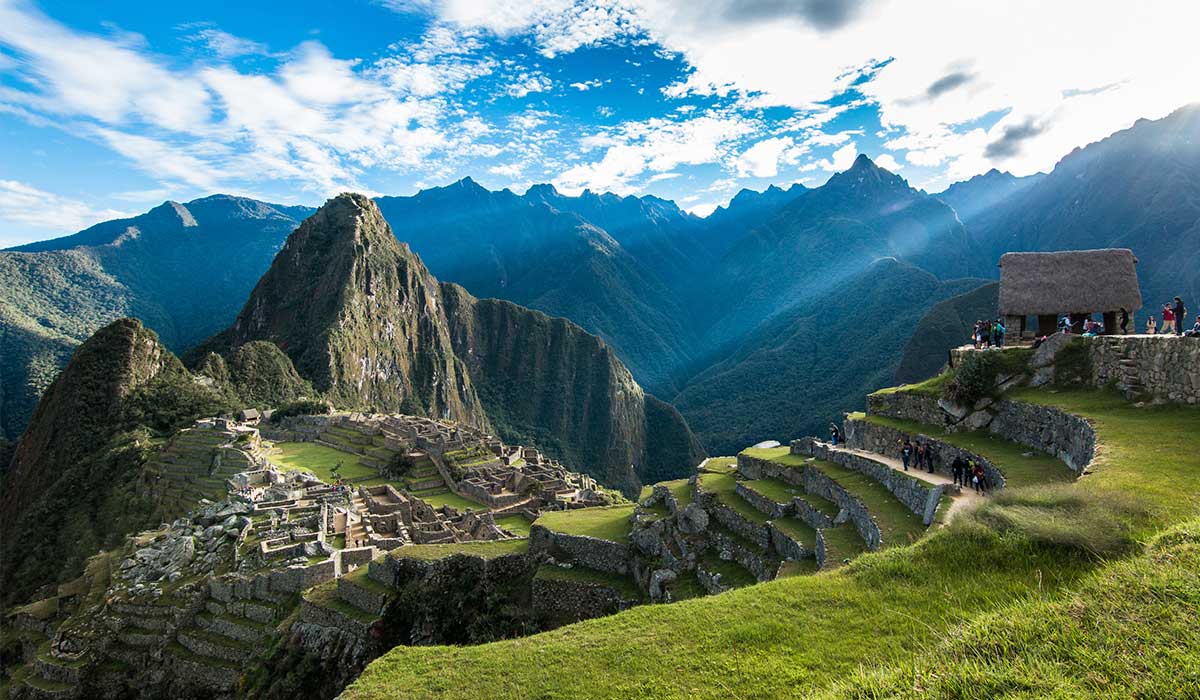 INKA TRAIL EXPLORERS 10D / 9N
Lima – Inka Trail - Machupicchu - Cusco 10D / 9N
General Description
Perfect for those looking to experience the region's archeological and cultural treasures of Perú in a short amount of time, this adventure includes a four-day trek along the Inca Trail.
This is one of the world's best-known hikes and will reward those willing to break a sweat with a stunning combination of mountains capes.
Inka Trail Explorers Circuit included visits: Lima capital's Perú, Cusco, the Sacred Valley and the famous Inka Trail to the New 7 Wonder of the World "Machu Picchu". Also, it includes a visit to mean attractions in Cusco, the capital city of the Inkas.
Program
DAY 1
Arrive to Lima, transfer to Hotel in Lima
DAY 2
City Tour in Lima
DAY 3
Transfer to Airport, fly to Cusco
Arrive to Cusco, transfer to Hotel
Afternoon.- City tour: 14:00 - 18:30 hrs
Visit to the Temple of the Sun, Qoricancha, Sacsayhuaman, Qenqo, Pucapucara, Tambomachay
DAY 4
Sacred Valley of the Inkas
Full Day 08:00 a.m. – 16:00 hrs
Visit Pisaq – Ollantaytambo y Chinchero
DAY 5
Inka Trail 1st day
DAY 6
Inka Trail 2nd day
DAY 7
Inka Trail 3rd Day
DAY 8
Last day Inka Trail
Visit Machupicchu Inka City. Train to Cusco
DAY 9
Transfer to airport, fly to Lima
Arrive transfer to Hotel in Lima
DAY 10
Last day in Lima, ready for next destination
(last transfer is not included)
Itinerary:
DAY 01.- Lima in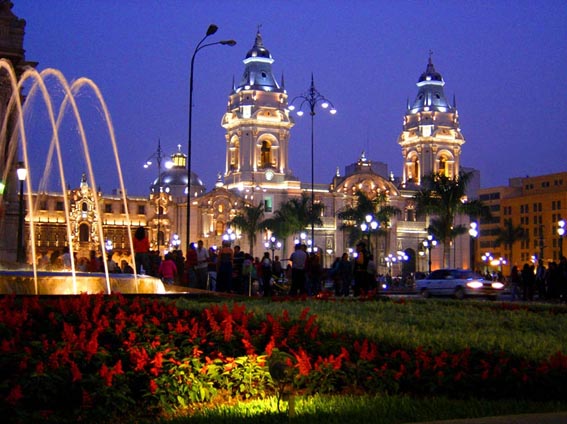 Reception at the airport and transfer to your hotel.
Overnight in Lima.
DAY 02.- City Tour Lima Colonial –
Miraflores Breakfast. We will begin the tour visiting the Huaca Pucllana, (Panoramic View, we will not enter). Then, we walk around the Historic Center of Lima: the Main Square, The Government Palace, the Lima's cathedral, The Archbishop Palace, The City Hall, the Museum of the Central Reserve Bank and Main streets and colonial houses with balconies in Mudejar style.
After this, we will visit the Convent of San Francisco, the Catacombs (underground crypts of the colonial era). Continue in the new financial center of the city, El Olivar San Isidro, Central Miraflores Park, The Park of Love and Larco Mar. Overnight in Lima.
DAY 03.- Lima out – Fly to Cusco – Transfer to Hotel – City Tour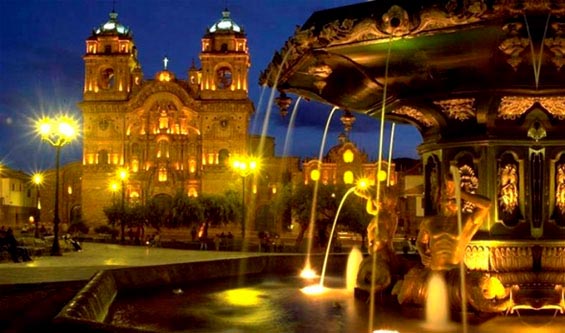 Transfer to Airport - Flight to Cusco
Transfer to the Hotel.
Overnight in Cusco.
KORICANCHA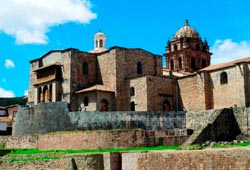 (It was the Main Temple of the Incas) where Sun God is worshiped, About the engineering used in the construction of this place, its walls were covered with gold and in its mean terraces there were sheets of animals in gold made in natural size, which also kept the remains of the Incas and their wives who in ever ruled these lands which were embalmed, chronicles indicate that these seemed to be alive.
SACSAYHUAMAN
(Head of the great Puma)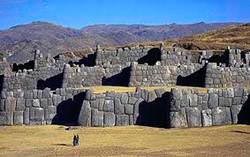 The city of Cusco was in the form of a Puma and the exactly Head was Saqsayhuaman. It is 3 km from the city of Cusco impressive Temple monumental and magnificent stone architecture, also known as the Casa del Sol Annually on 24 June is here where is performed the ancestral ritual of Inti Raymi.
QUENQO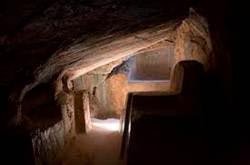 (Temple of the Pachamama or Mother Earth) was a ceremonial center and ritual, there is an amphitheater where sacrifices were made on a black flame, that every winter solstice "June 21" in the shadow a planned for well-polished bricks, born a natural phenomenon" The Awakening of the Puma" for the Incas was the beginning of the great festival of Inti Raymi
PUCAPUCARA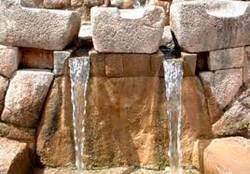 (Fortaleza Inca) is the old town, surveillance existed throughout the Empire and along the Inca roads. Also, it was a controlled entry and exit of all those traveling to or from the holy city of Cusco.
TAMBOMACHAY
(royal baths) at 7 km. from the city of Cusco is a ceremonial center of worship of water, its wings are named sources of water that exist on the site. Also is believed to be resting place of the Inka.
6:30 p.m. Return to Cusco leaving us in the beautiful (main square) Plaza de Armas.
DAY 4.- SACRED VALLEY
Breakfast
EXCURSION Sacred Valley of the Incas.
Pisaq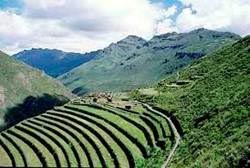 Pisaq is one of the most important archeological regions. Possibly its name comes from a very common type of Bird in this area known as "p'isaqa." Some scholars suggest that the pre-Columbian city was in the form of a "p'isaqa" representing the local fauna. Today there is a colonial Town named P'isaq.in the Inca City, there is a famous Local Market, full of crafts and local products.
OLLANTAYTAMBO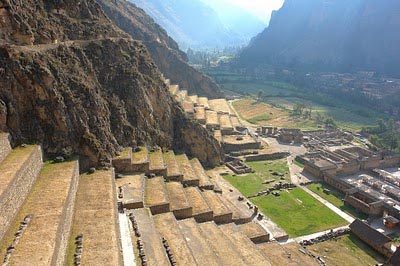 The archeological complex of Ollantaytambo was a strategic military, religious and agricultural center. The architectural scene is exceptional in its.
The size, style and originality of its buildings.
For the Quechua language, the name comes from the word Ollanta (which is the name of an Inca captain, whose story was saved as an oral tradition, and written as a drama of Antonio Valdez Urubamba priest in mid-eighteenth century) Also a Spanish derivation of the word tampu (Tambo) Quechua, which means "City that offers accommodation, food, and comfort to passengers."
Agricultural activity in this area benefited from the presence of the Patacancha creek, where there are large terraces that currently are damaged and abandoned.
CHINCHERO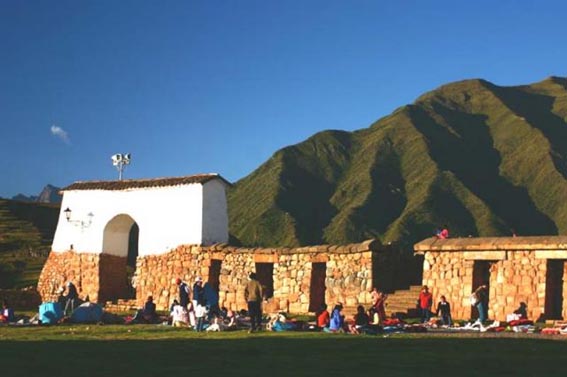 The typical Chinchero is an Inca city, the conquerors wanted to "civilize" and establish their culture, but never succeeded, because they fully resisted. Today you can see this resistance in its inhabitants, as they inhabit the Inca constructions almost intact, in the same place where their ancestors lived and formed the largest and most prosperous civilization in America.
The Rainbow City is located 28 km. northwest of the Cusco city, over 3,762 meters, at an intermediate location between the highlands and warm valley, surrounded by snow-capped Salkantay, Veronica, and Soray. The view from here is awesome. Chinchero was chosen by the Inca Tupac Yupanqui to establish his residence.
Days 5th, 6th, 7th, 8th
Option n°1 : Traditional Inka trail to Machupicchu
Option n°2 : Lares trek to Machupicchu "Vivencial trip experience" - Lares Trek a Machupicchu 4d/3n
Option n°1:
Of our Itinerary Inka trail to Machupicchu
DAY 01 of our Inka Trail : CUSCO - KM82 - PISCACUCHO - WAYLLABAMBA.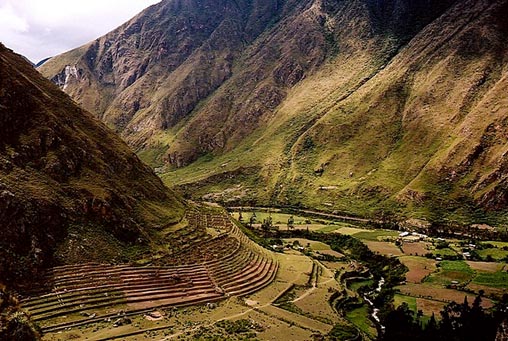 At 6:30 a.m. Our guide will go through the hotel and then transported by bus to Km 82 where we will be arriving approximately 10:00 am in this place we will be happy to know the team that will accompany us during our trek, such as porters, camp assistants, cooks, etc.
Start walking.
This first day is pretty easy in the first km, have a beautiful view of Mount Veronica and walk along the river Vilcanota until Patallacta archeological site, after lunch, we continue until Huayllabamba where we'll set up camp for our first night.
Meals: Lunch, Teatime, Dinner.
DAY 02 of our Inka Trail: WAYLLABAMBA - LLULLUCHAPAMPA - PACAYMAYO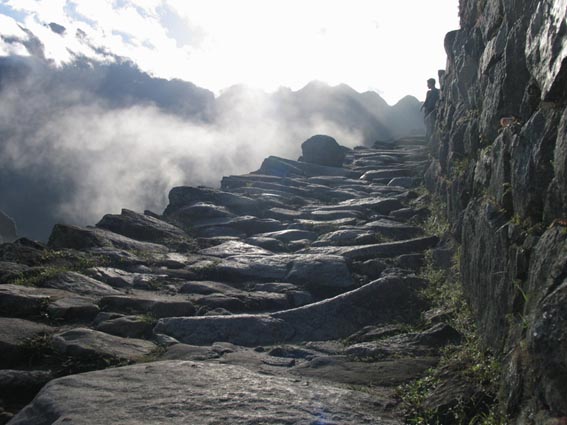 After a hearty breakfast, start our second day of trekking, perhaps the most difficult, as we will have to climb to the pass of Warmihuañusca, at 4,200 m. . In this place, the highest in the Inca Trail, we enjoy a spectacular view of the Andes. After lunch start the descent towards the valley of Pacaymayo, where we will make our second camp in Pacaymayu.
Meals: Breakfast, Lunch, Teatime, Dinner.
DAY 03 of our Inka Trail: PACAYMAYO - PHUYUPATAMARCA – WIÑAYWAYNA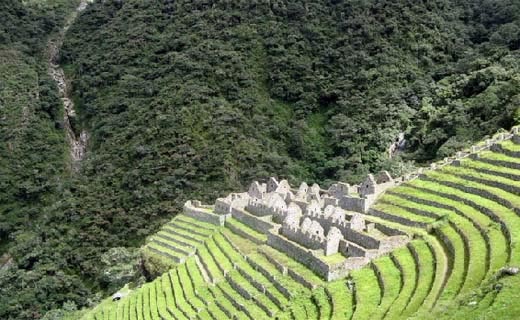 Early morning after our delicious breakfast we return to the path. We head off towards Runkuracay to visit its archeological remains, then continue hiking to the 3,900- meter mountain pass with the same name, where we begin our descent to the ruins of Sayacmarca. After lunch, our hike takes us to Wiñay Wayna, which will be our last night in camp.
Optional: we can use the showers of the restaurant that is in the place, good choice to take a cold or hot shower.
Meals: Breakfast, Lunch, Teatime, Dinner.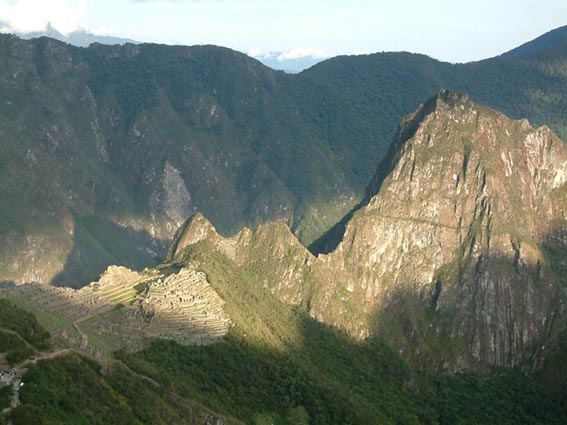 DAY 04 of our Inka Trail: WIÑAYHUAYNA - MACHU PICCHU
After breakfast, the hiking continues to reach Intipunku (Door of the Sun), where we have a spectacular panoramic view of the citadel of Machu Picchu. We descent to the city of Machu Picchu and the start a walking tour (approximately 2hours) by your guide and after this you can explore the mysterious city by yourselves. If you still have energy you can also climb Wayna Picchu (2720m/8923ft)!!! It takes 45 minutes to reach the top, this walk is extra/optional and you might need to skip the Machu Picchu tour to be able to get a permit to climb this mountain. We take the bus to the village of Aguas Calientes to take our train back to Ollantaytambo and a Bus to Cusco
Arrive to Cusco, transfer to the Hotel
Day 9.- Cusco out – Lima in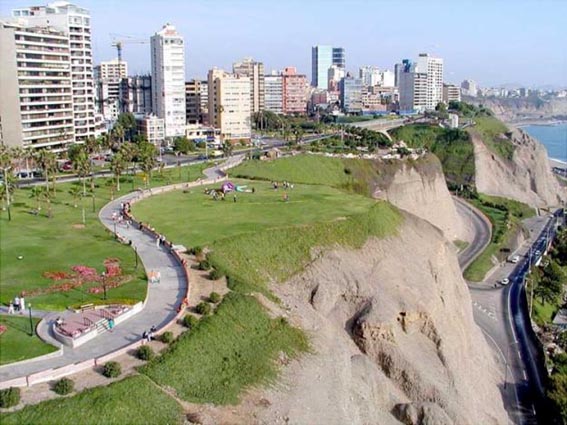 Breakfast. Free morning. At an appropriate time transfer to the Airport to board the flight to Lima. In Lima, reception and transfer to your hotel.
Free day
Overnight in Lima.
Day 10.- Lima out
Breakfast. At an appropriate hour transfer to the airport to return to your origin city or next destination.
Trip view
Trip Duration: 10 Days / 09 Nights
Start: Lima / Finish: Lima
What is included?
Transfer Airport/Station – Hotel – Airport/Station.
03 nights including breakfasts in Lima
02 nights in Hotel in Cusco including breakfasts.
01 night in hotel in Machupicchu Village (Sacred Valley) including breakfast
03 nights in Camping on the Inka Trail
Meals along the Inka Trail (03 breaksfast, 03 lunch, 03 dinner)
City Tour Lima Colonial and Modern
City tour in Cusco
Cusco, Sacred Valley
Inka Trail to Machu Picchu – train Vistadome .
On Inka Trail (Tour Guide, porters, cook, camping equipment, entrance fees)
Entrances fees to tourist attractions.
Professional Guidance (Spanish – English)
Domestic Flight: Lima – Cusco / Cusco – Lima
What is not included?
Air Taxes.
Drinks and Personal Expenses.
Tips.
National and International Personal Calls.
Others unspecified.
GALLERY / PHOTOS