LARES TREK TO MACHU PICCHU 5 DAYS | 4 NIGHTS
Lares Trek to Machu Picchu has a Sacred Valley of the Incas and its rich variety of cultures. The Sacred River help to produce the best qualities of corn and potatoes all over the world, Lares surrounded by magnificent snow-capped peaks and many hot water springs
duration :
5 Days | 4 Nights
Lares Trek to MachuPicchu in 5 Days / 4 Nights
(Extra porter / horse "llama" included) +01 full day in Machu Picchu Inka City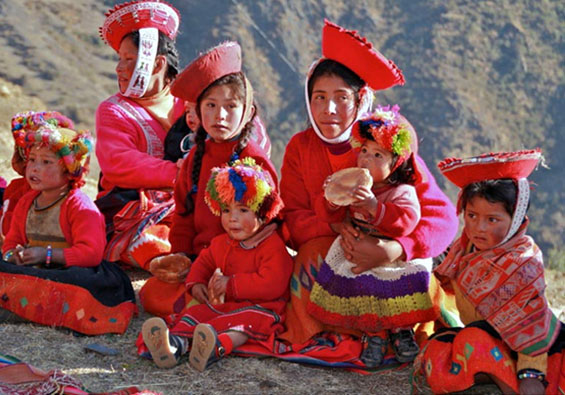 Difficulty Level (By Day)
| | |
| --- | --- |
| Day 1 | Moderate |
| Day 2 | Difficult |
| Day 3 | Moderate |
| Day 4 | Easy |
| Day 5 | Easy |
The Sacred Valley of the Incas and a rich variety of cultures.the Sacred River help to produce the best qualities of corn and potatoes around the world, Lares surrounded by magnificent snowy peaks and many hot springs.
Andean families keep their Inca customs, their original clothing and traditional farming, llamas and alpacas help them is their main activity, all along the valley
This trek is ideal for travellers taking you through rural communities in the breathtaking Sacred Valley of the Incas. We enjoy a wide variety of flora, fauna, wildlife and spectacular scenery! On our last day we are rewarded with the magnificent Machupicchu.
Service level: BASIC
PROGRAM:
DAY 1
5:00 a.m. Bus CUSCO

LARES.11:00 – 16:30 PM
LARES-PASCANA-QUISHUARANI
DAY 2
Trekking 7:00 a.m. -16:00 p.m.
QUISHUARANI-CANCHA CANCHA
DAY 3
Trekking 8:00 a.m. - 12:30 p.m.
CANCHA CANCHA-HUARAN-OLLANTAYTAMBO

14:55 p.m. Train OLLANTAYTAMBO-MACHUPICCHU
DAY 4
Full day MACHUPICCHU.

8:00 a.m. - 16:00 p.m.
Afternoon Optional. Visit Hot Spring
DAY 5
Morning, return to CUSCO

8:00 a.m. - 12:00 p.m.
MACHUPICCHU Village to OLLANTAYTAMBO and bus to CUSCO
MEALS INOUR TRIP
BREAKFAST (B)

Fruit Salad, oatmeal, pancakes, cereal, tea, coffee, milk, bread
with a selection for it, butter,
flavoured jam, honey, etc

SNACKS (D)

included a bag with biscuits, a few sweets, perhaps an apple, bananas or orange

LUNCH (L)

The biggest meal of the day, always with a soup, cream of asparagus, tomatoes, corn, or vegetables and noodle soup.and then a meat (poultry, fish, pork, beef + a grain "most likely quinoa or white rice" + veggies + variety salad+ drinks "hot and cold
drinks"

TEATIME (T)

At 4 o'clock every afternoon (tea, coffee, chocolate muffins, cookies, popcorn, etc).

DINNER (D)

Mously like Lunch, included dessert. Chocolate pudding. Rice pudding, and others

We have dessert each night.

Every meal we offer hot drinks, including coca leaf tea which is excellent for the altitude.
Menu is along the trip, no all on the same Day
IMPORTANT.
Vegetarian (vegan) food on request at no extra cost! if you have any dietary requirements,
!!You literally get treated like royalty when you're on the Trail!!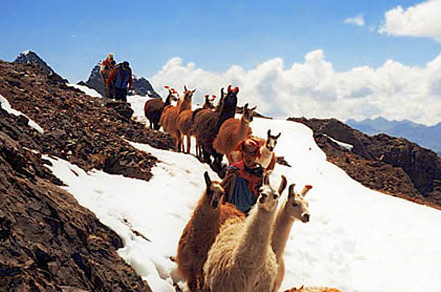 Itinerary:
DAY 1: CUSCO -LARES- PASCANA-QUISHUARANI
5:00 am Early morning Our guide will pick you up from your hotel and we drive through the Sacred Valley turning off at the town of Calca to head to Lares village – the drive takes around 3 hours.Once we arrive at the town we go upto the Hot Springs where we can relax and enjoy these beautiful outdoor hotsprings. Lunch is provided here. Our bus awaits us during this time and then we continue our journey for around 20 min to the start of the trail known as PASCANA. From here we start our hike to Quishaurani. Here we meet up with our horseman and pack the horses and llamas. The trek will take us around 3 hrs. When we arrive our campsite would have been set up for us. In the free time that we have, we can meet some of the locals and see some weaving techniques.This is a lovely day filled with great landscapes and the opportunity to visit several Andean villages. (The temperature drops at night).
Meals: Lunch, Teatime, Dinner.
DAY 2: QUISHUARANI-CANCHA CANCHA.
After a delicious breakfast Leaving Quishuarani this is going to be our longest day on the trail we continue northeast up the valley, passing small thatched stone houses. After a ½ hour the path flattens out before climbing steeply for the 2½ hour trek to the highest pass, called Pachacutec Pass (4758m). From the pass you'll be rewarded with superb views of Pachacutec Lake and the snowy peaks of Pitusiray. The path continues for an hour along a narrow ridge until dropping down into a beautiful secluded corrie filled with glacial lakes (Lunch). The lip of the corrie descends into the next valley, following a series of cascading waterfalls to the village of Cancha Cancha. We'll camp here for the night.
Meals: Breakfast, Lunch, Teatime, Dinner.
DAY 3: CANCHACANCHA-HUARAN-OLLANTAYTAMBO-MACHUPICCHU
After a delicious breakfast we start our easy hike today. Following to the small Cancha Cancha river. It's a 4-hour trek to our destination, the small village named Huaran. From there we take local transport to the town of Ollantaytambo – a beautiful well preserved Andean town, you will have some time to explore before boarding the train to Aguas Calientes. Approximately, at 15:00 pm we take the train to Machupicchu.
Meals: Breakfast, Lunch, Teatime, Dinner.
DAY 4: FULL DAY MACHUPICCHU
We have breakfast and then take the bus (8am) up to Machu Picchu. A walking tour (approximately 2 hours) is given by your guide and after this you can explore the mysterious city by yourselves. If you have energy you can also climb Huayna Picchu (2720m/8890ft)!!! (It takes about 45 minutes to reach the top). Optional: evening visit to the Hot Springs. Overnight in Machupicchu Village.
Meals: Breakfast
DAY 5: MACHU PICCHU - CUSCO.
After breakfast train back to Ollantaytambo. Cerrojo backpacker (to Ollantaytambo) and bus to Cusco. We'll be in Cusco approximately at noon.
Meals: Breakfast.
NOTE:
Itinerary is subject to change depending on time of booking and campsites spaces in the moment that we arrive in there).
The camps can vary depending on climate and health status of clients.
Train Included in all tours is Cerrojo Backpacker (to-from Ollantaytambo) Train times will only be confirmed close to the time of the trek, if join a group late in the day we can't guarantee you will travel on the same trains as the rest of the group.
Train time is subject to change depending on Peru Rail timetable and availability.
To qualify as a student, it is necessary to have a valid ISIC card. scan and email us at the time of booking.
INCLUDES
Briefing (usually scheduled one or two days before your trek)
Tourist bus from your hotel in Cusco to beginning of your trek
Machu Picchu entrance ticket
First Aid basic equipment and oxygen for emergencies
Horses to bring camping/kitchen supplies and 5 Kilos of your personal belongings including your sleeping bag
Professional bilingual (Spanish/English) guide (guides who speak other languages upon request)
Camping equipment: Tent ( 4 person tent which will sleep 2 people), foam mattress
Kitchen supplies for cook (kitchen tent, dining tent, chairs, etc.)
Professional cook
Meals: 4 breakfasts, 4 lunches, 4 dinners (vegetarian, vegan, etc. dietary requirements available if requested during time of booking at no extra charge)
Bus ticket from Machu Picchu to Aguas Calientes
Expedition Train from Aguas Calientes to Ollantaytambo (see note about train availability, changes in times, etc.)
Transportation from Ollantaytambo to Cusco
YOU NEED
Original passport
Sleeping bag (not included but can be hired from us)
Walking boots
Waterproof jacket/rain poncho
Warm jacket, hat and gloves
T-shirts
Comfortable trousers
Sun hat
Sun protection cream (factor 35 recommended)
Re-usable plastic or metal water container or camel bags.
Water (only for first 4 hours of trek, then we will provide you with drinking -previously boiled- water).
Insect repellent
Toiletries
Personal medication
Camera and films
Torch with spare batteries (headlamps are useful)
OPTIONAL ITEMS TO TAKE:
Shorts
Walking stick (with rubber tip)
Plasters and bandages
Sandals
Extra money
Bathing suit (for hot springs in Aguas Calientes)
Related Tours
Our classic Salkantay Trek is a alternative to the traditional Inca Trail. The Sacred path is a cutting edge experience for adventure travelers looking for a little more privacy and authenticity

classic Inca Trail to Machu Picchu 4 days, the most important and most popular hiking trail in South America ¡Book Now!