PERU EXPLORERS
HIGH LIGHTS OF PERU in 14 DAYS / 13 NIGHTS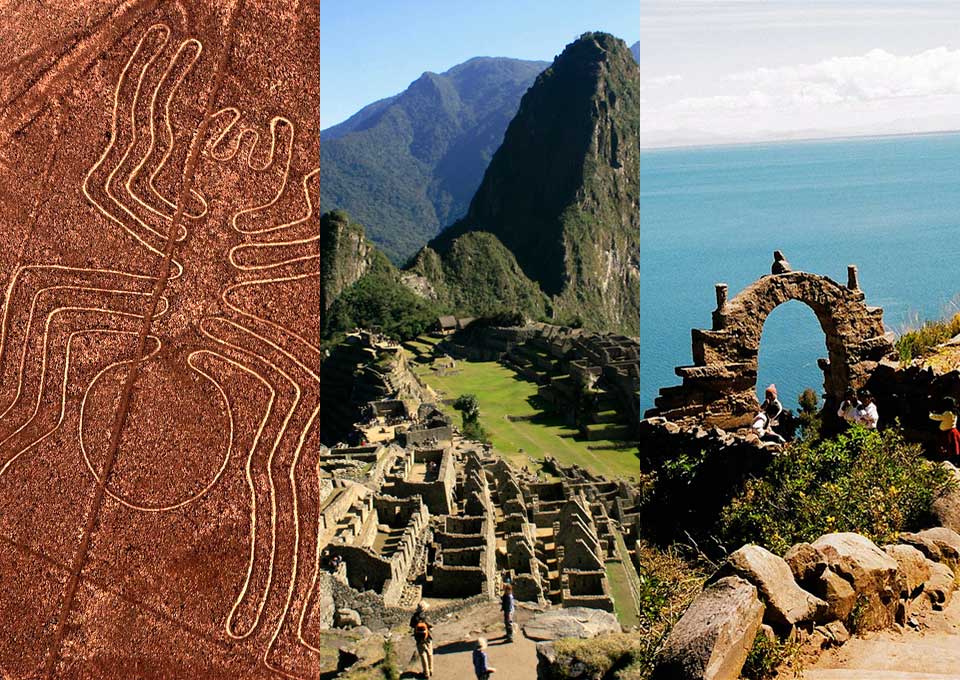 This fascinating journey takes us to Peru's geography, culture and history of Peru, offering you an intriguing combination of guided excursions and free time to explore at your own pace. You will have the opportunity to fly over the Nazca Lines, explore the wildlife in the national reserve of Paracas, cruise on lake Titicaca Lake, traveling in one of the world's most luxurious trains the Andean Explorer from the lake of the gods to the historic city of Cusco, dine with locals at a homestay, delight in the views of the capital of the Incas and walk the famous Inca trail to the sacred city of Machu Picchu.
Featured: Flight over the Nazca lines, sailing the Gods Lake the Titicaca, walk the famous Inca Trail to Machu Picchu, and travel in one of the most outstanding train journeys in the world the Andean Explorer.
Program
| | |
| --- | --- |
| Day 1 | Transfer from airport to Hotel 19:00 p.m. Meeting in lobby of hotel |
| Day 2 | 4:00 a.m. Lima - Ica – Ballestas Islands – Huacachina Oasis |
| Day 3 | Huacachina- Nazca´s Line - Bus to Arequipa |
| Day 4 | Trekking to Colca Canyon |
| Day 5 | Trekking to Colca Canyon and Bus to Puno |
| Day 6 | Titicaca Lake Tour (overnight in Amantani Island). |
| Day 7 | Titicaca Lake Tour back to Puno |
| Day 8 | Train Andean Explorer from Puno to Cusco |
| Day 9 | Free Day (optional Sacred Valley) |
| Day 10 | Inka trail to Machupicchu |
| Day 11 | Inka trail to Machupicchu |
| Day 12 | Inka trail to Machupicchu |
| Day 13 | Full day MACHUPICCHU. Afternoon Optional. Visit Hot Spring, return to Cusco |
| Day 14 | Fly from Cusco –Lima (end of the tour) |
Included
Transfer at your arrival to Perú, Guided tour to Ballestas Island, Fly over the Nazca lines, Guided tour of Colca Canyon trek and surroundings (1 night), Guided tour of Amantani, Taquile and Uros Islands on Lake Titicaca, Luxury train from Puno to Cusco, Guided tour on the Inka Trail to Machu Picchu.
All Breakfasts, 6 Lunches, 5 Dinners.
Hotels 3* start /guest houses (08 nights), camping nights (3 nights), homestay (1 night).
Touristic buses, plane, train, boat.
Chief Experience Officer (CEO) throughout, local guides.
Small group experience; Max 6
ITINERARY:
Route: Lima – Ica "Ballestas Island" – Huachina Oasis -Arequipa - Colca Canyon - Arequipa - Puno - Lake Titicaca - Puno – Luxury Train to Cuzco – Inka trail to Machu Picchu - Ollantaytambo - Cuzco – Lima.
Even if you're short on time, you can cover the highlights of Peru in one trip - it just takes a bit of clever planning. During this two week best of Peru holiday you'll follow the Inca Trail to Machu Picchu, sail to the floating islands of Lake Titicaca and come face to face with the majestic condors of the Colca Canyon. Because you'll be travelling across different time zones and varying altitudes we'll schedule in plenty of time to relax and catch your breath.
All your transfers by coach and plane will be taken care of and you'll be staying in comfortable middle-class hotels (breakfast included). Get ready to catch the Latino fever. Over two weeks you'll see the best of Peru and fall in love with the place, just like we did.
DAY 01. - TOUR LIMA
Airport reception and transfer to the hotel.
19:00pm meeting for a briefing of all our itinerary in Perú (lobby-restaurant in Hotel)
Overnight in Lima.
Lima today is the wealthy, beautiful colonial settlement and one of the most important city in the Americas like it used to be during colonial times or the lovely capital of independent Peru with nice haciendas, fishing villages and lots of green surrounding it. Today Lima with its over 8 million inhabitants is one of the most interesting and challenging cities in South America with a huge archaeological, historical and cultural past. Most of its treasures might be well hidden, but Lima Easy will help you finding those that are worth being discovered...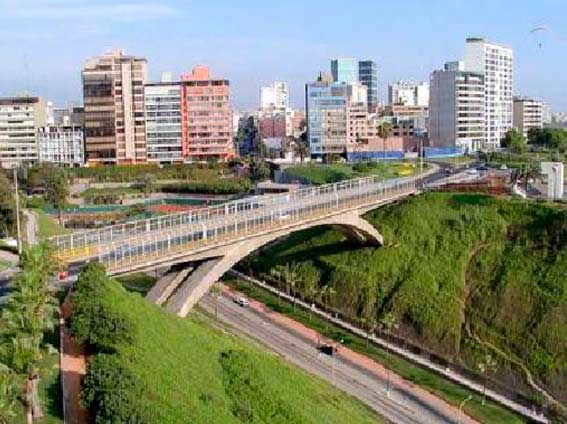 DAY 02. - LIMA - ICA – BALLESTAS ISLANDS – HUACACHINA.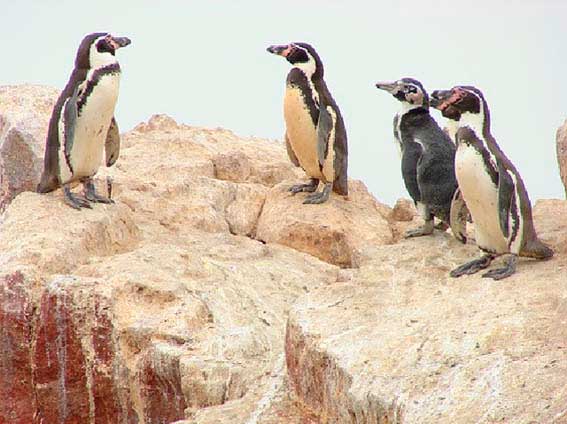 4:30 am. Pick up from the hotel in Lima and then move to Paracas Bay, the car ride to the Paracas Reserve lasts about 3 hours. At the Paracas Bay you will be met by our local guide at the port and afterwards you will be led to the local dock of El Chaco where you will board a speed boat to visit the Ballestas Islands. During our boat excursion to the Islands you will see many attractions, among them, stands out a huge design etched on the slope of hill, known by the local people as The Candelabro. This is an enormous figure that can be seen clearly from the sea. Our local guide will explain the most important theories concerning this drawing.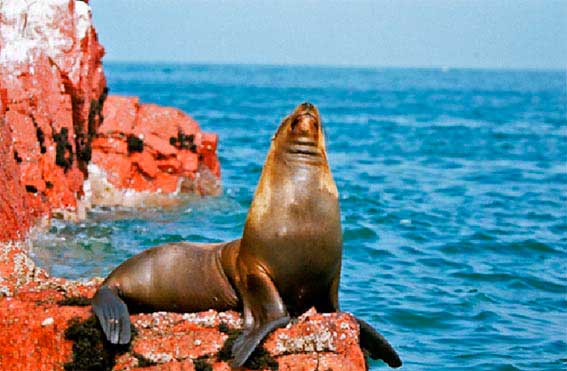 Afterwards, we will continue our excursion around the Ballestas Islands, where you will see hundreds of birds flying (Peruvian Bobbies, Inca terms, Pelicans, Cormorants and others) above the Islands, as well as dozens of sea lions on the shore of the beaches, and if you are lucky you also can see the famous Humboldt Penguins and dolphins swimming nearby. It is not allowed to land on the Island, which means you will spend all the tour on the boat. Afterwards we will get back to the main land. Upon arrival at the dock, we will adjourn for half an hour; so you can have a coffee in the bay or simply go shopping at the small craft marketing the area. Then we board our bus and begin our tour bus travel in the Paracas Reserve. During this tour we will visit the interpretation center of the reserve, which offers interesting pictures and photos showing the life and fauna that exists there. We will also make a tour across the Paracas Peninsula, visiting the beautiful beaches. Then we will leave from Paracas Reserve and we will go to the south, where we will visit the city of Ica and Pisco holds the traditional and the famous lagoon called Huacachina, where we will have lunch in front of the lagoon.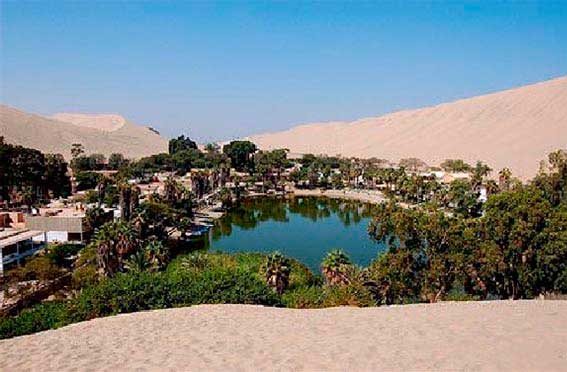 Optional: adventure sport known locally as "sand boarding" or on sand table. Overnight in Huacachina.
Meals included: breakfast in hotel
DAY 03. -HUACACHINA- NAZCA´S LINE -BUS TO AREQUIPA
Pick up from your hotel in Huacachina and transfer in a touristic bus to Nazca City. The trip to Nazca is about 2 hours along the way we are going to see interesting sceneries, mix together rural and agricultural fields.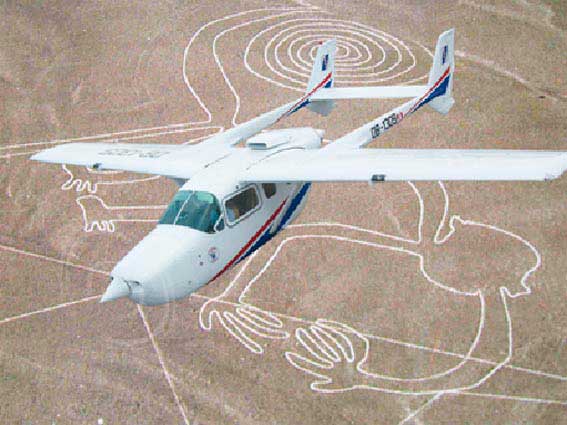 We begin our plane ride over the Nazca Lines, Prior the flight you will watch a video film about the Nazca Lines that will allow you get a better understanding of the archaeological zone and also the figures you will see from the air. For this aerial tour, you will board a small Cessna single-engine aircraft (Station air, Sky hawk or Skyline type), which has spacious room for 3 and 5 passengers, each person with a window seat to appreciate better the figures. The flight is about 35 minutes and during this time you will see perfect representations of animals such as birds, including a condor, a humming bird, a pelican, a parrot among others. As for the other species, you will see a large monkey, a spider, a whale, a lizard, and a design known as the famous astronaut. Apart of the designs you will also see hundreds of lines that run throughout the desert and large geometric shapes that resemble huge run ways.
After we take a Bus to Arequipa City know as (White City). Transfer to Hotel Overnight
Meals included: breakfast in hotel

DAY 04 Y 05. - TREKKING TO COLCA CAÑON 2 DAYS / 1 NIGHT.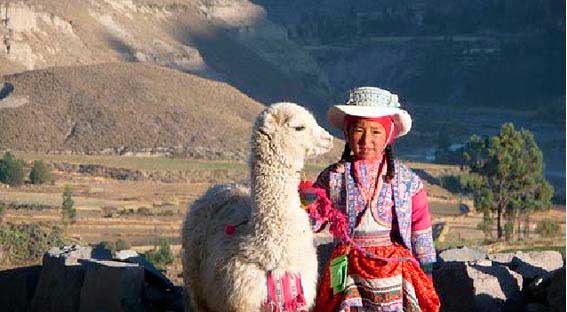 FIRST DAY: AREQUIPA –CHIVAY–CRUZ DEL CONDOR–SANGALLE
3:30 a.m. We started to pick up passengers from their hotel sand at an average of3 hours we arrive at the town of Chivay. then in 1 and 30 min we are going or to pass through all the Colca Valley, then we are going to get to the viewpoint of the "Cruz del Condor", we will stop for 45 minutes, from here 1 hour more to see Colca Canyon and the kind of the skies, the fascinating Condor, and then we are going or to continue for 30 minutes more to start our trek for 4 hours approximately from the view of San Miguel. Then we are going or to go down about 1000 meters until get to San Juan de Chuco Locality, that is located on the right bank of Colca Valley, where we are going to have lunch and rest with an extraordinary view. (You can also go down another route in just 3hours).
After Lunch we will continue our journey to the Oasis(Sangalle2180m) passing through the villages of Cosñirgua and Malata (2,450meters), place that is known for being the only annex where you can see a seventeenth century church, still retains the colonial features, walking an average of 03hours to Sangalle Oasis here we can enjoy the natural pools24 °C and walking around the place, there we will have our break until dinner to enjoy a camp fire and delicious dinner under the beautiful Colca sky and then sleep in bungalows.
Meals included: breakfast in hotel, Lunch and Dinner while on tour.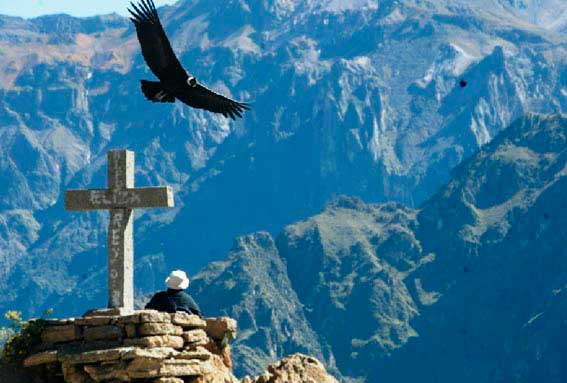 SECOND DAY: SANGALLE–CABANACONDE–CHIVAY – PUNO
5:00 a.m. We are going or to get up to climb to the village of Cabana Conde about 04 hours approximately, it is advisable to leave early to go without sun because the morning sun is very strong. People that are very tired have the option to make the ascent on a mule. Once in Cabana Conde we will have breakfast and then we will return to the capital town of Chivay Colca Valley on the way we see the scenery and other attractions of the same.
In Chivay we are going to have lunch and visit the hot springs of La Calera 45 ºC, and then we are going to go to Puno City.
Meals
Included: breakfast in bungalows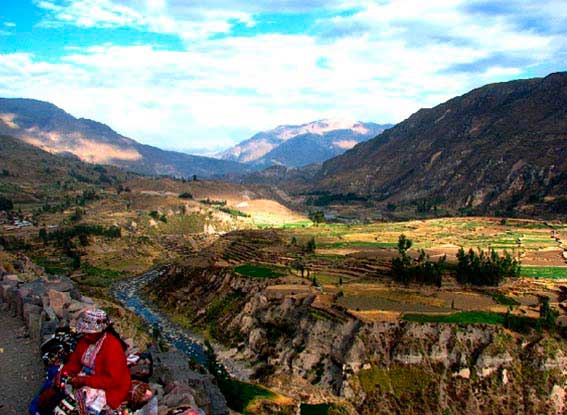 DAY 06 Y 07. - LAGO TITICACA TOUR (AMANTANI ISLAND).
DAY 1: PUNO - UROS - AMANTANI ISLAND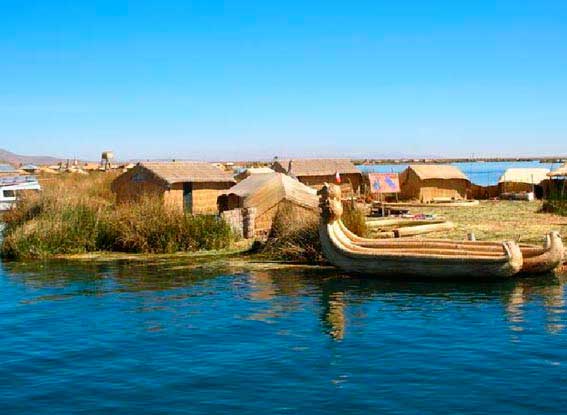 In the morning we are going to pick you up at your hotel in Puno and we will go to the port to take you on a motor boat excursion on the waters of Lake Titicaca. After 30 minutes we will see and visit the unique floating Island of the Uros which is inhabited by many families. They use the cattail, a type of bush which grows in the lake to create conditions that ensure that the island stays afloat. Then we will continue to Amantani Island, where we will have lunch. We will spend the night and have dinner at the house of a local family to enjoy the hospitality of a typical Amantani home.
Meals included: breakfast in hotel, lunch and dinner in Amantani Island.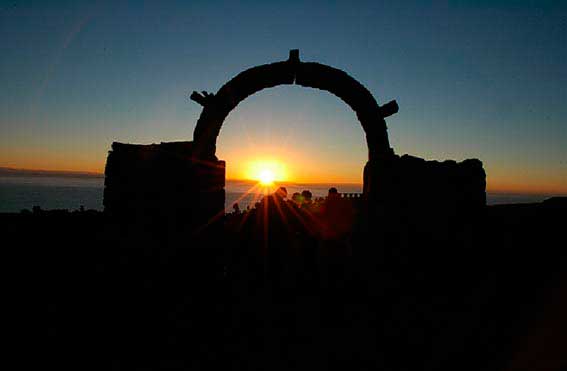 DAY 2: AMANTANI ISLAND - TAQUILE - PUNO
After breakfast we will continue towards Taquile Island, we will walk for 40 minutes until arrive to the Town, we'll visit different traditional sites there. Later in the afternoon we will return to Puno at 05:00 pm. approximately.
Meals included: breakfast in family house.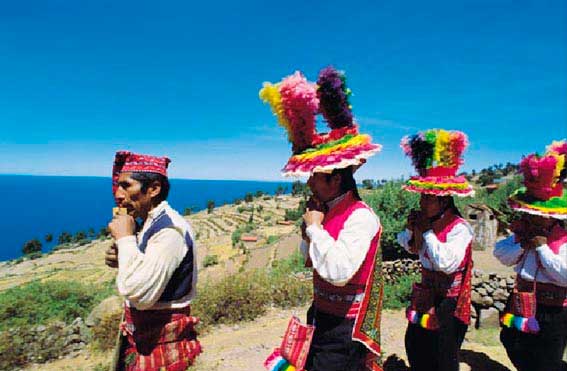 DAY 08. - TRAIN FROM PUNO TO CUSCO
(From Aymara Region to Quechuas Region)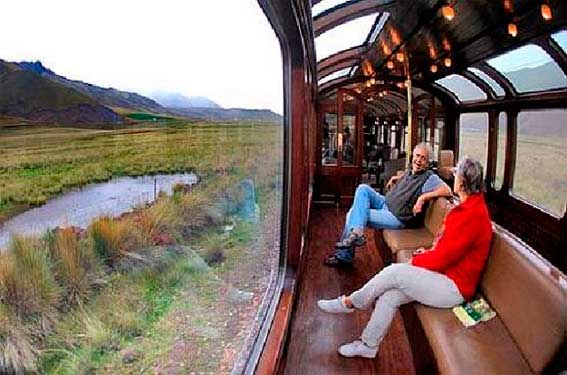 It begins in Puno City on the shores of Titicaca Lake to the city and birth place of the Inca Empire in Cusco.
281km–the Train gets to Juliaca City a train station and commercial city with about 150,000 inhabitants, whose rampant buying and selling almost seems that sometimes spills out the train tracks.
The train continues going up by another 27kmbeyondthe hot springs of Aguas Calientes to La Raya, 210 km fromPuno.At4,321m, is the highest point on the road ,a cold and remote as surrounding snow covered peaks are often covered by fog or light rain, and whose eerie silence hangs the eardrums because of altitude. Crossing this great watershed, the train travels through sea of grass, seemingly endless and through villages lost in time for all.
Meals included: breakfast in hotel, lunch on the train.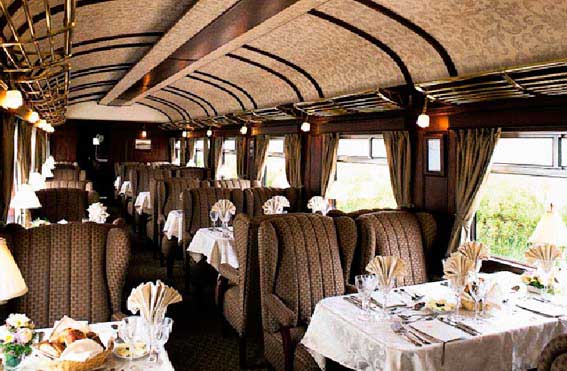 Day 09. –Free Day (optional Sacred Valley)
Free day to rest the traveler, this day may be taken at its sole discretion, to know the Inka city of Cuzco, walk through the beautiful streets or take some sort of itinerary.
SACRED VALLEY ROUTE.
After breakfast the tour by visiting:
Pisaq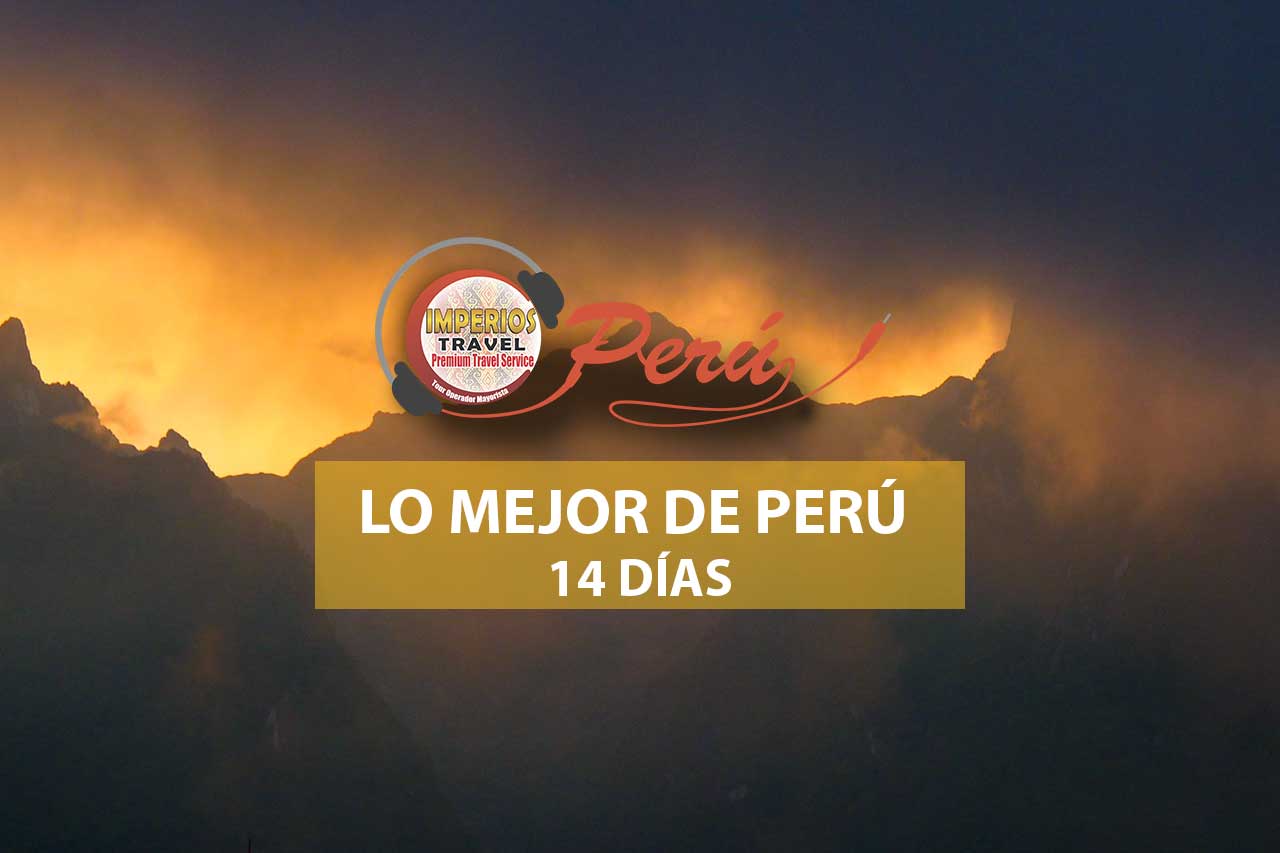 P'isaq is one of the most important archaeological regions. Possibly its name comes from a very common type of Bird in this area known as "p'isaqa." Some scholars suggest that the pre-Columbian city was in the form of a "p'isaqa" representing the local fauna. Now a day there is a colonial Town named P'isaq.
In the Inca City there is a famous Local Market, full of crafts and local products.
Ollantaytambo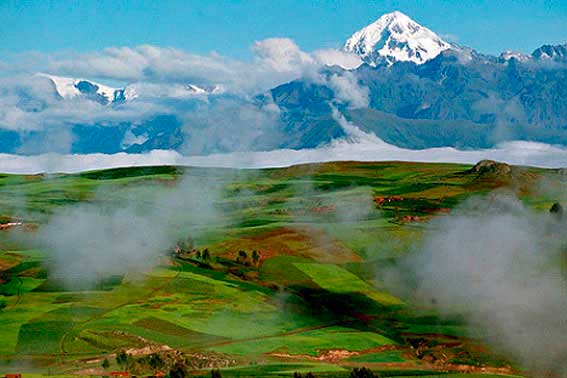 The archaeological complex of Ollantaytambo was astrategic military, religious and agricultural center. The architectural scene is exceptional in its.
The size, style and originality of its buildings. For the Quechua language, the name comes from the word Ollanta (which is the name of an Inca captain, whose story was saved as an oral tradition, and written as a drama of Antonio Valdez Urubamba priest in mid-eighteenth century) Also a Spanish derivation of the word tampu (Tambo) Quechua, which means "City that offers accommodation, food and comfort to passengers.
Agricultural activity in this area benefited from the presence of the Patacancha creek, where there are large terraces that currently are damaged and abandoned.
Chinchero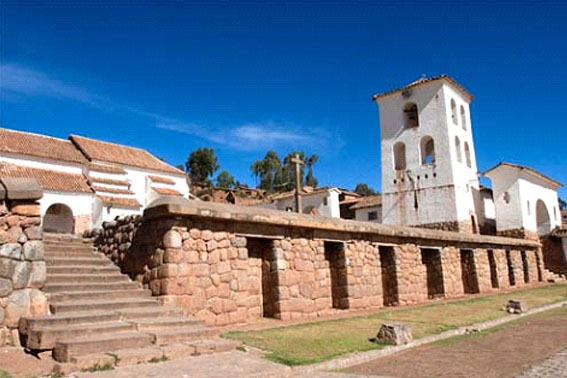 The typical Chinchero is a Inca city, the conquerors wanted to "civilize" and establish their culture, but never succeeded, because they fully resisted. Today you can see this resistance in its inhabitants, as they inhabit the Inca constructions almost intact, in the same place where their ancestors lived and formed the largest and most prosperous civilization in America.
The Rainbow City is located 28 km. northwest of the Cusco city, over 3,762 meters, at an intermediate location between the highlands and warm valley, surrounded by snow-capped Salkantay, Veronica and Soray. The view from here is awesome. Chinchero was chosenby the Inca Tupac Yupanqui to establish his residence.
Meals included: breakfast in hotel Buffet lunch in Sacred Valley tour.
DAY 10, 11, 12,13 - INKA TRAIL to machupicchu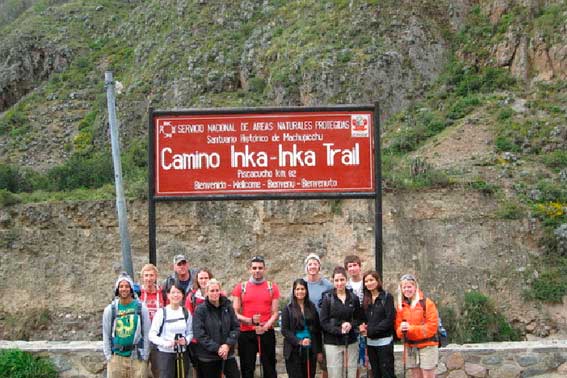 DAY 01: CUSCO - KM 82-PISCACUCHO - WAYLLABAMBA.
At 6:30 a.m. Our guide will go through the hotel and then transported by bus to Km 82 where we will be arriving approximately 10:00 am in this place we will be happy to know the team that will accompany us during our trek, such as porters, camp assistants, cooks. Then start walking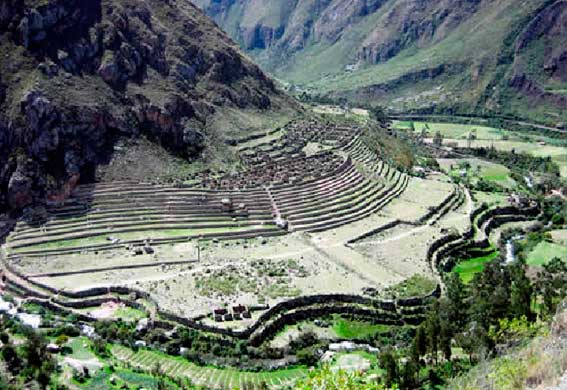 This first day is pretty easy in the first km, have a beautiful view of Mount Veronica and walk along the river Vilcanota until Patallacta archaeological site, after lunch we continue until Huayllabamba where we'll set up camp for our first night.
Meals included: breakfast in hotel
"Lunch –Dinner on tour"
DAY 02: WAYLLABAMBA - LLULLUCHAPAMPA - PACAYMAYO.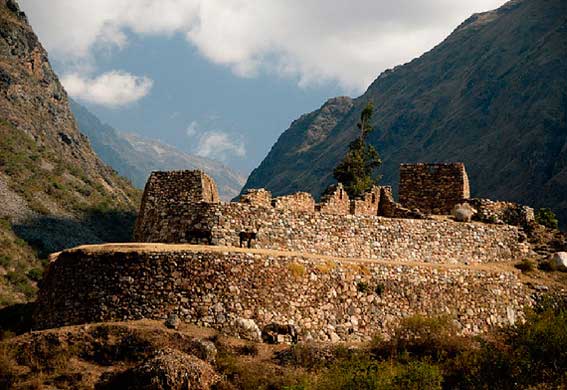 After a comforting breakfast, we will start our second day of trekking, perhaps the most difficult, since we will have to ascend to the Warmihuañusca pass, at 4,200 meters above sea level. In this place the highest in the Inca Trail, we will able to enjoy a panoramic view of the snowy mountains surrounding the Abra. After lunch begins the descent to the Pacaymayo Valley, Where we will make our second camp.
Meals Included: "Breakfast-Lunch-Dinner"
DAY 03: PACAYMAYO - PHUYUPATAMARCA – WIÑAYWAYNA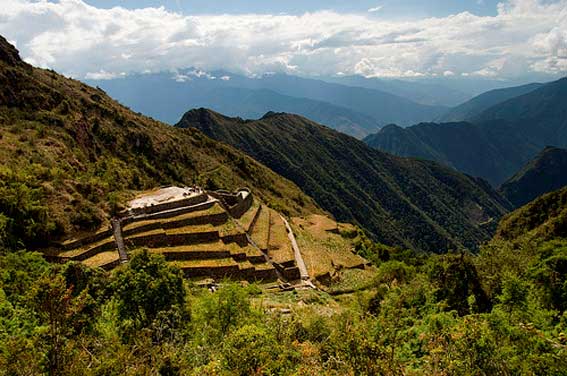 Early morning after our delicious breakfast we return to the path. We head off towards Runkuracay to visit its archaeological remains, then continue hiking to the 3,900- meter mountain pass with the same name, where we begin our descent to the ruins of Sayacmarca. After lunch, our hike takes us to WiñayWayna, which will be our last night in camp.
Meals included: "Breakfast -lunch -Dinner"
Optional: we can use the showers of the restaurant that exists in the place, good choice to take a cold or hot shower.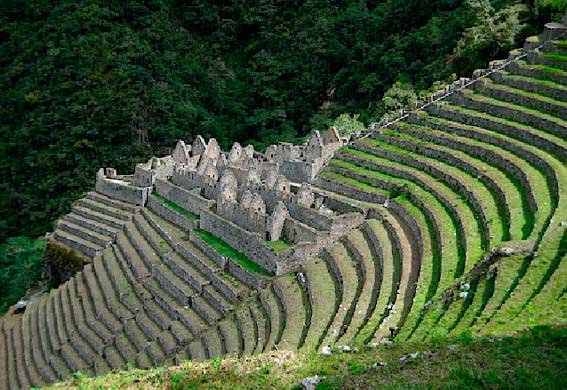 DAY 04: WIÑAYHUAYNA - MACHU PICCHU.
After breakfast continue the hiking to reach Intipunku (Door of the Sun), where we have a spectacular panoramic view of the citadel of Machu Picchu. We descent to the city of Machu Picchu and the start a walking tour (approximately 2 hours) by your guide and after this you can explore the mysterious city by yourselves.
You will meet your guide in Aguas Calientes, Optional evening visit to the Hot Springs "entrance fees US$4".Overnight in Machupicchu Village.
Afternoon train back to (to Ollantaytambo) and bus to Cusco.
We'll be in Cusco approximately at 22:30 pm.
Meals included: "Breakfast on the Tour"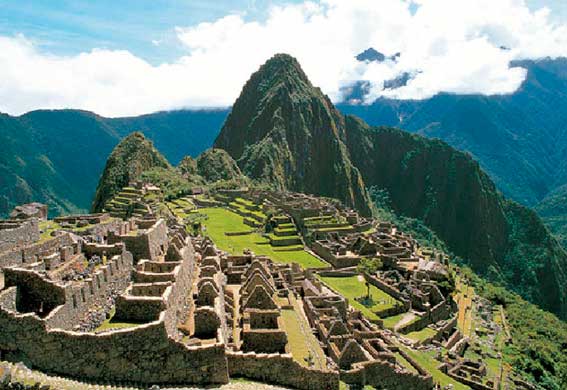 Day 14. -Fly from Cusco to Lima
Breakfast, and at an appropriate hour transfer to the airport to return to your original destination.
Meals included: "Breakfast on hotel"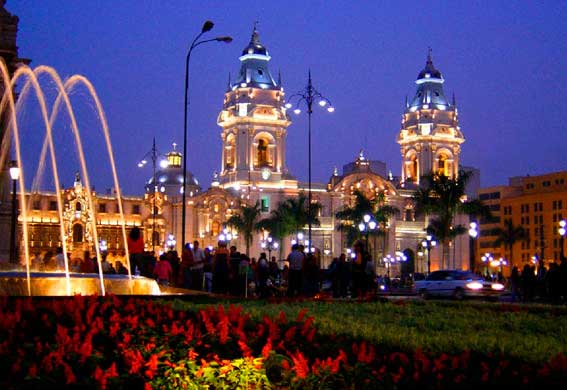 View Trip:
Duration: 16 Days / 15 Nights
Start point: Lima / Finish point: Lima
Include
Atención Personalizada
Transfer Airport/Station – Hotel – Airport/Station.
01 night including breakfasts in Lima
01 night accommodation including breakfasts in Huacachina
01 night including breakfast in Arequipa
01 nights including breakfast in Colca Canyon (Bungalows).
02 nights in hotel including breakfast in Puno
01 nights including breakfast in Puno (Amantani Family home).
02 nights including breakfast in Cusco.
04 nights in tents (Inca Trail).
Tour in Ballestas Island
Fly over by Nazca Lines
Trekking to Colca Canyon in Arequipa
Tour to Titicaca Lake (Uros – Amantani and Taquile in Puno)
Train from Puno to Cusco City
Inca Trail to Machupicchu in Cusco
Entrance fees to tourist attractions.
Professional Tour Guide (Spanish – English)
Domestic Flight from Cusco – Lima
Not included
Air Taxes.
Drinks and Personal Expenses.
National and International Personal Calls
Other services not specified.
YOU NEED:
Original passport (and *International Student card (ISIC) if applicable)
Sleeping bag (not included but can be hired from us)
Walking boots
Water proof jacket/rain poncho
Warm jacket, hat and gloves
T-shirts
Comfortable trousers
Sun hat
Sun protection cream (factor 35 recommended)
Re-usable plastic or metal water container or camel bags.
Water (only for first 4 hours of trek, then we will provide you with drinking -previously boiled- water).
Insect repellent
Toilettes
Personal medication
Camera and films
Torch with spare batteries (headlamps are useful)
OPTIONAL ITEMS TO TAKE:
Shorts
Walking stick (with rubber tip)
Plasters and bandages
Sandals
Extra money.
Bathing suit (for hot springs in Aguas Calientes)