ACTIVE PERU
CIRCUIT : LIMA, AREQUIPA, PUNO Y CUSCO & INKA TRAIL 4 DAYS
13 DAYS |12 NIGHTS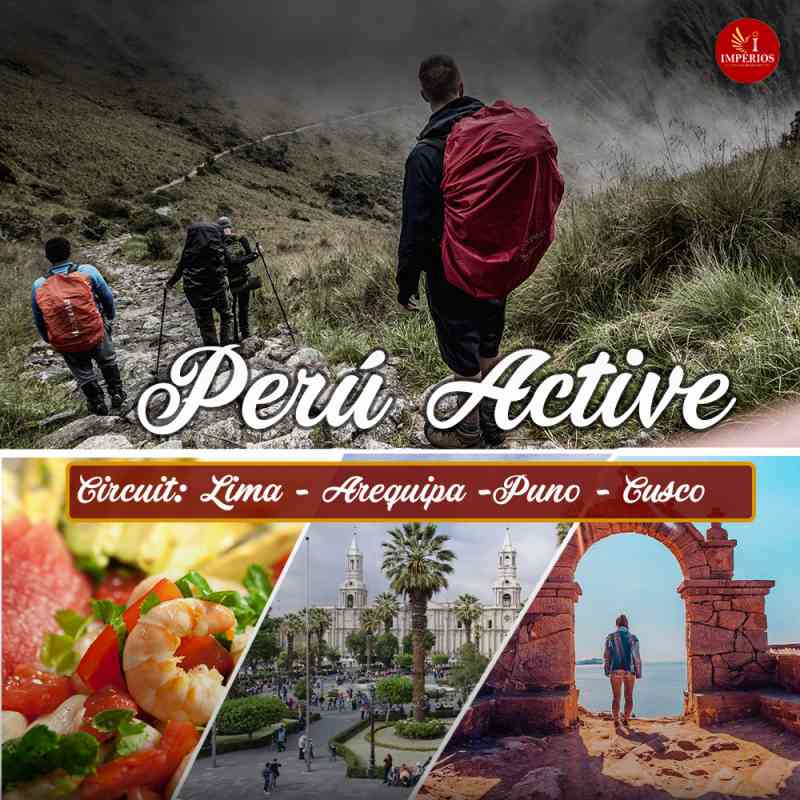 Introduction:
This tour is the ideal for those who want to know the wonders of Peru, its archaeological, cultural wealth and centers of great energetic power, this adventure has Inca trails that were of great importance to the Andean people. Wonders of Peru is one of the best excursion options and super known by the whole world, satisfying and comforting for those who want to break with the traditional, putting a little effort and sweat to know this enigmatic culture surrounded by landscapes and sacred mountains. Also enjoy the highest navigable lake in the world and the rural families that depend on it.
Program:
DIA

DESTINO

EXCURSION

01

LIMA

Traslado de ingreso en Lima

02

LIMA Y AREQUIPA

Traslado Hotel Lima al aeropuerto

Vuelo Lima – Arequipa

Traslado de ingreso aeropuerto Arequipa - Hotel

03

AREQUIPA

COLCA 1ER DIA

Excursión Colca 1er día: Visita a Chivay y los Baños Termales de La Calera

08:00am – 05:30pm

04

AREQUIPA

COLCA 2DO DIA

Excursión Colca 2do día: Visita a Yanque y el vuelo de los condores.

06:00am – 07:00pm

05

PUNO

Excursión Lago Titicaca Full Day

07:00am – 04:00pm

06

PUNO - CUSCO

Excursión Ruta del Sol

06:00am – 05:00pm

07

CUSCO

Excursión del City Tour

01:00pm – 07:00pm

08

CUSCO

Excursión del Valle Sagrado Full Day

08:00am – 07:00pm

09

CUSCO

CAMINO INCA

Trekking km 82 "Piscacucho a Wayllabamba"

10

CUSCO

CAMINO INCA

Trekking "desde Wayllabamba hasta Pacaymayu / Runkuraqay"

11

CUSCO

CAMINO INCA

Trekking "desde Pacaymayu hasta Wiñayhuayna"

12

CUSCO

CAMINO INCA

Trekking "Wiñayhuayna - tour guiado de Inti Punku y Machupicchu"

13

CUSCO

Traslado de salida hotel Cusco al aeropuerto
Observaciones para el viaje:
El Itinerario puede cambiar de acuerdo a la disponibilidad, el clima y el estado de salud de los excursionistas.
Se requiere de un buen estado físico ya que el Camino Inca incluye caminatas de hasta 9 horas al día.
El horario del tren puede cambiar de acuerdo con la disponibilidad de la compañía de trenes.
Solo existen 500 espacios por día al Camino Inca (200 aprox para pasajeros y 300 para porteadores, cocineros y guias)
Day 1: LIMA
Flight to Lima.
Welcome, reception and transfer to the select hotel.
Overnight in Lima.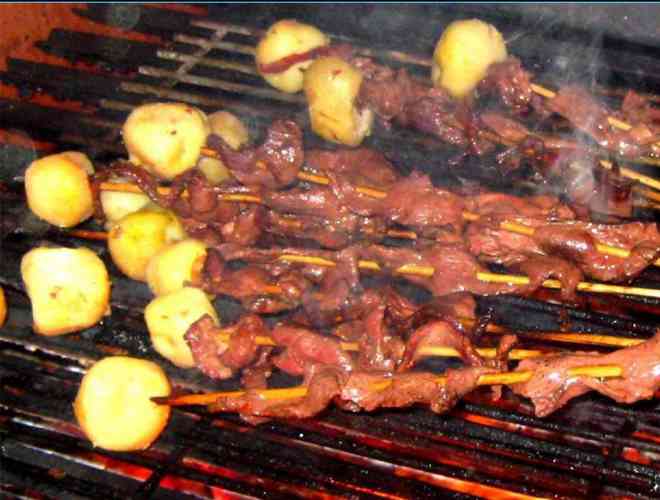 -
DAY 02: LIMA - AREQUIPA
Breakfast at the hotel and transfer to the airport to take the flight to Arequipa.
Upon arrival in Arequipa, we will be received and transferred to the hotel. We have as an option the rest of the day to enjoy the beautiful streets, fantastic Plaza de Armas and Museums of the White City of Arequipa. It is possible to take the Excursion de la Campiña Arequipeña described below.
Optional and additional excursion to the Arequipeña countryside tour
In the afternoon at 02:00 pm we will be picked up from our hotel to start the excursion to La Campiña Arequipeña. This interesting tour includes a visit to the most beautiful architectural monuments and viewpoints that surround the white city. We will drive our mobility to the outskirts of the city where we will first visit the beautiful Mirador de Sachaca, which will offer us a beautiful natural panorama of Arequipa and its volcanoes.
Then we will drive our vehicle to the Founder's Mansion, a beautiful construction from the colonial era where the founder of the city of Arequipa García Manuel de Carvajal lived in the 15th century. Finally we will travel through a spectacular Andean landscape and we will reach the Molino de Sabandia, an impressive construction based on volcanic rock known as sillar, where you can see an old stone mill that was built in the year 1785. Our excursion concludes at 06:00 pm in the city center.
Overnight in Arequipa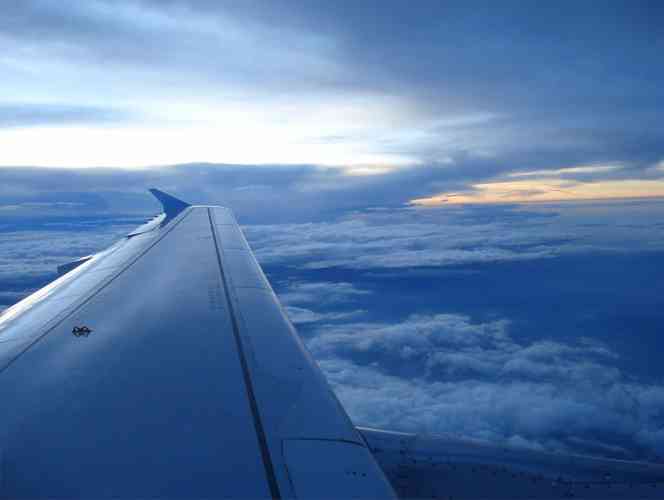 -
DAY 03: AREQUIPA: 1ST DAY COLCA CANYON TOUR
Breakfast at the hotel.
08:00 am - 08:30 am Departure to Chivay. We will start our tour on the road to Yura, where we will admire the natural and cultural landscape of that area, then we will border the Chachani volcano and we will pass through the Salinas and Aguada Blanca National Reserve until we reach Pampa Cañahuas, in this place the guide will explain about the flora and fauna of the area, here we will appreciate the natural habitat of the South American camelids within them LA VICUÑA. Continuing with the tour on the way, a small stop will be made in Patahuasi (house on top) to take the coca tea. Immediately we will continue the trip to the bofedales where we will observe different species of birds both local and migratory to the area according to season, then we will continue to Patapampa, the highest point of the trip located at 4900 masl approx. Also known as the Mirador de los Andes, here you can see different volcanoes such as Misti, HualcaHualca, Sabancaya, Ampato, Ubinas and Chachani.
At noon we will be arriving at the town of Chivay where we can have lunch and then move to the hotel, we will have time to rest and then continue to the Calera thermal baths. These outdoor baths have thermo medicinal water that will make us enjoy a magical moment after the bus tour in the morning.
We will return to the hotel to rest and spend the night in the town of Chivay.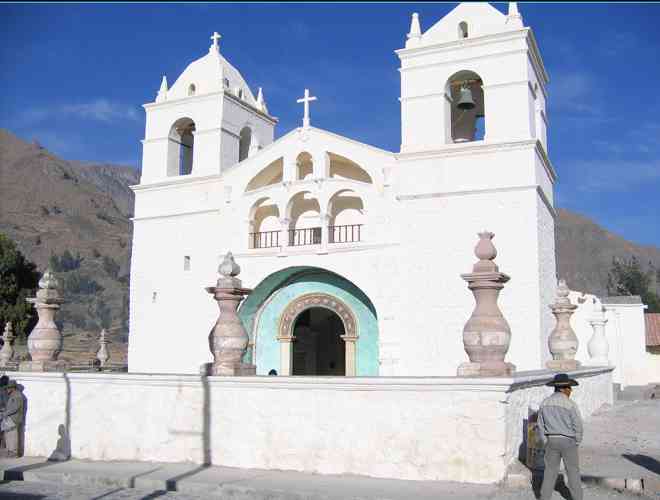 -
DAY 04: AREQUIPA: 2DO DAY COLCA CANYON TOUR
Breakfast at the hotel.
06:00 am. approx. After having breakfast we will head towards the Mirador de la Cruz del Cóndor, where you can see the majestic flight of the condors and the depth of the canyon. On the way we will make a stop in the town of YANQUE to observe its colonial church, Wititi dances as well as the typical costume of the area. On the way back to Chivay we will visit the towns of PINCHOLLO, MACA, ACHOMA, in which the guide will explain their different customs in the area as well as the Lito models, colonial churches and terraces. 11:30 am approx. Arrival to Chivay. 11:45 am approx. lunch 01:30 pm approx. We will board the bus to Puno. The bus makes stops en route and we can appreciate a little more of the fauna and flora on the way to Lake Titicaca. We will be assisted and transferred to the hotel upon arrival in Puno.
Overnight in Puno
-
DAY 05: PUNO / TITICACA / UROS & TAQUILE ISLANDS
Breakfast at the hotel.
At 7:00 am we will be picked up from the hotel and transferred to the port of Lake Titicaca, where our local guide will be waiting with the boat to start our adventure on Lake Titicaca. Once we have left, our guide will explain important points of this great lake, and a few minutes later we will arrive at the famous floating islands of Los Uros. Here we will stop at one of the Islands, visit its inhabitants and learn about the customs of these communities that live for years in the highlands. Later we will return to the boat and continue our trip towards the Taquile Island. The boat trip lasts approximately 3 hours. Taquile is a huge island that is characterized by its beautiful fabrics. Here visitors will be able to observe how the people of the island make ponchos, belts, gloves and other typical high Andean garments, all made by hand. In order to get to the top of the Island, we will have to walk along a beautiful, slightly inclined path that offers spectacular views of the lake. Here we advise you to walk slowly and take it easy, since you are walking over 3800 meters high. After approximately 45 minutes we will arrive at the center of Taquile, where we can rest and visit a small site museum, which shows through photos important aspects of the life of the people of Taquile. Our group will have lunch in a typical restaurant around the plaza. After lunch, visitors will have free time to visit the weaving workshops and take photos with the islanders. Later we will descend towards the pier and we will start our return trip to Puno, arriving in the city at approximately 05:00 pm. We will spend one night at the hotel in Puno.
Overnight in Puno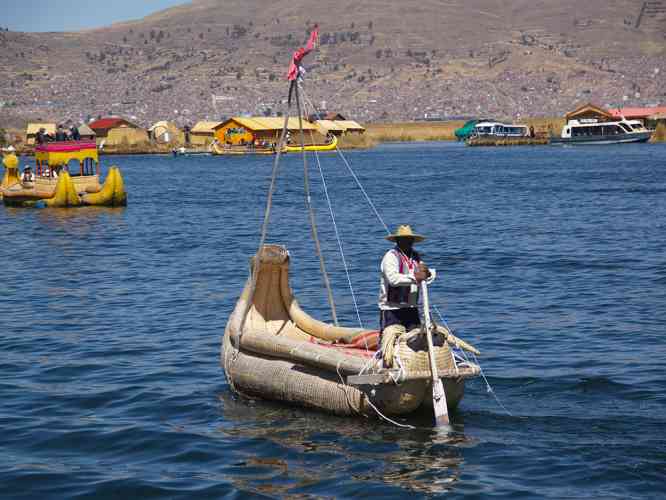 -
DAY 06: PUNO – CUSCO
Breakfast at the hotel.
06:15 am pick up from the hotel and transfer to the bus station in the Puno bus terminal
During our tour that lasts approximately 10 hours we will have 4 excursions and guided visits to the tourist attractions of the southern corridor of the altiplano visiting the temple of Andahuaylillas or Sistine Chapel of America, the Inka temple of Raqchi, the passage of the Raya at 4335 masl and the Inka Aymara museum in Pukara. Each visit lasts 20 to 40 minutes, where the passenger can ask questions, take photos and explore the attraction at their own discretion, making this experience an unforgettable activity.
We will be arriving in Cusco at 4:30 p.m. being picked up and transferred to the hotel where we will spend the night
Overnight in Cusco.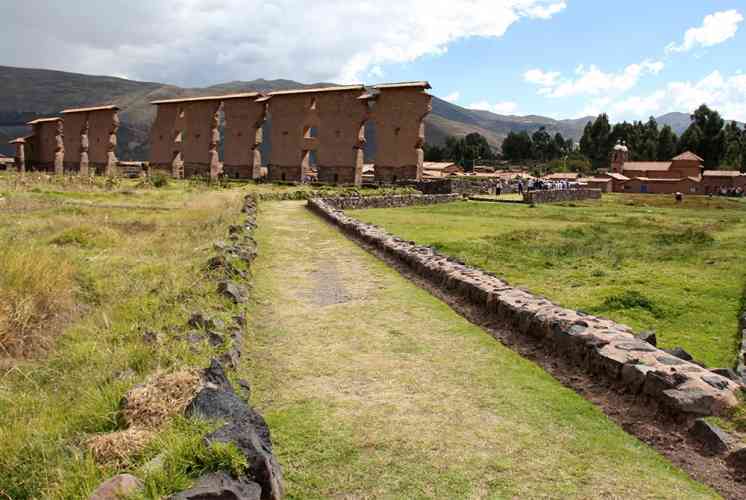 -
DAY 07: CITY TOUR CUSCO + 4 NEARBY RUINS
Free morning to acclimatize or make some purchases.
Afternoon Traditional City Tour in Cusco
01:00 pm pick up from the hotel, at 13:30 pm start of our tour of the city, where our professional guide will provide us with detailed information of all the tourist attractions we will visit, will be attentive to any questions and / or needs that each of our visitors require.
The places we have to visit are. The main temple of the Sun also known as the "Qoricancha", "Sacsayhuaman" known as the head of the Puma in reference to the fact that the City of Cusco had the shape of a Puma in Inca times and the head of this cougar was exactly Sacsayhuaman, immediately We visit Qenqo, temple in honor of the mother earth or Pachamama, we continue through Pucapucara or entrance control center to the Sacred city of Cusco, later we visit Tambomachay Inca resting place and at the same time temple to the natural element of Water.
Overnight in Cusco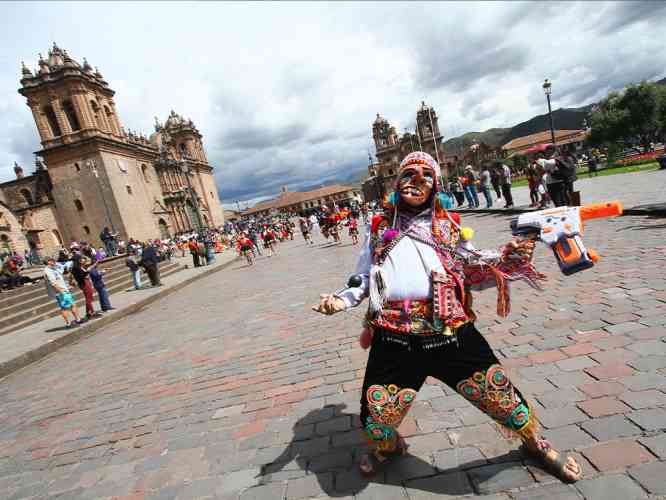 -
DAY 08: SACRED VALLEY TOUR
Breakfast at the hotel.
8:00 am Pick up from your hotel to start our tour of the Sacred Valley of the Incas, we will be leaving the city to go through the Sacsahuaman archaeological park and arrive at the Taray viewpoint, a wide viewpoint from where you can see the beautiful Inca terraces and the current cultivation land which surrounds the sacred river of the incas "Willcamayuc", later we visit the archaeological park of Pisaq, we will also visit the indigenous market of Pisaq, the quality is very colorful as the local inhabitants come to sell or acquire local products that the population needs. The Pisaq indigenous market is the best place to shop for handicrafts and souvenirs. After a continuous free time we will continue our journey towards Ollantaytambo, known as the last living Inca city.
Ollantaytambo reminds us of a critical story of Love, a drama that makes love prevail over all obstacles, believes that this city was built by General Inca Ollantay in a moment of rebellion against the Inca's royal army to obstruct his union with the beautiful princess Cusi Qoyllor "beautiful star". We continue with our guided tour and arrive at Chinchero, where its colonial and Inca temple reflects the current syncretism of these 02 great cultures, Chinchero is also known for its great weavers, who perform beautiful works with Inca techniques. Lunch on this tour is included in the Urubamba village. We continue our trip and return to Cusco, through abundant farmland Arrival in Cusco at 19:00 pm, approximately time when you will be at the door of your hotel or place that you indicate.
Overnight in Cusco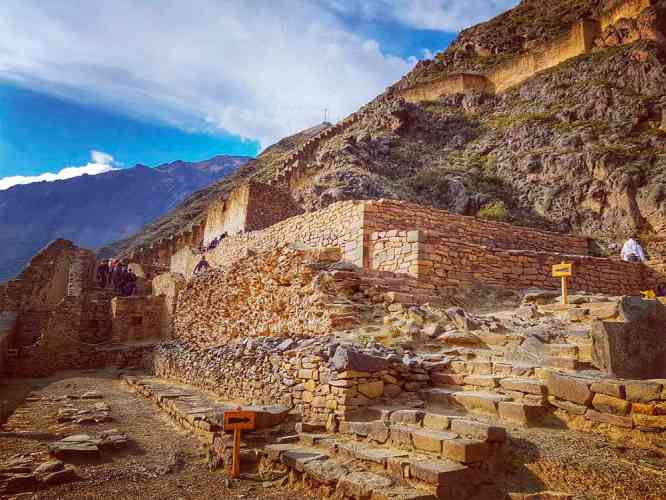 -
DAY 09: TRANSFER BY ITEP VAN FROM CUSCO TO KM 82 "INKA TRAIL ENTRANCE"
TREKKING KM 82 "PISCACUCHO TO WAYLLABAMBA"
Today begins your adventure of a lifetime. We will pick you up from your hotel in our private van very early in the morning at 5:30am. You will be transferred to the Sacred Valley of the Inkas, where our van going to take us to Piskacucho, which is called kilometer 82, where the Classic Inca Trail begins. On the way, we stop for breakfast in Ollantaytambo at 6:30-7am to load up on energy for our start of the trail. (Breakfast is not included). Upon arrival at kilometer 82 at 11:30am, we will have some time to organize ourselves, At the Inka Trail first control point be ready to show your entrance tickets, passports and (if paying a student rate) your student card.
At the start of the trail (2720m/8923ft) we cross the Vilcanota River and follow its route to the right. The first day is relatively easy, a warm-up along the Inka flat terrain. There are great views of the Incan Fortress ('Huillca Raccay'), the vast and incredible Inka site of Llactapata, (officially called 'Patallacta'), and the beautiful snow-capped peak of 'W'akay Willca' (5860m/19225ft) known in books as Veronica. Our first campsite is in Wayllabamba (3000m/9842ft) in the temperate green valley with the same name. Temperatures at night are around 5ºC depending on the month.
During the day, we will enjoy spectacular views of the snow-capped mountains Veronica, (5,860m/19,337ft), the lush green valley around us and a myriad of flora and fauna.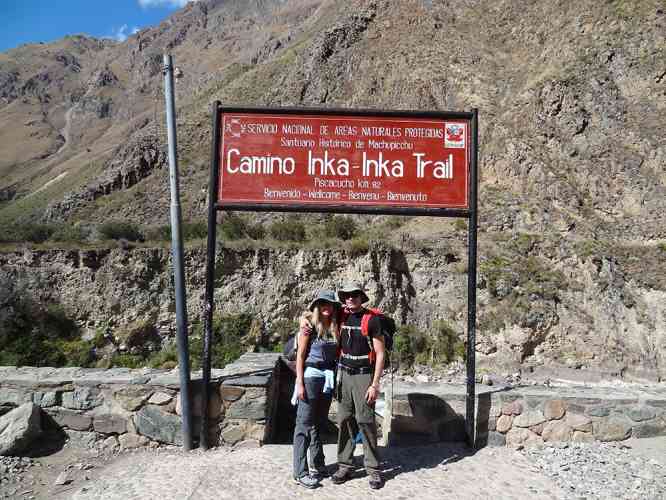 Meals: Lunch, snacks, afternoon tea and dinner.
Accommodation: Camping facilities.
Distance: 11kms/6.8 miles (6 hours more or less of hiking)
Difficulty: Easy/Moderate.
Walking Time: Approximately 6 hours (including picnic lunch in route)
Walk and Terrain: Walk, canter on open roads, some steep ascending.
DAY 10: TREKKING "WAYLLABAMBA TO PACAYMAYUC/ RUNKURAQAY"
After waking up at 5 to 5:30am and enjoying a hot breakfast, we start a steep ascent towards the highest pass, abra de Warmihuañusca or 'Dead Woman's Pass' at 4200m/13779ft. On this day, you will feel a real sense of achievement upon reaching the top! After a well-deserved rest, we begin the descent to where we stop for lunch, which is located at Pacaymayu (3,550m/11,646ft).
On our way up to the pass, we will be able to see an arrange of hummingbirds and a combination of other species of bird life. There will be plenty of time to appreciate the incredible variety of native plants and the ´Polylepis´ or Q'ueuña trees which grow in the astonishing cloud forest located at 3650m/11972ft! After lunch, begins the second two-hour steep climb to Runkuraqay pass (almost 4,000m/13,123ft). We arrive at our campsite by 5:00 pm. Temperatures at this campsite are around 4ºC during the night.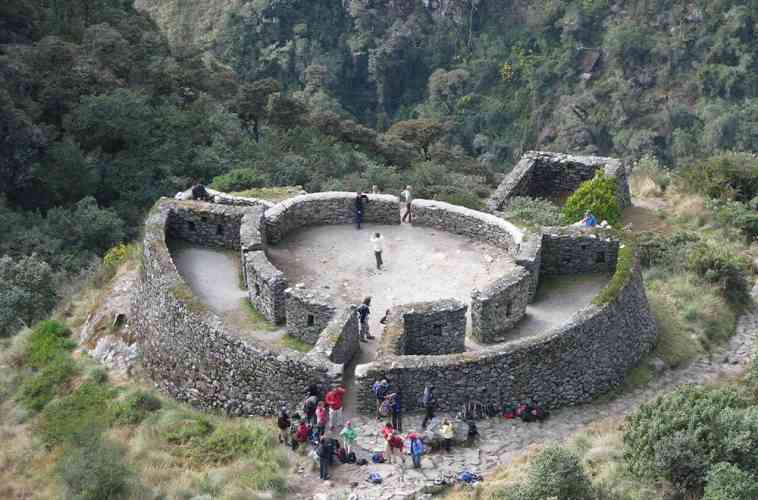 Meals:Breakfast, water, lunch, snacks, afternoon tea and Dinner.
Accommodation: Camping facilities.
Distance: 16kms/10mls (9 hours more or less of hiking time)
Difficulty:Moderate/challenge.
DAY 11: TREKKING "PACAYMAYUC TO WIÑAYHUAYNA"
This is the most impressive day so far; keep this in mind as you ascend on day three! We wake up for breakfast at 6am and start the day with a gentle climb to visit the archaeological site of 'Phuyupatamarca' (meaning 'Town in the Clouds'). Here we reach the third highest point on the Inka trail (3680m/). The views of the mountains, canyons and surrounding areas are spectacular! The Inca site of 'Phuyupatamarca', is located a few minutes' walk from the third pass. After visiting this site, we continue walking down 3000 stairs through the cloud forest to the impressive agricultural Incan site of 'Intipata. After taking some time to visit this site, we continue until we arrive at our third campsite Wiñay Wayna. (2680m/8792ft). Today, we will only walk about 4 to 5 hours. We arrive at camp by lunchtime! Temperatures during the night are about 12º C. A short walk from our campsite is the famous Incan site of 'Wiñay Wayna' ('Forever Young'). Even if you are feeling tired after your day's trek, it´s a moment you cannot miss, the most impressive site on the Inca trail.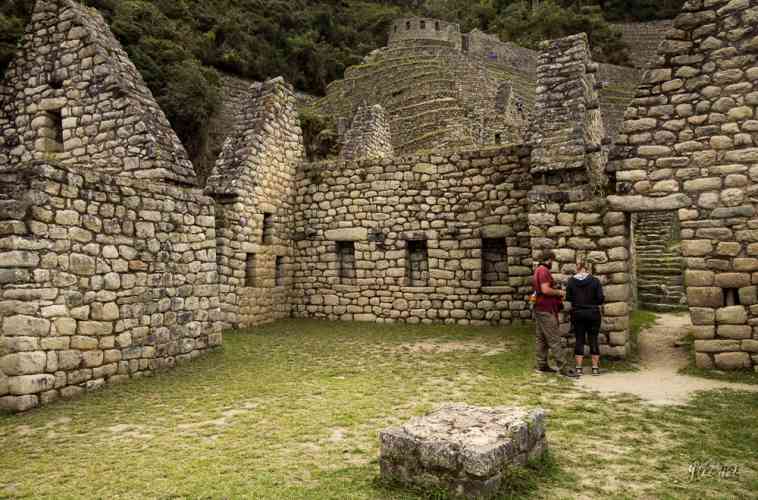 Meals:Breakfast, water, lunch, snacks, afternoon tea and dinner.
Accommodation:Camping facilities and cold showers.
Distance:10kms/6.2mls (5 hours more or less of hiking)
Difficulty:Moderate
DAY 12: TREKKING "WIÑAYHUAYNA – INTI PUNKU & MACHUPICCHU GUIDED TOUR"
At around 4:00am it´s time to wake up, have breakfast and start day 4 on the Inka trail to get to Machu Picchu on time. This is the final part of your journey, arriving by 6:00am to reach Inti Punku or The Sun Gate. At that point, the majestic Machu Picchu Citadel is in front of us with its intense beauty – an incredible sight for all to see. The reality of what the Inca people must have encountered on their taxing journey to this expansive temple of Machu Picchu. At this point, we walk downhill towards the Machu Picchu Citadel. (2400m/7872 ft.) After walking 40 minutes, we enter the citadel from the top through the "House of the Guardians". From there we proceed to the control point where we register and leave our belongings. Your professional guide will direct you throughout the astounding ruins and its main streets. You can wander around the town squares as well as climb the intricately carved stairways made from stone. Machu Picchu is considered as the world's spiritual center by esoteric wisdom. Once the guided tour is over, you will have free time to explore the site on your own.
You will also have time to indulge in a few of the following activities on your own if you choose (not included in the price)
Climb up Huayna Picchu or Machu Picchu Mountain and appreciate the beauty and magnificence of Machu Picchu from there.
Other optional activities in Aguas Calientes include a visit to the new local museum or bathe in the hot springs.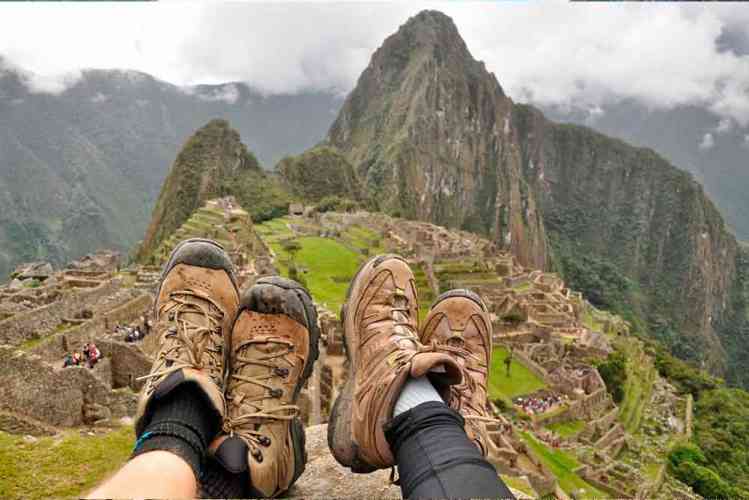 Back to Cusco: You will descend to Aguas Calientes and later board the Expedition train to the Ollantaytambo Train Station "Train departure time can vary according train schedule and availability". In Ollantaytambo Train station you will meet our private van and be transferred to your hotel in Cusco.
Meals: Breakfast
Distance: 8.9kms/5.5mls "By Bus in 25 minutes"
Difficulty: Easy
*** Huayna Picchu or Machu Picchu Mountains hike depends on availability; please let us know if you want to add one of these extra hikes at the time of your booking.
*** We only take ITEP EcoTravel clients in our vans / cars – We do not use public transport.
DAY 13: CUSCO – LIMA
Breakfast at the hotel.
Transfer hotel - airport.
Flight Cusco – Lima. (NOT INCLUDE)
Arrival to Lima.
Waiting at the airport for international flight.
END OF OUR SERVICES
-
INCLUYE:
LIMA
Traslado de ingreso y salida aeropuerto – hotel - aeropuerto
01 noche de alojamiento en Lima con desayuno
AREQUIPA
Traslado de ingreso aeropuerto – hotel
01 noche de alojamiento en Arequipa con desayuno
01 noche de alojamiento en Chivay con desayuno
Excursión al Cañon del Colca 2D/1N con Almuerzo y Cena en Chivay el primer día y solo almuerzo el segundo día.
Bus turístico Chivay – Puno via 4M
PUNO
Traslado de ingreso ingreso y salida de la estación de bus – Hotel – estación de bus
02 noche de alojamiento en Puno con desayuno
Excursión Lago Titicaca Full Day + Almuerzo local turistico
Excursion de la Ruta del Sol Puno – Cusco + Almuerzo buffet
CUSCO
Traslado de ingreso y salida estación de bus – hotel - aeropuerto
04 noches de alojamiento en Cusco con desayunos
Excursion City Tour Tradicional Cusco con ingresos y visita guiada al Qoricancha, Sacsayhuaman, Qenqo, Tambomachay y Pukapukara.
Full Day Valle Sagrado + Almuerzo buffet. Ingresos y visita guiada a Pisaq, Ollantaytambo y Chinchero.
Información previa a la salida: Se reunirá con su guía y grupo real del Camino Inca en nuestra oficina para obtener una orientación antes de su caminata. En este momento, le proporcionaremos las bolsas de lona que llevarán nuestros Porteadores. La reunión será a las 6:00 PM la tarde antes de que comience el viaje. En caso de que no pueda venir en este momento "háganoslo saber" para coordinar otro momento.
Transporte turístico: Lo recogeremos de su hotel en Cusco por la mañana y viajará en transporte privado a Piscacucho, el punto de partida del Camino Inca Real a Machupicchu.
Guía de turismo con experiencia en el Camino Inca Real: Guía de turismo de habla inglesa, profesionalmente educado y oficial con certificación turística. Todos crecieron en esta región y tienen una verdadera pasión por enseñar a otros sobre su herencia. ¡Su guía le explicará la cultura y los alrededores a lo largo de toda la ruta, incluido el liderazgo de su grupo en ceremonias antiguas! Él o ella lo mantendrá seguro, sano y cómodo en su caminata para que pueda disfrutar de su tiempo a lo largo del camino inca y se asegurará de que esté seguro y feliz.
Guía turístico cultural con experiencia en Machupicchu: Habla inglés, profesional, con certificación turística. Para visitar la ciudad sagrada de Machupicchu.
Campings privados: Cada campamento se elige cuidadosamente para tener una experiencia muy personalizada

Noche 1: Disfrute de la primera noche en Wayllabamba y duerma en nuestras carpas Pro Aconcagua Doite de 4 estaciones. Todas nuestras tiendas son para 4 personas, pero SOLO duermen 2, dejando mucho espacio para extenderse cómodamente y guardar sus bolsas de lona. También incluyen un pequeño vestíbulo en la parte delantera, que le brinda un espacio extra al aire libre para dejar sus botas y bastones para que no tenga que traer tierra.
Noche 2: Disfrute de la segunda noche en Pacaymayu en la ruta Royal Inca Trail y duerma en nuestras carpas Pro Aconcagua Doite de 4 estaciones. Todas nuestras tiendas son para 4 personas, pero SOLO duermen 2, dejando mucho espacio para extenderse cómodamente y guardar sus bolsas de lona. También incluyen un pequeño vestíbulo en la parte delantera, que le brinda un espacio extra al aire libre para dejar sus botas y bastones para que no tenga que traer tierra.
Noche 3: Disfrute de la tercera noche en Wiñay Huayna en la ruta Royal Inca Trail y duerma en nuestras carpas Pro Aconcagua Doite de 4 estaciones. Todas nuestras tiendas son para 4 personas, pero SOLO duermen 2, dejando mucho espacio para extenderse cómodamente y guardar sus bolsas de lona. También incluyen un pequeño vestíbulo en la parte delantera, que le brinda un espacio extra al aire libre para dejar sus botas y bastones para que no tenga que traer tierra.
Nota: No es habitual que los alojamientos u hoteles cambien después de la confirmación, sin embargo, puede variar según las regulaciones y autorizaciones gubernamentales, también por las malas condiciones climáticas y tal vez por la condición física de nuestros visitantes: Cualquier cambio e ITEP estará informándolo previamente y lo antes posible.
Equipo de campamento: Carpas de comedor y cocina, mesas, sillas y equipo de cocina (todos llevados por nuestros cargadores y caballos).
Boleto de entrada al Camino Inca
Boleto de entrada al sitio inca de Machu Picchu
1 bolsa de lona: Puede guardar su equipaje personal; Esta bolsa será llevada por los mismos pasajeros.Hasta el último dia llevarán su equipaje. Los porters pueden llevar sus equipos pero será un costo adicional.
Chef profesional de trekking: Un chef profesional especializado en cocina en el camino, con un asistente, preparará todas sus deliciosas comidas a lo largo de nuestro viaje en el camino para reponer su energía todos los días. ¡Nunca pasará hambre!
Comidas: 3 desayunos, 3 almuerzos, 3 cenas (menús vegetarianos, veganos o especiales disponibles sin costo adicional) Tenga en cuenta (el primer desayuno y el último almuerzo no está incluido "
Agua hervida: desde su primer almuerzo hasta su último desayuno, Inka Trail Expeditions suministrará toda el agua necesaria. Esta agua será hervida, filtrada y luego enfriada, antes de distribuirla. Debe suministrar sus propias botellas de agua. Recomendamos llevar alrededor de 3L.
Despertar con té: ¡Cada mañana en el campamento, te levantarás con una taza de té de coca! Nuestro personal llevará el té a su tienda de campaña para que se caliente antes de comenzar el día.
Hora del té todos los días durante la caminata: Todas las tardes antes de la cena, los cocineros le servirán palomitas de maíz, galletas, café, chocolate caliente, té, agua caliente, etc. Después de un largo día de caminata, no tendrá que esperar. hasta la cena para relajarse, y disfrutar de un bocado!
Productos para la higiene: Se le proporcionará una toalla pequeña antes de cada comida para lavarse las manos y todas las mañanas también habrá un balde con agua tibia para lavarse.
Kit médico y botella de oxígeno: Nuestro equipo traerá un kit de primeros auxilios, que incluye una botella de oxígeno de emergencia.
Bus Consettur de bajada Machupicchu – Aguas Calientes
Boletos de tren: Desde la estación del pueblo de Machupicchu hasta la estación de tren de Ollantaytambo (la hora de salida se confirma el día de la reunión y está sujeta a disponibilidad) y tren Vistadome al retorno para categoría 4 y 5 estrellas.
Traslado de regreso a Cusco: Transporte turístico privado desde la estación de tren de Ollantaytambo a su hotel en Cusco (Día 4)
Servicio al huésped las 24 horas: Tenemos un servicio telefónico disponible las 24 horas del día para facilitar la comunicación y la preparación con la agencia que conduce a su viaje.
NOT INCLUDED
Tickets Aéreos internacionales y nacionales
Alimentación no mencionada en Lima y Cusco
Bolsas de Dormir: Usted puede alquilar uno de nuestra empresa si no tiene uno propio. Nuestros sacos de dormir son efectivos y duraderos para proteger de temperaturas tan bajas como -18ºC (0ºF). Tienen forma de momias e incluyen un forro para dormir. Las bolsas se limpian después de cada uso.
Bastones para caminar: Usted puede alquilar un juego de nuestra empresa si lo desea.
Día 1: Desayuno en el Camino Inca: Aproximadamente Usd5 a usd 10.00, el precio puede variar de acuerdo a su selección.
Último Día en el Camino Inca: Almuerzo y cena en Aguas Calientes. Aproximadamente Usd 20 a 25.00, el precio puede variar de acuerdo a su selección.
Ropa y equipo personal
Seguro de viaje
Propinas para el personal de asistencia: Tenga en cuenta que nuestro personal de la agencia está bien pagado, así que por favor no dude en dar propina o no como usted desee "Recomendación usd 6 a usd 8 por día por viajero para todo el personal de trekking"- Una vez más es opcional y puede variar de acuerdo a su satisfacción.
Costes adicionales o retrasos fuera de control de la gestión (paisaje, malas condiciones meteorológicas, modificación del itinerario por motivos de seguridad, enfermedad, cambio de política de gobierno, inestabilidad política/huelga, etc.).
Extras
Bastones (15 $ por un par de bastones).
Porteador extra para objetos personales (80$ por 7 Kilos - max. 7 Kilos).
Mejorar categoría al tren Vistadome (50$).
Boleto de entrada a Huayna Picchu o Montaña Sagrada de Machupicchu (75$) - Hay un espacio limitado en Huayna Picchu (400 personas por día), así que es una buena idea reservar con anticipación.
Usted Necesita
Pasaporte original
Bolsa de dormir (no incluido, pero se pueden alquilar en nuestras oficinas)
Botas de caminar
Chaqueta impermeable / poncho de lluvia
Chaqueta de Lana para calentar, gorro y guantes
Polos o camisetas
Pantalones cómodos
Sombrero para el sol
Lentes de Sol
Crema de protección solar (factor 35 recomendado)
Botella reutilizable de plástico o recipiente de agua de metal o las bolsas de camello.
Agua (sólo para las primeras 4 horas de caminata, a continuación, le daremos el Agua previamente hervido
Repelente de insectos
Artículos de higiene
Medicamentos personales
Cámara de Fotos y las películas
Linterna con baterías de repuesto (faros son útiles)
Algo Más:
Pantalones cortos
Bastón (con punta de goma)
Vendajes
Sandalias
Dinero extra
Traje de baño (para las aguas termales en Aguas Calientes)

CUANDO RESERVAR LA CAMINATA POR EL CAMINO INCAICO 4 DÍAS

El gobierno ha limitado estrictamente el número de personas permitidas en el Camino Inca (los permisos son emitidos a unos 200 caminantes por día más 300 porteadores, estos 500 permisos incluyen 4 días de Camino Inca). Recomendamos que haga una reservación de trekking lo antes posible, se recomienda con 4 a 6 meses de anticipación.