ACTIVE PERU
CIRCUIT: Lima, Paracas, Ica, Nasca, Arequipa, Puno, Cusco and Puerto Maldonado
21 DAYS / 20 NIGHTS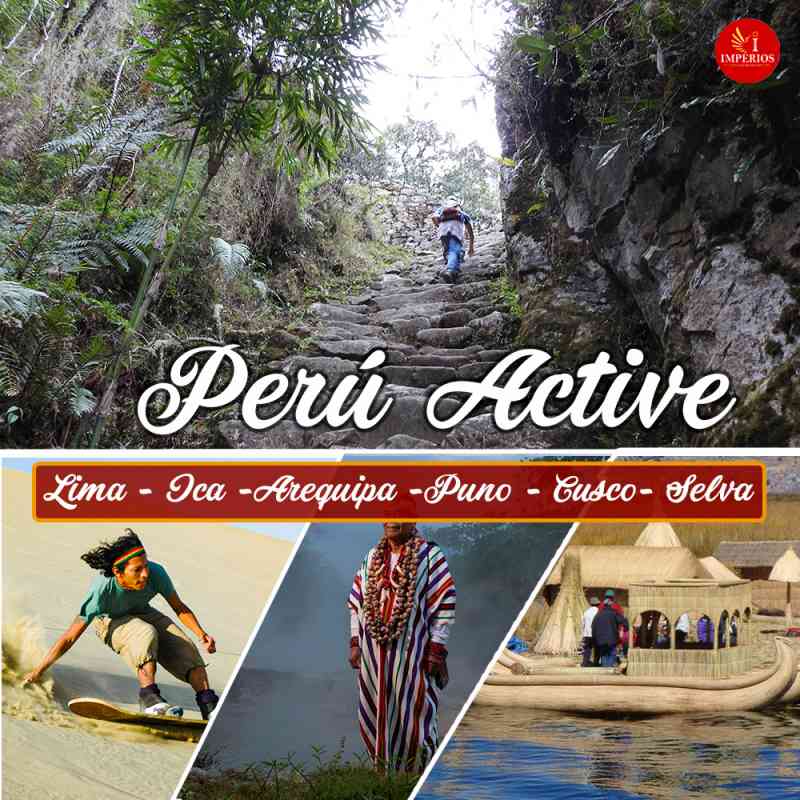 Introduction
Among the main attractions of this segment we can highlight the Ballestas islands, the Huacachina oasis, the Nasca lines, Santa Catalina Convent, El Colca Canyon, Lake Titicaca, the Sacred Valley of the Incas, the Inca Trail of 4 days, the citadel of Machupicchu and Lake Sandoval. In this actively extraordinary circuit, you will be able to find places never seen before, from enjoying a buffet dinner with the most representative Creole meals and also appreciating a spectacular show of typical dances in the City of Kings; Continuing with the tour through the south of our country, we will make an excursion to the Ballestas islands, and then we will go to our oasis to see the Huachina lagoon that will captivate us with its legend, continuing the trip we will see the enigmatic Nasca lines, we cannot Stop without visiting the white city of Arequipa, taking a tour of the city to appreciate its beauty, then we will continue to the Colca Canyon to appreciate the majesty of the flight of the condor, in addition to all the scenery and its splendor. We continue the trip to the city of Puno to be captivated by its immense highland lake and floating islands. We will continue the trip with the route of the sun, making impressive stops in the most important places of the tour. This circuit gets better because we go to the city of Cusco to appreciate all its wonders, such as its Cathedral, the Qoricancha Temple, the 4 nearby ruins, the sacred valley of the Incas with their imposing fortresses, we will make the impressive Inca trail and to finish We will be in the Sacred Citadel of Machupicchu to see the world in a different way. We cannot leave Peru without visiting Lake Sandoval in Puerto Maldonado.
Program:
Day

City

Program

01

LIMA

Transfer in Lima airport to the hotel

02

LIMA

Dinner and folcloric show in Lima

07:00pm – 10:00pm

03

LIMA

Free day in Cusco

04

PARACAS, ICA, NASCA

Ballestas Island Tour

Sanboarding on Huacachina Oasis

03:00am – 09:00pm

05

NASCA

Overflight by the Nasca lines

08:00am

Bus Nasca to Arequipa

02:30pm – 12:30pm

06

AREQUIPA

Free day

07

AREQUIPA

COLCA CANYON

Colca Canyon 1st day tour: Visit to Chivay and La Calera Hot Springs

08:00am – 06:00pm

08

AREQUIPA

COLCA CANYON

Colca Canyon 2nd day tour: Visit to the Colca Canyon and the flight of the Condors

06:00am – 07:00pm

09

PUNO

Titicaca Lake Full Day Tour

07:00am – 04:30pm

10

PUNO

Route of the Sun Puno – Cusco

06:00am – 05:00pm

11

CUSCO

Traditional City Tour in Cusco

01:00pm – 07:00pm

12

CUSCO

Sacred Valley Full Day Tour

08:00am – 07:00pm

13

CUSCO

CAMINO INCA

Trekking km 82 "Piscacucho a Wayllabamba"

14

CUSCO

CAMINO INCA

Trekking "desde Wayllabamba hasta Pacaymayu / Runkuraqay"

15

CUSCO

CAMINO INCA

Trekking "desde Pacaymayu hasta Wiñayhuayna"

16

CUSCO

CAMINO INCA

Trekking "Wiñayhuayna - tour guiado de Inti Punku y Machupicchu"

17

CUSCO

Free day in Cusco

18

PUERTO MALDONADO

Transfer out hotel Cusco to the airport

Flight Cusco – Puerto Maldonado

Transfer by the Madre de Dios river

Trekking to the lodge

19

PUERTO MALDONADO

Sandoval Lake – Puerto Maldonado

20

PUERTO MALDONADO

Breakfast in the lodge and transfer to Puerto Maldonado airport

Flight Puerto Maldonado – Lima

Transfer to the hotel

21

LIMA

Transfer to the Lima airpot
Important:
The Itinerary can change according to the availability, the climate and the state of health of the hikers.
A good physical condition is required since the Inca Trail includes walks of up to 9 hours a day.
The train schedule may change according to the availability of the train company.
There are only 500 spaces per day to the Inca Trail (200 approx for passengers and 300 for porters, cooks and guides)
Day 1: LIMA
Flight to Lima.
Welcome, reception and transfer to the select hotel.
Overnight at Lima.
-
Day 2: COLORFULL NIGHT
Breakfast the hotel.
Free morning.
Buffet Dinner + tyipical dances peruvian show.
20:00 Pick up time to go to La dama Juana Restaurant.
Our driver pick up up you and transfer to the restaurant.
Several peruvian typical dishes in a complete buffet dinner.
Enjoy the show and also the exquisite dinner.
23:00 Return to the hotel.
Overnight in Lima.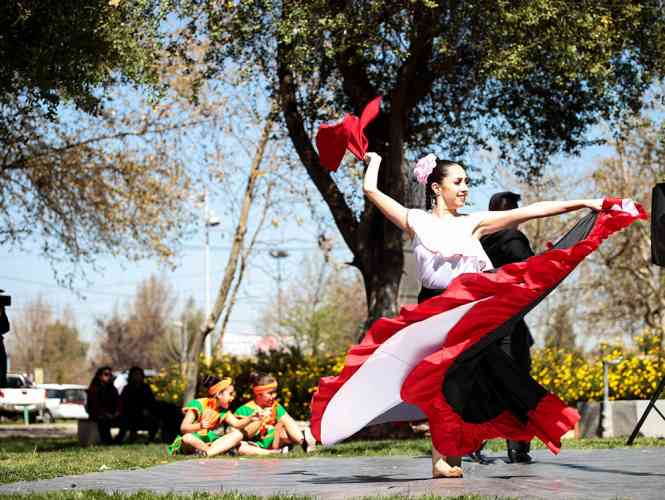 -
Day 3: FREE DAY IN LIMA
Breakfast at the hotel.
Free day.
Overnight in Lima.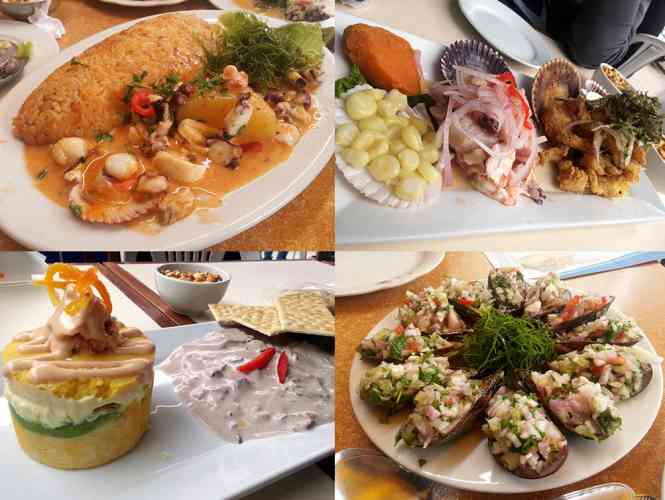 -
Day 4: FULL DAY PARACAS & ICA
At 2:50 am we will pick you up from the hotel to take the bus from Lima to Paracas. Our bus will leave at 4:00 am and after 3 hours we will arrive in Paracas.
8:00 am pick up from Paracas and start of the Ballestas Islands Tour. From the Paracas spa, you can visit the Ballestas islands by boat, habitat of sea lions, guano birds, penguins and a diversity of marine fauna. On the way you can see a figure El Candelabro, engraved on the side of a hill, is a geoglyph with a rock formation eroded by the wind and the sea. It is more than 120 meters long and is also called Tres Cruces or Tridente. The best way to appreciate it is from the sea.
At noon we will take a bus from Paracas to Ica for around 3 hours. Upon arrival in Ica we will continue the excursion of Tubular rides are a fantastic adventure in the middle of the desert where you can enjoy the high and low dunes and you can feel the adrenaline on these desert roller coasters.
In the high parts of the desert you can practice sandboarding, our official driver will instruct you so that you can safely drop it if you do not have experience in this sport.
At 06:00 pm we will take the bus to Ica where we will spend the night there and take the overflight of the Nasca lines the next day.
Overnight in Nasca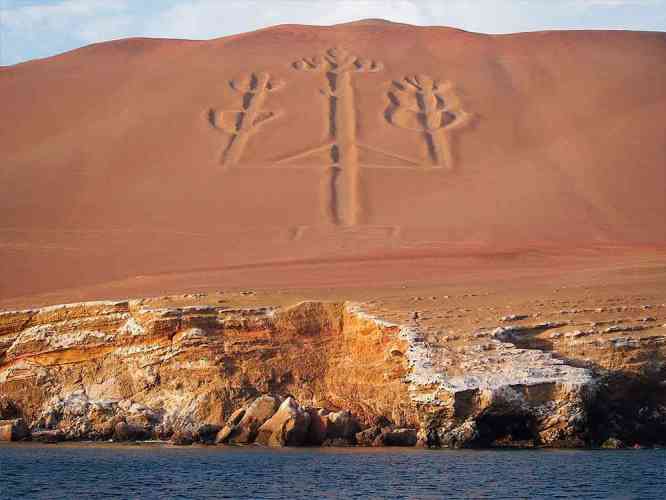 -
Day 5: NASCA LINES OVERFLIGHT – AREQUIPA
Breakfast at the hotel.
Early in the morning we will pick you up from the hotel and leave for the aerodrome where we will board a light plane for a memorable air excursion over the Nazca Lines. A bilingual guide (Spanish / English) will assist you at all times until you board the plane. This overflight over the Nazca Lines will cover the extension of the Nazca desert stone, whose surface is marked by gigantic drawings and geometric figures.
The overflight to the Nasca lines takes approximately 35 minutes and is the best way to see these fascinating lines and drawings that have intrigued people for years. Here, you will be able to see the different figures traced on the stone surface of the Nazca desert, representing stylized animals and plants, distributed in a huge maze of lines, trapezoids, triangles and spirals that have been preserved for almost 2000 years. It is one of the most incredible legacies that a culture has left behind and that can only be seen from the sky at an altitude of 1500 feet. After the overflight we will have time to have lunch and take a bus to Arequipa at 02:30 pm arriving at our destination at 11:30 pm. We will be assisted upon arrival in Arequipa and transferred to the hotel where we will spend the night.
Overnight in Arequipa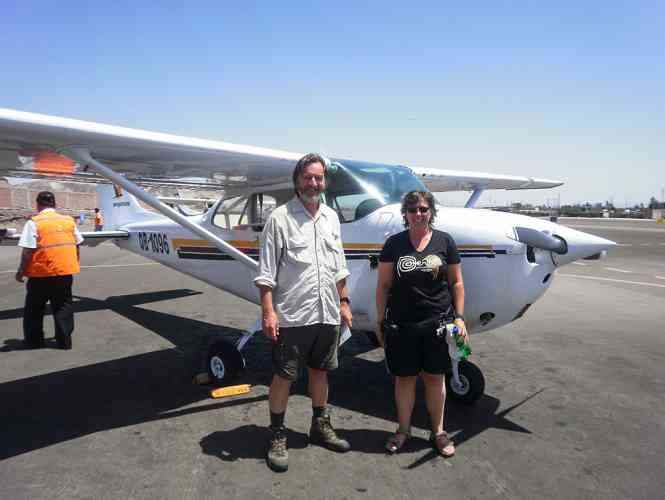 -
Day 6: AREQUIPA COLONIAL CITY TOUR
Breakfast at the hotel.
Colonial City Tour in the afternoon.
02:00 pm we will start with the pick up from your hotel to go to the first places of visit: the viewpoints of Carmen Alto and Yanahuara. From these places we will have panoramic views of the city and the Misti volcano.
Then, we will go to the Plaza de Armas, where we will receive explanations about the cathedral, the surrounding portals and the church of the Compañía de Jesús. Later, we will move to the Santa Catalina monastery, a cloister from the colonial era, which over time was transformed into a small villa that gives us a very good idea of ​​what the constructions of the city of Arequipa were like in the 17th century. With this tour we will finish our tour.
Overnight in Arequipa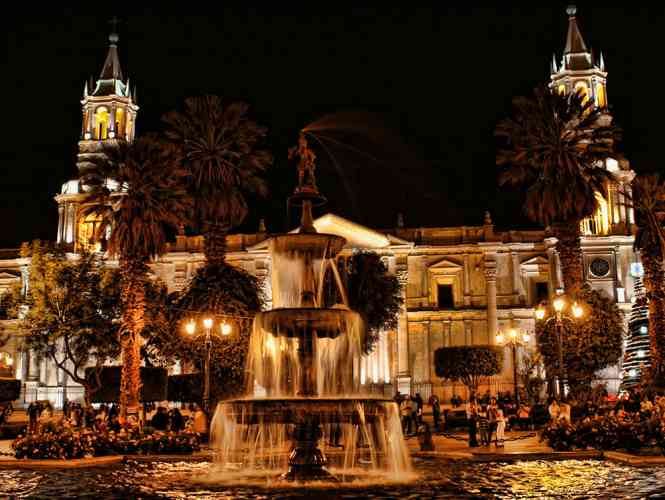 -
Day 7: AREQUIPA – CHIVAY – LA CALERA HOT SPRINGS
Breakfast at the hotel.
08:00 am - 08:30 am Departure to Chivay. We will start our tour on the road to Yura, where we will admire the natural and cultural landscape of that area, then we will border the Chachani volcano and we will pass through the Salinas and Aguada Blanca National Reserve until we reach Pampa Cañahuas, in this place the guide will explain about the flora and fauna of the area, here we will appreciate the natural habitat of the South American camelids within them LA VICUÑA. Continuing with the tour on the way, a small stop will be made in Patahuasi (house on top) to take the coca tea. Immediately we will continue the trip to the bofedales where we will observe different species of birds both local and migratory to the area according to season, then we will continue to Patapampa, the highest point of the trip located at 4900 masl approx. Also known as the Mirador de los Andes, here you can see different volcanoes such as Misti, HualcaHualca, Sabancaya, Ampato, Ubinas and Chachani.
At noon we will be arriving at the town of Chivay where we can have lunch and then move to the hotel, we will have time to rest and then continue to the Calera thermal baths. These outdoor baths have thermo medicinal water that will make us enjoy a magical moment after the bus tour in the morning.
We will return to the hotel to rest and spend the night in the town of Chivay.
Overnight in Chivay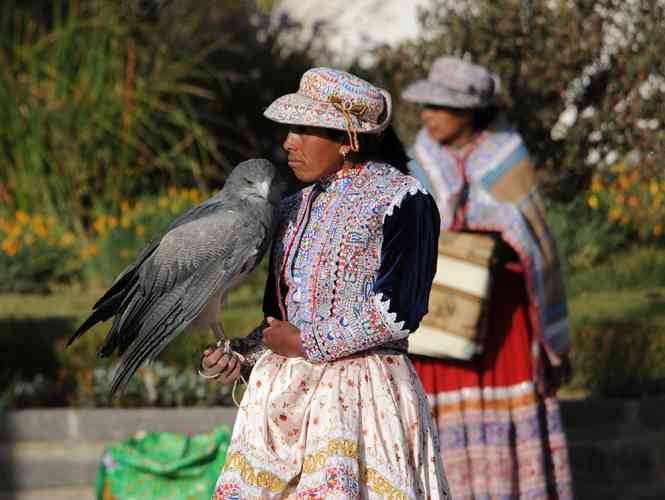 -
Day 8: COLCA CANYON / FLOGHT OF THE CONDORS/ PUNO
Breakfast at the hotel.
06:00 am. approx. After having breakfast we will head towards the Mirador de la Cruz del Cóndor, where you can see the majestic flight of the condors and the depth of the canyon. On the way we will make a stop in the town of YANQUE to observe its colonial church, Wititi dances as well as the typical costume of the area.
On the way back to Chivay we will visit the towns of PINCHOLLO, MACA, ACHOMA, in which the guide will explain their different customs in the area as well as the Lito models, colonial churches and terraces.
11:30 am aprox Arrival to Chivay.
12:30 pm aprox Lunch
01:30 pm aprox, we will board the bus to Puno.
The bus makes stops en route and we can appreciate a little more of the fauna and flora on the way to Lake Titicaca.
We will be assisted and transferred to the hotel upon arrival in Puno.
Overnight in Puno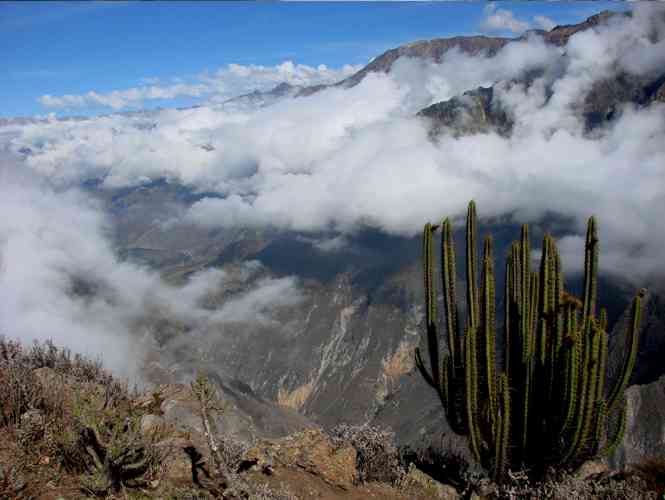 -
Day 9: PUNO / TITICACA / UROS & TAQUILE ISLANDS
Breakfast at the hotel.
At 7:00 am we will be picked up from the hotel and transferred to the port of Lake Titicaca, where our local guide will be waiting with the boat to start our adventure on Lake Titicaca. Once we have left, our guide will explain important points of this great lake, and a few minutes later we will arrive at the famous floating islands of Los Uros. Here we will stop at one of the Islands, visit its inhabitants and learn about the customs of these communities that live for years in the highlands. Later we will return to the boat and continue our trip towards the Taquile Island. The boat trip lasts approximately 3 hours.
Taquile is a huge island that is characterized by its beautiful fabrics. Here visitors will be able to observe how the people of the island make ponchos, belts, gloves and other typical high Andean garments, all made by hand. In order to get to the top of the Island, we will have to walk along a beautiful, slightly inclined path that offers spectacular views of the lake. Here we advise you to walk slowly and take it easy, since you are walking over 3800 meters high. After approximately 45 minutes we will arrive at the center of Taquile, where we can rest and visit a small site museum, which shows through photos important aspects of the life of the people of Taquile.
Our group will have lunch in a typical restaurant around the plaza. After lunch, visitors will have free time to visit the weaving workshops and take photos with the islanders. Later we will descend towards the pier and we will start our return trip to Puno, arriving in the city at approximately 05:00 pm. We will spend one night at the hotel in Puno.
Overnight in Puno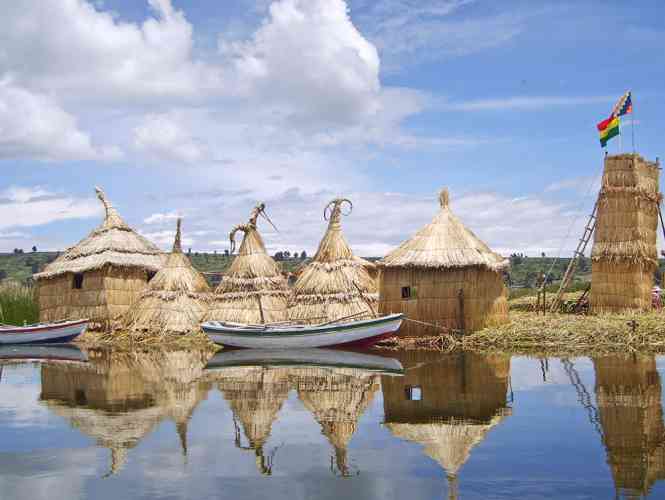 -
Day 10: PUNO – CUSCO "ROUTE OF THE SUN"
Breakfast at the hotel.
06:15 am pick up from the hotel and transfer to the bus station in the Puno bus terminal
During our tour that lasts approximately 10 hours we will have 4 excursions and guided visits to the tourist attractions of the southern corridor of the altiplano visiting the temple of Andahuaylillas or Sistine Chapel of America, the Inka temple of Raqchi, the passage of the Raya at 4335 masl and the Inka Aymara museum in Pukara. Each visit lasts 20 to 40 minutes, where the passenger can ask questions, take photos and explore the attraction at their own discretion, making this experience an unforgettable activity.
We will be arriving in Cusco at 4:30 p.m. being picked up and transferred to the hotel where we will spend the night
Overnight in Cusco
-
Day 11: CITY TOUR CUSCO + 4 NEARBY RUINS
Breakfast at the hotel.
Free morning to acclimatize or make some purchases.
Afternoon City tour in Cusco
01:00 pm pick up from the hotel, at 13:30 pm start of our tour of the city, where our professional guide will provide us with detailed information of all the tourist attractions we will visit, will be attentive to any questions and / or needs that each of our visitors require.
The places we have to visit are. The main temple of the Sun also known as the "Qoricancha", "Sacsayhuaman" known as the head of the Puma in reference to the fact that the City of Cusco had the shape of a Puma in Inca times and the head of this cougar was exactly Sacsayhuaman, immediately We visit Qenqo, temple in honor of the mother earth or Pachamama, we continue through Pucapucara or entrance control center to the Sacred city of Cusco, later we visit Tambomachay Inca resting place and at the same time temple to the natural element of Water.
Overnight in Cusco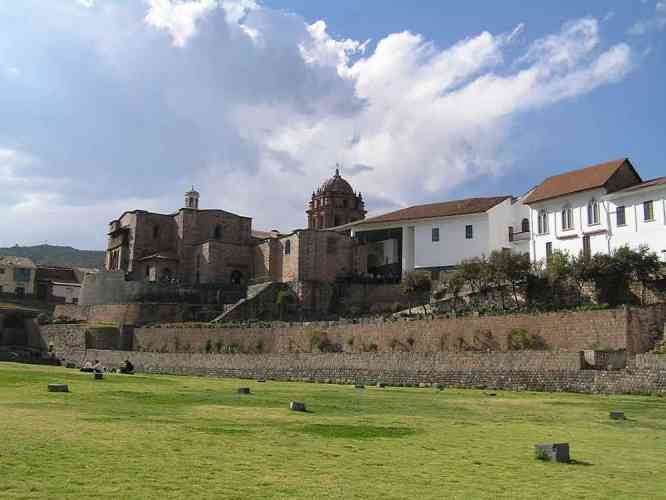 -
Day 12: SACRED VALLEY FULL DAY TOUR
Breakfast at the hotel.
8:00 am Pick up from your hotel to start our tour of the Sacred Valley of the Incas, we will be leaving the city to go through the Sacsahuaman archaeological park and arrive at the Taray viewpoint, a wide viewpoint from where you can see the beautiful Inca terraces and the current cultivation land which surrounds the sacred river of the incas "Willcamayuc", later we visit the archaeological park of Pisaq, we will also visit the indigenous market of Pisaq, the quality is very colorful as the local inhabitants come to sell or acquire local products that the population needs.
The Pisaq indigenous market is the best place to shop for handicrafts and souvenirs, lunch on this tour is included in the Urubamba village.
After a continuous free time we will continue our journey towards Ollantaytambo, known as the last living Inca city. Ollantaytambo reminds us of a critical story of Love, a drama that makes love prevail over all obstacles, believes that this city was built by General Inca Ollantay in a moment of rebellion against the Inca's royal army to obstruct his union with the beautiful princess Cusi Qoyllor "beautiful star". We continue with our guided tour and arrive at Chinchero, where its colonial and Inca temple reflects the current syncretism of these 02 great cultures, Chinchero is also known for its great weavers, who perform beautiful works with Inca techniques.
We continue our trip and return to Cusco, through abundant farmland Arrival in Cusco at 19:00 pm, approximately time when you will be at the door of your hotel or place that you indicate.
Overnight in Cusco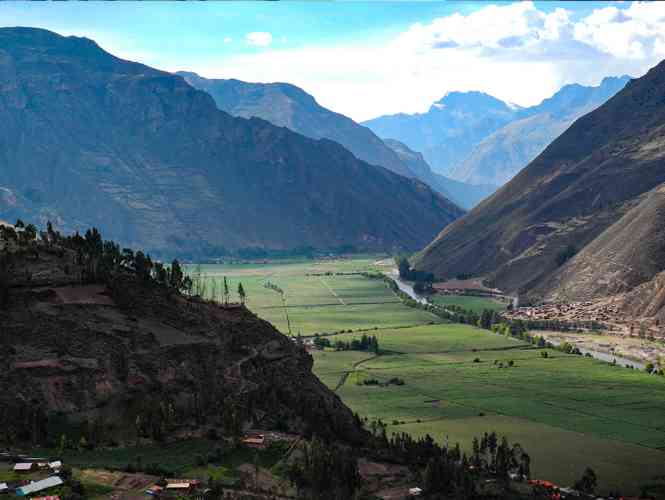 -
Day 13: TRANSFER BY ITEP VAN FROM CUSCO TO KM 82 "INKA TRAIL ENTRANCE"
TREKKING KM 82 "PISCACUCHO TO WAYLLABAMBA"
Today begins your adventure of a lifetime. We will pick you up from your hotel in our private van very early in the morning at 5:30am. You will be transferred to the Sacred Valley of the Inkas, where our van going to take us to Piskacucho, which is called kilometer 82, where the Classic Inca Trail begins. On the way, we stop for breakfast in Ollantaytambo at 6:30-7am to load up on energy for our start of the trail. (Breakfast is not included). Upon arrival at kilometer 82 at 11:30am, we will have some time to organize ourselves, At the Inka Trail first control point be ready to show your entrance tickets, passports and (if paying a student rate) your student card.
At the start of the trail (2720m/8923ft) we cross the Vilcanota River and follow its route to the right. The first day is relatively easy, a warm-up along the Inka flat terrain. There are great views of the Incan Fortress ('Huillca Raccay'), the vast and incredible Inka site of Llactapata, (officially called 'Patallacta'), and the beautiful snow-capped peak of 'W'akay Willca' (5860m/19225ft) known in books as Veronica. Our first campsite is in Wayllabamba (3000m/9842ft) in the temperate green valley with the same name. Temperatures at night are around 5ºC depending on the month.
During the day, we will enjoy spectacular views of the snow-capped mountains Veronica, (5,860m/19,337ft), the lush green valley around us and a myriad of flora and fauna.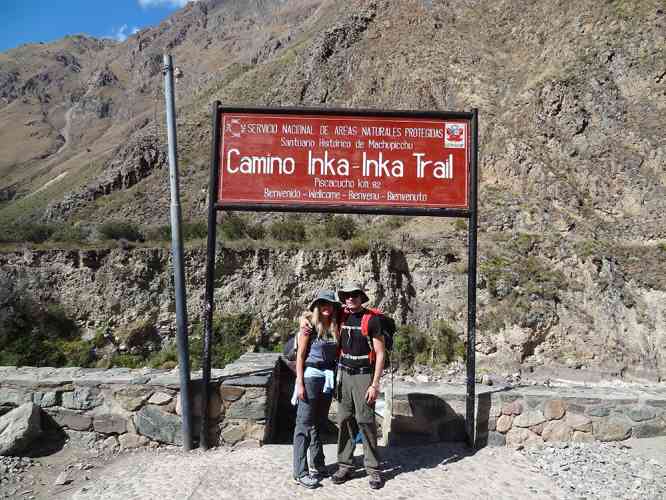 Meals: Lunch, snacks, afternoon tea and dinner.
Accommodation: Camping facilities.
Distance: 11kms/6.8 miles (6 hours more or less of hiking)
Difficulty: Easy/Moderate.
Walking Time: Approximately 6 hours (including picnic lunch in route)
Walk and Terrain: Walk, canter on open roads, some steep ascending.
Day 14: TREKKING "WAYLLABAMBA TO PACAYMAYUC/ RUNKURAQAY"
After waking up at 5 to 5:30am and enjoying a hot breakfast, we start a steep ascent towards the highest pass, abra de Warmihuañusca or 'Dead Woman's Pass' at 4200m/13779ft. On this day, you will feel a real sense of achievement upon reaching the top! After a well-deserved rest, we begin the descent to where we stop for lunch, which is located at Pacaymayu (3,550m/11,646ft).
On our way up to the pass, we will be able to see an arrange of hummingbirds and a combination of other species of bird life. There will be plenty of time to appreciate the incredible variety of native plants and the ´Polylepis´ or Q'ueuña trees which grow in the astonishing cloud forest located at 3650m/11972ft! After lunch, begins the second two-hour steep climb to Runkuraqay pass (almost 4,000m/13,123ft). We arrive at our campsite by 5:00 pm. Temperatures at this campsite are around 4ºC during the night.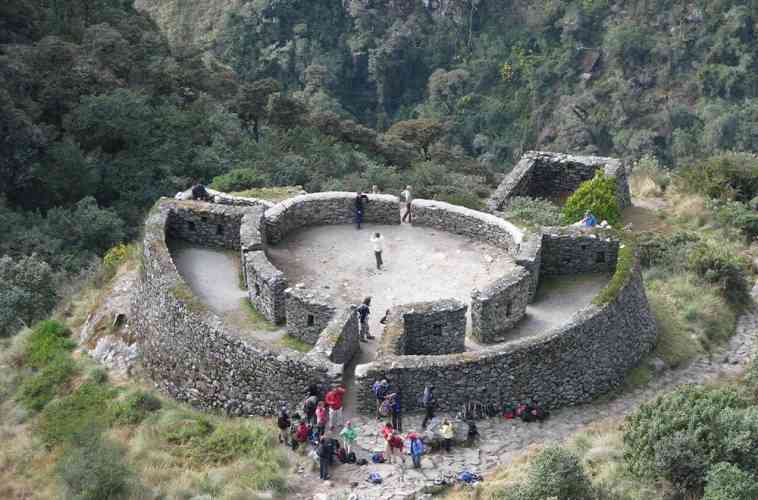 Meals:Breakfast, water, lunch, snacks, afternoon tea and Dinner.
Accommodation: Camping facilities.
Distance: 16kms/10mls (9 hours more or less of hiking time)
Difficulty:Moderate/challenge.
Day 15: TREKKING "PACAYMAYUC TO WIÑAYHUAYNA"
This is the most impressive day so far; keep this in mind as you ascend on day three! We wake up for breakfast at 6am and start the day with a gentle climb to visit the archaeological site of 'Phuyupatamarca' (meaning 'Town in the Clouds'). Here we reach the third highest point on the Inka trail (3680m/). The views of the mountains, canyons and surrounding areas are spectacular! The Inca site of 'Phuyupatamarca', is located a few minutes' walk from the third pass. After visiting this site, we continue walking down 3000 stairs through the cloud forest to the impressive agricultural Incan site of 'Intipata. After taking some time to visit this site, we continue until we arrive at our third campsite Wiñay Wayna. (2680m/8792ft). Today, we will only walk about 4 to 5 hours. We arrive at camp by lunchtime! Temperatures during the night are about 12º C. A short walk from our campsite is the famous Incan site of 'Wiñay Wayna' ('Forever Young'). Even if you are feeling tired after your day's trek, it´s a moment you cannot miss, the most impressive site on the Inca trail.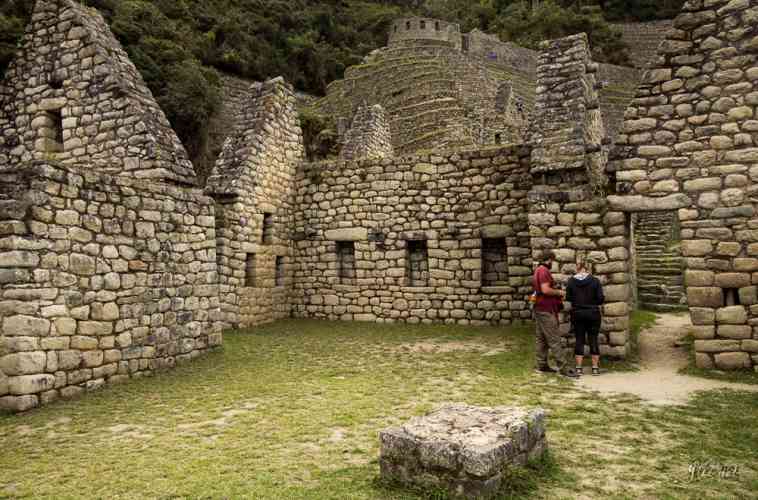 Meals:Breakfast, water, lunch, snacks, afternoon tea and dinner.
Accommodation:Camping facilities and cold showers.
Distance:10kms/6.2mls (5 hours more or less of hiking)
Difficulty:Moderate
Day 16: TREKKING "WIÑAYHUAYNA – INTI PUNKU & MACHUPICCHU GUIDED TOUR"
At around 4:00am it´s time to wake up, have breakfast and start day 4 on the Inka trail to get to Machu Picchu on time. This is the final part of your journey, arriving by 6:00am to reach Inti Punku or The Sun Gate. At that point, the majestic Machu Picchu Citadel is in front of us with its intense beauty – an incredible sight for all to see. The reality of what the Inca people must have encountered on their taxing journey to this expansive temple of Machu Picchu. At this point, we walk downhill towards the Machu Picchu Citadel. (2400m/7872 ft.) After walking 40 minutes, we enter the citadel from the top through the "House of the Guardians". From there we proceed to the control point where we register and leave our belongings. Your professional guide will direct you throughout the astounding ruins and its main streets. You can wander around the town squares as well as climb the intricately carved stairways made from stone. Machu Picchu is considered as the world's spiritual center by esoteric wisdom. Once the guided tour is over, you will have free time to explore the site on your own.
You will also have time to indulge in a few of the following activities on your own if you choose (not included in the price)
Climb up Huayna Picchu or Machu Picchu Mountain and appreciate the beauty and magnificence of Machu Picchu from there.
Other optional activities in Aguas Calientes include a visit to the new local museum or bathe in the hot springs.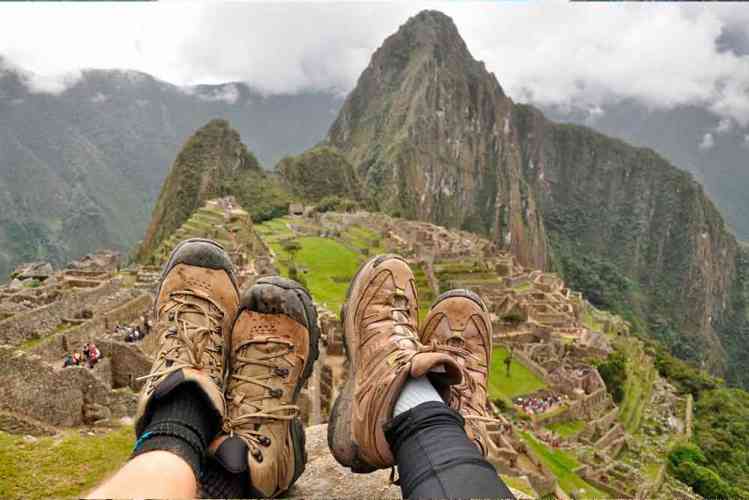 Back to Cusco: You will descend to Aguas Calientes and later board the Expedition train to the Ollantaytambo Train Station "Train departure time can vary according train schedule and availability". In Ollantaytambo Train station you will meet our private van and be transferred to your hotel in Cusco.
Meals: Breakfast
Distance: 8.9kms/5.5mls "By Bus in 25 minutes"
Difficulty: Easy
*** Huayna Picchu or Machu Picchu Mountains hike depends on availability; please let us know if you want to add one of these extra hikes at the time of your booking.
*** We only take ITEP EcoTravel clients in our vans / cars – We do not use public transport.
DAY 17: CUSCO – FREE DAY
Breakfast at the hotel.
Free day in Cusco to shopping or rest
Overnight in Cusco
Day 17: CUSCO – PUERTO MALDONADO
Breakfast at the hotel.
Transfer hotel - airport.
Flight Cusco – Lima.
Arrival to Lima.
Waiting at the airport for international flight.
-
Day 18: SANDOVAL LAKE – PUERTO MALDONADO
Breakfast at the hotel
At the appropriate time, transfer to the airport.
Flight Cusco to Puerto Maldonado
Reception in Puerto Maldonado and transfer to Maloka Lodge
After your morning arrival in Puerto Maldonado, you will be greeted by our transfer and driven to the office to make the respective repack, while having a delicious coffee.
With the pertinent entry permits, we will undertake the trip to the Tambopata National Reserve through the waters of the Madre de Dios river tributary of the Amazon for approximately 40 minutes.
Once we arrive at Puerto Sandoval, we will take a 1 hour walk through the tropical forest, making a short stop at the checkpoint to register and the guide will explain the importance of the place to visit.
As we advance, the forest changes from secondary to primary; in it you can see the abundance of plants and the diversity of birds; To accompany us on this tour, when we reach the channel we take a rowing boat that will take us through a channel to the mirror of Lake Sandoval, arriving at our hostel, we will be greeted with a delicious fruit drink typical of the region, and They will be offered their respective rooms after lunch and after a restful rest we will make our first boat excursion to enjoy the spectacular sunset where we will be able to observe some mammals in their splendor, including the night monkeys and bats, we return to the lodge to have dinner and if we are still energized we can take a small night walk through the jungle to observe various night insects, tarantulas, for this we need to take our flashlights back to the hostel 1 hour later to rest.
Overnight in Sandoval Lake – Maloka Lodge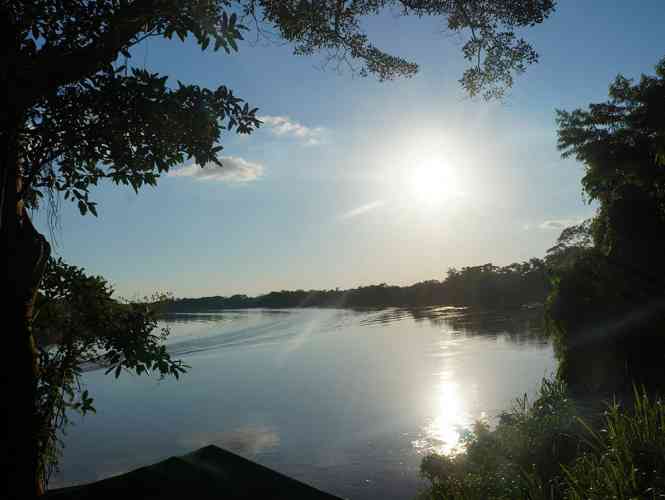 -
Day 19: PUERTO MALDONADO: COLPA DE PALMERAS
This day we will start very early, before sunrise between 4:30 and 5:00 am. We will visit the palm clay lick to observe the ambassadors of the Amazon ambassadors (the psittacines), Macaws, Parrots and Parakeets with the characteristic that it is one of the few places where we can observe how they feed on a palm tree that absorbs nutrients and They are salty, returning to the lodge to enjoy our breakfast.
After our breakfast we will board our boat to see giant trees of 100 or 200 years old where we can get to know the medicinal plants that people in the area generally use, returning for lunch we can enjoy a well-deserved rest or we will have the option to go to swim in the lake in the company of our guide. in the afternoon we will go in search of the much appreciated river wolves or giant otters and we will be able to observe it from very close since these are used to being observed, ensuring good photographic views and also observing the 5 species of monkeys that inhabit the lakeside as the howler monkey that are generally found in the emergent trees taking a rest, while the friar monkey and stumps are seen very closely and can be appreciated when looking for a tree to spend the night and we will be able to observe the famous ARAPAIMA that in the evening hours generally come to the surface of the lake to take air and make a great noise with its large fin, and return for dinner and then make the night tour in search of the most precious black caiman that can measure up to 4 meters and being able to listen to the sounds of nature in the lake and we will also be able to observe the constellations, a truly unforgettable panorama .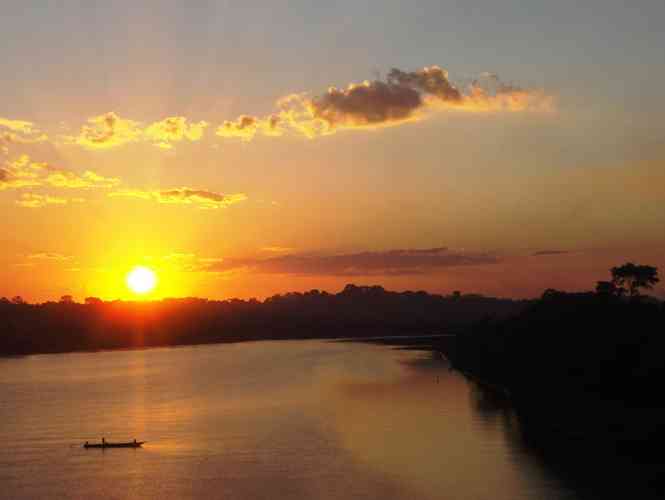 -
Day 20: PUERTO MALDONADO - LIMA
We will get up very early 5.00 am to take a walk around the lake in search of the river otter and in search of more diversity of flora and fauna that inhabit the majestic Lake Sandoval we will take advantage of the last walk to capture unforgettable moments of our tour. To then return to the lodge for breakfast and then start our return trip to the city of Puerto Maldonado.
To enjoy this tour more we must bear in mind that we must bring
Rain poncho
Mosquito repellent
Sunscreen
Flashlights
Long-sleeved polo shirts
Cap to cover us from the sun on the lake
Swimwear
We must not carry
DAY 21: TRANSFER OUT HOTEL TO THE AIRPORT - LIMA
Breakfast at the hotel.
At the appropriate time, transfer out to the Lima airport.

END OF OUR SERVICES
-
INCLUDES:
LIMA
Transfer IN/OUT in Lima airport – hotel - airport
04 nights hotel in Lima with breakfast
Dinner and folkloric show in Lima
PARACAS, ICA, NASCA
Transfer OUT from the hotel to the bus station
Bus Lima Paracas
Ballestas Island tour
Bus Paracas – Ica
Tour in the Huacachina Oasis and sandboarding
Bus Ica - Nasca
01 night hotel in Nasca with breakfast
Nasca lines overflight
Bus Nasca - Arequipa
AREQUIPA
Transfer IN Arequipa bus station – hotel
02 night hotel in Arequipa with breakfast
01 night hotel in Chivay with breakfast
Colca Canyon 2 days / 1 night tour
Entrance fee to the Colca Canyon
02 lunches and 01 dinner in Chivay
Touristic bus Chivay – Puno via 4M
PUNO
Transfer IN/OUT in Puno bus station – hotel - bus station
02 nights hotel in Puno with breakfast
Titicaca Lake Full Day Tour + buffet lunch
Route of the Sun Tour Puno - Cusco
CUSCO
Transfer IN/OUT in Cusco bus station – hotel - airport
05 nights hotel in Cusco with breakfast
Afternoon City Tour with visit and entrace fees to Sacsayhuaman, Qenqo, Tambomachay and Pukapukara
Sacred Valley Full Day Tour with buffet Lunch; with visit and entrace fees to Pisaq, Ollantaytambo and Chinchero.
Pre-departure briefing: You will meet your royal Inka Trail guide and group in our office for an orientation before your trek. At this time, we will provide you with the duffle bags which will be carried by our Porters. The meeting will be at 6:00 PM the evening before the trip begins. In case you can´t come at this time "please let us know" to coordinate another time.
Touristic Transport: You will be picked up from your hotel in Cusco in the morning and will travel by private transportation to PISCACUCHO the starting point of the Royal Inka Trail to Machupicchu.
Adventure Experienced Royal Inka Trail Tour Guide: English speaking, professionally educated, and official tour guide with tourism certification. They all grew up in this region and have a true passion to teach others about their heritage. Your guide will explain the culture and surroundings along the entire route, including leading your group in ancient ceremonies! He or she will keep you safe, sound, and comfortable on your trek so that you can enjoy your time along the Inka path and will ensure you are safe and happy.
Tour Guide in Machupicchu Cultural Experienced: English speaking, professionally educated, and official tour guide with tourism certification. For visit the sacred city of Machupicchu.
Private campsites: Each campsite is carefully choosed for have a very local experience.

Night 1: Enjoy the 1st night in Wayllabamba on the route Royal Inka Trail and sleep in our 4 season Pro Aconcagua Doite tents. All our tents are 4 man tents, but ONLY sleep 2, leaving lots of room to spread out comfortably and store your duffel bags. They also include a little vestibule in front, giving you some extra outdoor space to leave your boots and walking sticks so you don't have to bring in dirt.
Night 2: Enjoy the 2nd night in Pacaymayo on the route Royal Inca Trail and sleep in our 4 season Pro Aconcagua Doite tents. All our tents are 4 man tents, but ONLY sleep 2, leaving lots of room to spread out comfortably and store your duffel bags. They also include a little vestibule in front, giving you some extra outdoor space to leave your boots and walking sticks so you don't have to bring in dirt.
Night 3: Enjoy the 3rd night in Wiñayhuayna on the route Royal Inka Trail and sleep in our 4 season Pro Aconcagua Doite tents. All our tents are 4 man tents, but ONLY sleep 2, leaving lots of room to spread out comfortably and store your duffel bags. They also include a little vestibule in front, giving you some extra outdoor space to leave your boots and walking sticks so you don't have to bring in dirt.
Note: It is not usual that the campsites, lodges or hotels change after the confirmation, however it can vary per government regulations and authorization, also for bad weather conditions and maybe because physical condition of our visitors: any changes in this matter ITEP travel will be informing you previously and as soon as possible.
Camping equipment: Dining and kitchen tents, tables, chairs, and cooking equipment (all carried by our porters and horses).
Entry ticket to The Royal Inka Trail
Entry ticket to Machu Picchu Inka Site
1 Duffle Bag: Duffle bag will be provided as complementary so you can arrange your personal belongings, please in case you need extra porter there will be an extra charge to carry it during the tour please let us know in advance.
Professional Trekking Chef: A professional chef specialized in cooking on the trail, with an assistant, will prepare all of your delicious meals along our journey on the Trail to replenish your energy every day. You will never go hungry!
Meals: 3 Breakfasts, 3 Lunches, 3 Dinners (Vegetarian, vegan, or special menus are available at no extra cost) Please be in mind (1st breakfast and last lunch is not included"
Boiled Water: Beginning from your first lunch until your last breakfast, Inka Trail Expeditions will supply all the water needed. This water will be boiled, filtered and then cooled, before distributing. You must supply your own water bottles or camel back. We recommend carrying about 3L worth. We will refill our waters at each meal.
Wake up tea: Every morning at the campsite, you will wake up with a cup of coca tea! Our staff will bring the tea to your tent so that you will be warmed from inside out before you start your day.
Tea time daily during the Trek: Every afternoon before dinner, the cooks will provide our tea time with popcorn, biscuits, coffee, hot chocolate, teas, hot water, etc. After a long day of hiking, you will not have to wait until dinner to relax, warm up, and enjoy a bite to eat!
Products for hygiene: You will be provided with a small towel before each meal to clean your hands and every morning will be also a bucket with warm water for washes your personal hygiene.
Medical kit and Oxygen bottle: Our crew will bring a first-aid kit, including emergency oxygen bottle.
Train tickets: From Aguas Calientes "Machupicchu village" to Ollantaytambo train station (departure time is confirmed the day of briefing and it´s subject to availability)
Transfer back to Cusco: Private touristic transport from Ollantaytambo train station to your hotel in Cusco (Day 4)
24-hour guest service: We have telephone service available 24 hours/day for ease of communication and preparation with the agency leading up to your trek.
PUERTO MALDONADO
Transfer IN/OUT airport to the lodge and to the airport
02 night at Maloka Lodge – Sandoval Lake
02 breakfast / 02 lunches / 02 dinners
Entrance fee to the Natural Reserve of Tambopata
Transportation in a bote by the Madre De Dios river
Professional tour guide.
NOT INCLUDES:
Internacional and local light tickets
Not mentioned meals
Sleeping Bags: You can rent one from our company if you do not have your own. Our sleeping bags are effective and durable to protect from temperatures as low as -18ºC (0ºF). They are mummy form and include a sleeping liner. The bags are cleaned after every use.
Bus Consettur to Machupicchu inka City: Most of the times the wait to board the bus to Machupicchu is from 1 hour to 1:30 min, So we prefer that you decide a day before your visit to the Inca city of Machupicchu. If you wish to take the bus considering the waiting time. Or if you prefer to do the last stretch of ascent walking up 45 to 1 hour "everything will depend on your physical state, after the trekking done".
Walking Sticks: You can rent a set from our company if you would like.
Day 1: Breakfast: Approx. Usd5 to usd 10.00, Price can vary according your selection.
Last Day: Lunch and Dinner in Aguas Calientes. Approx. Usd 20 to 25.00, Price can vary according your selection.
Personal clothing and gear
Travel Insurance
Tips for our staff: Please note that our agency staff is well paid so please feel free to tip or not as you wish "Recommendation usd 6 to usd 8 per day per traveler for all the trek staff"- Once again it is optional and can vary according your satisfaction.
Additional costs or delays out of control of the management (landscape, bad weather condition, itinerary modification due to a safety concern, illness, change of government policy, political instability/strike, etc.)
ADDITIONAL ITEMS:
There are several optional upgrades you can include in this trip. Below is a quick list of it, but check our overview section for more details.
Sleeping Bag – $25.00 USD per person per trek (It will be clean and warm)
Walking Poles – $12.00 USD per pair per trek (Professional Poles that can be extended)
Vistadome Train Upgrade "Panoramic train" – $ 50.00 USD per person (Return Only)
Huayna Picchu Sacred Mountain – $75.00 USD per person (Please request when you book your Trek)
Machu Picchu Sacred Mountain –$ 75.00 USD per person (Please request when you book your Trek)
Buffet Lunch Celebration in Santuary Lodge on the last day in Machupicchu. $40.00 USD per person (all fresh drinks are included)
We recommend to bring with you:
Original passport
Sleeping bag
Hiking shoes
Rain jacket or poncho
Sweater, globes and hat
T – shirts and shirt
Confortable pants
Sun hat
Sun glasses
Sun block
Camel bag or bpttle
Water
Insect repelent
Personal medicines
Camera
Lightters
Short pants
Walking poles
Money in cash