PUNO THE LEGEND OF THE SUN
3 DAYS / 2 NIGHTS
Includes visit to Lake of the Gods "Titicaca Lake" (Tour Sillustani, Uros Islands and Taquile). Only Services Expedition, Not included Hotel
Puno the City of Legends, Capital of the peruvian folklore, was the center of one of the most important civilizations of the pre-Inca culture Tiawanaco, the supreme expression of the ancient Aymara people, whose vestiges admiration.
According to legend, the first Inca, Manco Capac and his wife Mama Ocllo, emerged from Titicaca Lake. His father, the Sun God, had ordered the founding of the Inca Empire, or Tawantisuyo, which was divided into four regions, Puno occupied the region of Collasuyo that included all the Collao.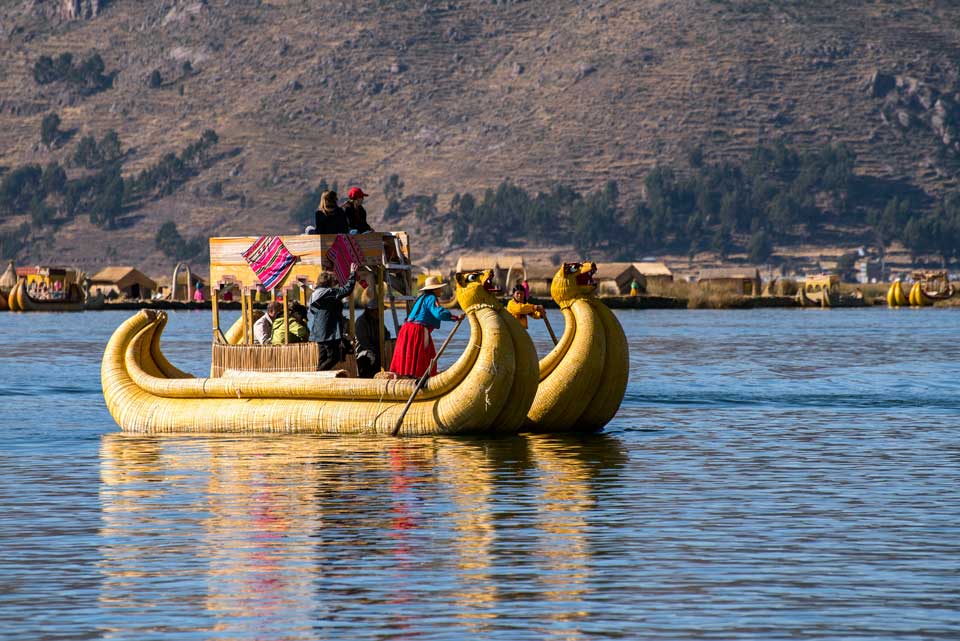 When the Spanish reached Cuzco, about the middle of the sixteenth century, they learned of the great mineral wealth, especially gold and silver in the region.
Be part of the Legend and enjoy this pretty city.
Program
DAY 1
Arrive to Puno, transfer to Hotel
Tour to Sillustani , Pre-Inca Cementery
DAY 2
Full DAY LAKE OF GODS " Titicaca"
"Floating Island of Uros and Island of Taquile"
DAY 3
Transfer from the Hotel to the Airport or Bus Station
ITINERARY PUNO "The Legend of the Sun" 3D / 2N
DAY 1.- ARRIVE TO PUNO, TOUR TO SILLUSTANI.
Arrival, meeting and transfer to the hotel selected.
PM Guided visit the Sillustani preinca ruins overlooking the Umayo Lake. The site harbors the "Chullpas", archaeological monuments constructed in stone in form of conical towers.
DAY 2.- THE LAKE OF GODS
" Floating island of Uros and Island of Taquile".
Breakfast in the hotel
Early morning transfer to the pier for a boat trip to Uros Floating Islands. Located 4 km from Puno and about 20 minutes motorboat ride. The original inhabitants of these floating islands are said to descend from one of the most ancient peoples of the Americas. Their dwellings made of Totora reed are built on the surface of Lake Titicaca. Next, we continue to Taquile Island. It is of great scenic beauty, ethnic and cultural interest. Local people are devoted to the agriculture and they have generated a communal tourism, as the visitors share their food and housing. They are famous for their fabrics and crafts. Lunch included. PM Return to Puno and transfer to the hotel. Overnight.
DAY 3.- TRANSFER OUT.
Breakfast.
Transfer to the bus station or airport and boarding assistance by our personal.
Included:
Transfers In / Out (airport - hotel - airport)
Entrance fees to tourist centers
Touristic transport to the attraction.
Motorboat for our tour in Titicaca Lake.
Hotel for 2 nights.
Bus up and down (Concetur to Machu Picchu)
Lunch in Taquile Island
Professional bilingual guide (English - Spanish) for all excursions.
Does not Include:
Entrance to recreational sites, such as "Clubs" "Waters Springs, Amusement Parks "
Unscheduled Meals.
Others not specified in the Program
If you want more information please send us a e-mail