RESERVE ZONE PROGRAM
7 Days / 6 Nights
A WEALTH OF WILDLIFE
The MANU NATIONAL PARK core zone of the BIOSPHERE RESEVE. It is one of the most important protected areas in the tropical of South America. Located on the eastern flack of the Andes Mountain, the park protects an unbroken sequence of natural landscapes ranging from the high Andes grasslands at more that 4 000 meter above sea level down to extensive area of lowland rainforest in the Amazon basin; which is he refugee of many endangered animals including the jaguar, black caiman, giant otter and harpy eagle. Manu has become the only home on the earth with greatest biodiversity of the Amazon rainforest.
Manu contains around 1,000 species of birds including 7 species of colorful macaws, 84 species of mammals including 13 species of monkeys and thousands of species of plants and insects.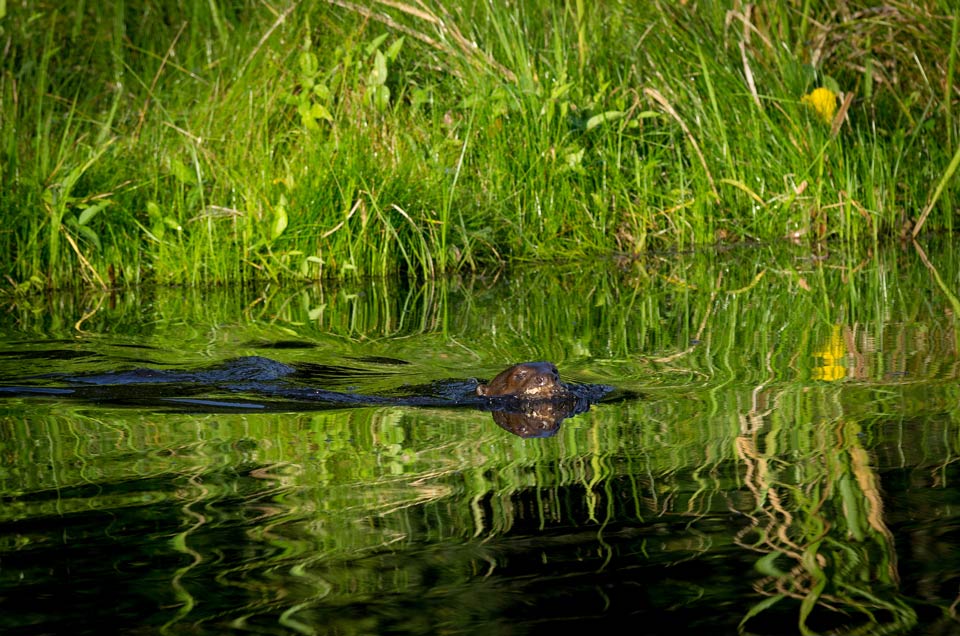 MANU BIOSPHERE RESERVE, located in the Departments of Madre de Dios and Cusco was declared in 1977 by UNESCO in recognition of its outstanding natural and cultural values. PRO NATURALEZA with the support of the World Wildlife Fund (WWF), has provided support for the conservation and management of the Reserve since 1984
The MANU NATIOMAL PARK with 1 692 137,26 ha. Represent one of the largest areas of conservation in Peru. As tour Operator we offer the word's finest rain forest Expedition in MANU PARK, with the best services and lodges to the Nature lovers. Quality and security at your service.
PROGRAM:
| | |
| --- | --- |
| Day 1 | 6:30 a.m. to 17:00 p.m. Cusco - Pilcopata |
| Day 2 | Pilcopata - Boca Manu |
| Day 3 | Boca Manu - Matsiguenka Lodge House |
| Day 4 | Matsiguenka Lodge House |
| Day 5 | Alberge Casa Matsiguenka – Yanayacu Lodge |
| Day 6 | Yanayacu – Pilcopata |
| Day 7 | Pilcopata – Cusco |
ITINERARY RESERVE ZONE PROGRAM 7D/6N
Day 01: Cusco – Pilcopata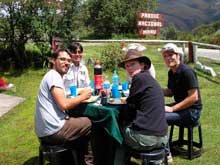 We leave Cusco early in the morning by bus and travel through Andean Mountains, beauty valleys, rural communities and visit Ninamarca Chullpas (tombs); these belong to the pre-Inca culture (Lupacas). Then we will climb the last mountain and arrive to Acjanaco, this is the entrance to the Manu National Park. Fallowing this we will descend in to the mysterious cloud forest, which has a huge variety of flora and fauna; making it an ideal home for epiphytic, orchids, bromeliads.
By the afternoon we take a hike in the cloud forest, where we will be able to see the famous bird Cock of the rock, acting in a daily ritual dance, as well as trogons, quetzal, toucans, monkeys and on a lucky day the only Spectacle Bear of South America (Tremantus ornatus). Then we will continue our trip to Kcosñipata valley, where we spend our first night.
Day 02: Pilcopata – Boca Manu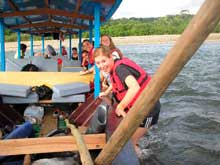 We will be woken by the dawn chorus to take a walk in the high forest and visit local agriculture like coca plantations, pineapples, yuca and other original products as well as seeing many birds and a nice view point. We arrive at Atalaya port, where we will take our motor boat and navigate 5 hours down the turbulent alto Madre de Dios River to Boca Manu and visit this Native village (piro or yine group).
Nocturnal activities are available each night. These range from nocturnal walks, talks on different topics and caiman spotting when there is a good whether condition.
Day 03: Boca Manu - Matsiguenka Lodge House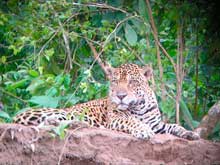 Very early we start our expedition again by boat up the Manu stream, going by the Ranger Station (Limonal).With our permit, where we will register our entrance to the heart of the Manu Reserve Zone, in the course of the trip carefully searching white caiman, black caiman, enormous aquatic guinea pig the capybara, many species of birds and on a lucky day an impressive jaguar (Pantera onca). Arrive at the typical Matsiguenka lodge at mid afternoon. After this we will walk into the different path around the lodge.
Day 04: Matsiguenka Lodge House
The most dynamic place of wildlife, We will take a hike through this virgin forest and explore one of the most beautiful lake of Manu (Cocha Salvador). We ride by catamaran. There is a chance to see a huge variety of colourful birds, numerous species of monkeys, black caimans and with luck the Giant otters (Pteronura brasiliensis). This endangered species can be seen swimming, fishing, eating and playing. After a fortifying lunch,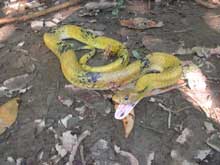 We will have a short boat ride crossing the river, we start to walk 4 hours through the forest for get another oxbow lake called Otorongo where is an observation platform of 20 meter high and observe kapok trees, mahogany, rubber trees, cedar and it is home of several mammals that are occasionally encountered like Brown capuchin monkeys, black spider monkeys and some wild pigs. At night we can explore the forest with good flashlights looking, insects, snakes, frogs or go moonlight caiman spotting on the lake over night in the same lodge.
Day 05: Matsiguenka Lodge House – Yanayacu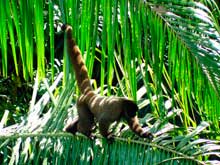 Early in the morning we pack up and slowly go down the interesting Manu river, we arrive at Boca Manu where we will have a short free time for have soft cold drinks or beers. After this we will go up the Madre de Dios River for about three hours, more gives us our best chance to see some migratory birds like osprey, jabirus, wood stork, etc. As a night falls we make camp on one appropriate river's sandy beaches.
Day 06: Yanayacu – Pilcopata
This day after have our great breakfast we'll continue our trip high Madre de Dios river in our comfortable boat trying to fish and enjoy great views of the Andes, like aguas calientes or hot spring, Where we may stop and relax in the most beautiful and original point. After our lunch we'll get the tiny river port to Atalaya, where our bus should be waiting to take us from Atalaya to Pilcopata for spend our last night.
Day 07: Pilcopata – Cusco
Waking up very early for appreciate again the cook of the rock in San Pedro, where we may have our breakfast, we also may stop frequently to observe wildlife in the cloud forest. Continue our return to the ancient Inca's city driving through the Andean mountains; we will arrive to Cusco at mind afternoon. As tours operator we offer the word's finest rain forest expedition in Manu Park, with the best services and lodges to the nature lovers.
Includes:
Naturalist Professional Guide in English and Spanish.
Land and river private transportation (very comfortable).
Lodging 2 person in room. In typical and local comfortable Lodge.
Three meals per day (vegetarian option) & snacks. Prepared by our dedicated staff with fresh fruits and typical products from the rain forest.
First aid kit.
Mineral water.
Tents and mattresses.
Rubber boots and rain gear (ponchos).
Guide books about Manu, paper work for entrance and checklist.
Not included:
Soft, drinks and beer.
Entrance fees to Reserved Zone.
Entrance to the hot spring.
What you should bring:
Lightweight long sleeve cotton shirts, long pants, one pair of walking shoes, sandals, towel, swimming suit, rain jacket and personal medicines.
Day pack and a backpack person.
Binocular, camera with a good zoom for the inner forest.
Insect repellent at least 25 % of deet, sunglasses, sun cream lotion and cap or hat.
Flashlight enough batteries.
MEALS IN OUR TRIP
| | |
| --- | --- |
| BREAKFAST (B) | Fruit Salad,oatmeal, pancakes, cereal, te, caffe, milk, bread with a seleccion for it, butter, flavoured jam,honey,etc. |
| LUNCH (L) | the biggest meal of the day, always with a soup,cream of asparagus, tomatoes, corn, or vegetables and noodle soup.and then a meat (poltry,fish,pork,beef+ a grain "most likely quinoa or white rice" + veggies + variety salad+ drinks "hot and cold drinks" |
| DINNER (D) | mously like Lunch, included dessert. chocolate pudding.Rice pudding, and others But I know we had dessert each night. Every meal we offer hot drinks , including coca leaf tea which are excellent for the altitude. |
IMPORTANT.
Vegetarian (vegan) food on request at no extra cost! if you have any dietary requirements