Cusco Explorer
07 Days and 06 Nights
It combines the best of Cusco and the Inca Trail to Machu Picchu. Only Services, including Machu Picchu by train Expedition Tourism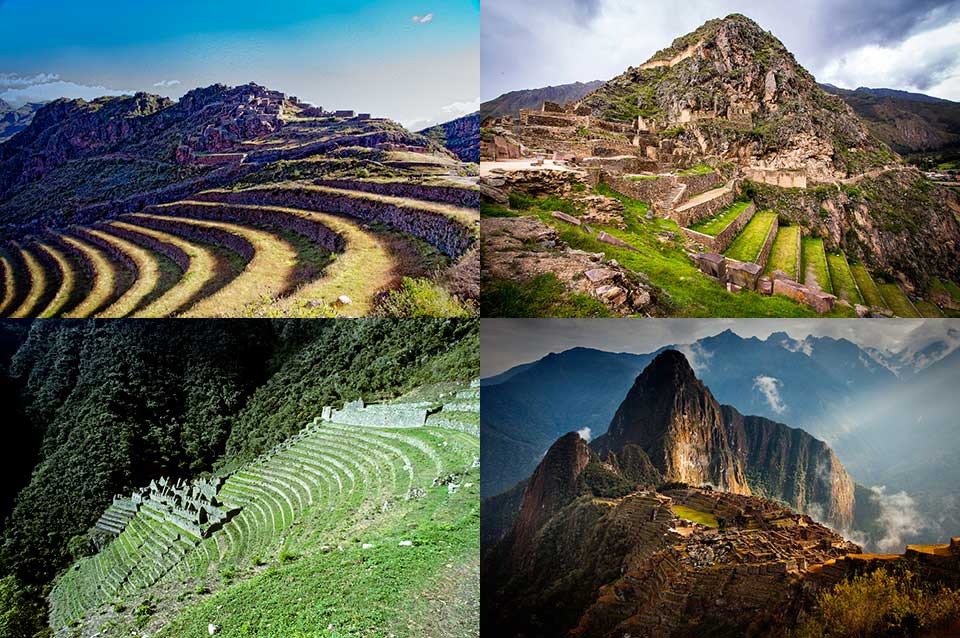 Introduction
If you love a nature and care about this unique connection between man - earth or "Pachamama" you have to do this tour. Explorer of the Cusco combines the beauty of the Sacred Valley of the Incas, through the Peruvian Andes by the Inca Trail and arrives at the city of Machu Picchu.
PROGRAM:
Day 1
Arrival at the airport "Velasco Astete"
Transfer to the selected hotel
Free day
Day 2
Tour Valle Sagrado Cusco – Full Day
08:00 am – 07:00 p.m. hrs
visit to Pisaq – Ollantaytambo - Chinchero
Day 3
6:30 a.m. to 16:00 p.m.
Transfer Ollantaytmabo - Km82
Start hike from Piscacucho. KM 82 (A Machupicchu)
PISCACUCHO-WAYLLABAMBA
Day 4
7:00 a.m. -16:00 p.m.
Walk
WAYLLABAMBA – LLULLUCHAPAMPA
LLULLUCHAPAMPA – PACAYMAYU
Day 5
7:00 a.m. – 16:00 p.m.
Trekking
PACAYMAYU – PHUYUPATAMARCA
PHUYUPATAMARCA - WIÑAYHUAYNA
Day 6
Walk
5:30am – 8:00am
WIÑAYHUAYNA – MACHUPICCHU
8:00 a.m. -11:00 a.m.
CITY of INKAS guided tour in Machu Picchu.
Free afternoon in Machupicchu
Optional: Machupicchu Village visit " Hot Springs "
Day 7
Morning, return to Cusco
8:00 am - 12:00 p.m.
Machupicchu pueblo to Ollantaytambo and bus to Cusco.
DAY 1.- Arrival to Cusco, City tour.
Transfer service on your arrival in Cusco
At indicated hour our staff adequately uniformed and with a sign with your name or a name that tell us, will be waiting for you at the reception in the airport of Cusco or bus terminal. Then we will be moved to the selected hotel. The tourist mobility that we offer for this service is fully equipped for your comfort, the travel time will vary according to the location of your hotel. Arrival at the hotel, registration and accommodation.
After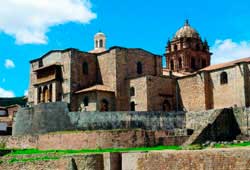 13:30 pm pick up from your hotel.
14:00pm beginning of your excursion.
KORICANCHA
(it was the Main Temple of the Incas) where Sun God is worshiped, About the engineering used in the construction of this place, its walls were covered with gold and in its mean terraces there were sheets of animals in gold made in natural size ,which also kept there mains of the Incas and their wives who in ever ruled these lands which were embalmed, chronicles indicate that these seemed to be alive.
SACSAYHUAMAN
(Head of the great Puma) The city of Cusco was in the form of a Puma and the exactly Head was Saqsayhuaman. It is 3 km from the city of Cusco impressive Temple monumental and magnificent stone architecture, also known as "la Casa del Sol" Annually on 24 June is here where is performed the ancestral ritual of Inti Raymi.
QUENQO
(Temple of the Pachamama or Mother Earth) was a ceremonial temple , there is an amphitheatre where sacrifices were made on black flame, that every winter solstice "June21" in the shadow a planned for well polished bricks, born a natural phenomenon "The Awakening of the Puma" for the Incas was the beginning of the great festival of Inti Raymi
PUCAPUCARA
(Fortaleza Inca) old tambo, surveillance existed throughout the Empire and along the Inca roads. Also it was a controlled entry and exit of all those traveling to or from the holy city of Cusco.
TAMBOMACHAY
(royal baths) at 7 km. from the city of Cusco is a ceremonial place of worship for the water, its wings is named sources of water that exist on site, Also is believed to be resting place of the Inka.
6:30 p.m. return to Cusco leaving you in your hotel or in the beautiful (main square) Plaza de Armas.
Day 2.- The Sacred Valley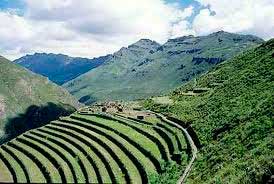 08:30 am pick up from your hotel.
09:00 am beginning of your excursion.
The Pisac market
is a must-see for those visiting the Cuzco region. Every day, the streets fill to overflowing with artisans selling their goods and tourists from all over the world buying them.. Sunday is the best and busiest day to visit by far. Villagers from miles around pack up their llamas and donkeys in the early hours of the morning in order to arrive and set up stalls where they sell vegetables and other produce. Even if you're not a shopper, the market is worth a visit. It's a great place to take photos and people-watch. Many of the cafés around the market have second-story balconies providing good views of the commotion below. The quality of the goods can be a little sketchy, and, if you're looking to spend a lot of money on any one item, you're better off in a fine gallery or store in Cuzco or Lima. But prices are low (though higher than in the Cusco markets) and it is a great place to buy memorable souvenirs for friends back home.
P'isaq archaeological park
is one of the most important archaeological region. Possibly its name comes from a very common type of Bird in this area known as "p'isaqa." Some scholars suggest that the pre-Columbian city was in the form of a "p'isaqa" representing the local faun. Today there are a colonial Town named P'isaq.
In the Inca City there is a famous Local Market ,full of crafts and local products.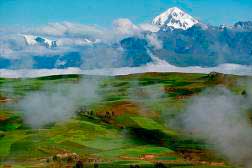 OLLANTAYTAMBO
The archaeological complex of Ollantaytambo was a strategic military, religious and agricultural center. The architectural scene is exceptional in its the size, style and originality of its buildings. For the Quechua language, the name comes from the word
Ollanta (which is the name of an Inca captain, whose story was saved as an oral tradition, and written as a drama of Antonio Valdez Urubamba priest in mid-eighteenth century) Also a Spanish derivation of the word tampu (Tambo) Quechua, which means "City that offers accommodation, food and comfort to passengers." Agricultural activity in this area benefited from the presence of the Patacancha creek, where there are large terraces that currently are damaged and abandoned.
CHINCHERO
The typical Chinchero is a Inca city, the conquerors wanted to "civilize" and establish their culture, but never succeeded, because they fully resisted. Today you can see this resistance in its inhabitants, as they inhabit the Inca constructions almost intact, in the same place where their ancestors lived and formed the largest and most prosperous civilization in America.
The Rainbow City is located 28 km. northwest of the Cusco city, over 3,762 meters, at an intermediate location between the highlands and warm valley, surrounded by snow-capped Salkantay, Veronica and Soray. The view from here is awesome. Chinchero was chosen by the Inca Tupac Yupanqui to establish his residence.
At 19:00pm aprox, we'll arrive in Cusco, transfer to your hotel or if you decide you can stop in the beautiful mean square of this City.
Day 03: Ollantaytambo - KM 82 - Piscacucho – Wayllabamba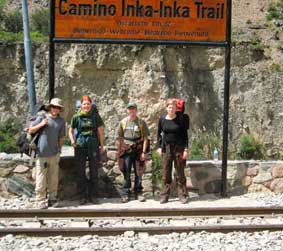 At 6:30 am our guide goes pick you all up from your hotel so you can be transported by bus to Km 82 where we arrive at approximately 10 am. Here we are happy to present you the team that is going to accompany us during thisMachu Picchu HIKE tour, such as the insanely strong porters, the camp assistants, or even the various and talented cooks. We can begin our hike.
This first day is pretty easy for the first kilometers; we could enjoy a beautiful view of Mount Veronica and trek along the river Vilcanota until the Patallacta's archaeological site. After lunch we continue until Huayllabamba where we set up our camp for the night.
Meals: Lunch - Tea Time - Dinner.
Day 04: Wayllabamba – Llulluchapampa – Pacaymayo.
After an energetic breakfast, we start our second day of hike, perhaps the most difficult of this 4 day hike to Machu Picchu as we have to climb to the pass of Warmihuañusca, at 4,200 meters high. In this place, the highest in the Inka Trail, we enjoy a spectacular view of the whole Andes range.
After lunch we start the descent towards the valley of Pacaymayo, where we prepare our new camp.
Meals: Breakfast - Lunch - Tea Time - Dinner.
Day 05: Pacaymayo – Phuyupatamarca - Wiñaywayna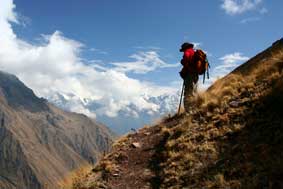 On a quite early morning after our delicious breakfast we return to the path. We head off towards Runkuracay to visit its archaeological remains, and then continue hiking to the 3,900 meters mountain pass of the same name, where we begin our descent to the ruins of Sayacmarca. After lunch, our hike takes us to WiñayWayna, which is our last night in camp.
Optional: we can use the showers of the restaurant we have lunch at, always a good option to remember warm water.
Meals: Breakfast - Lunch - Tea Time - Dinner.
Day 06: Wiñaywayna - Machu Picchu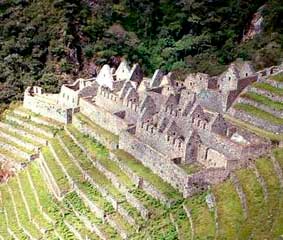 After breakfast we continue the hiking to reach Intipunku ('Door of the Sun'), where we have a spectacular panoramic view of the citadel of Machu Picchu. We descend to the city of Machu Picchu and start a hike tour (of approximately 2 hours) alongside your guide, after which you can explore the mysterious city all by yourselves. And will have free time. You also have the option to visit to the Hot Springs in Aguas Calientes.
Meals: Breakfast.
DAY 07: Machu Picchu - Cusco.
After the breakfast you will take the morning train back to Ollantaytambo followed by a bus to Cusco
Meals: Breakfast.
INCLUDED:
Transfers In / Out (airport-hotel-airport)
Professional bilingual tour guide
Tour of The Sacred Valley of the Inkas
Lunch in the Sacred Valley of the Incas
Entrance fee for the Inka Trail
Entrance fee for the Machu Picchu
Entrance tickets to the different tourist centers
Touristic bus Consettur from Machu Picchu to Aguas Calientes
Expedition train ticket from Aguas Calientes to Ollantaytambo
04 nights: Hotel in Cusco
03 Nights: Camping during the Inca Trail
All breakfasts in the Hotel
Professional cook: all our fresh vegetables are washed in iodine water prior to serving and we provide only boiled, filtered or iodized water for drinking. Vegetarian food on request at no extra cost! All dietary requirements from vegans, lacto-allergies and general dislikes can be catered for so long as prior warning is given when booking the trip
Meals in the Inca Trail: 03 breakfasts, 03 lunches and dinners
Drinking water along the Inca Trail only on meals' times
Dining tent with tables and chairs
1st aid kit
1 oxygen tank
Porters (to carry the tents, food and cooking equipment)
Quadruple & waterproof camping tent (cap. 4 fitting 2)
1 sleeping mattress per person
Transfer from Ollantaytambo train station to your hotel in Cusco
Personal assistance during all your visit in Cusco
YOU NEED:
Original passport (and International Student card (ISIC) if applicable)
Sleeping bag (not included but can be hired from us)
Walking boots
Waterproof jacket / rain poncho
Warm jacket, hat and gloves
T-shirts
Comfortable trousers
Sun hat
Sunglasses
Sun protection cream (factor 35 recommended)
Re-usable plastic or metal water container or camel bags
Water, water purification tablets or money to buy water along the way
Insect repellent
Toiletries
Personal medication
Camera
Torch with batteries
NOTES
The train included in all the tours (Expedition train: class tourists from Machu Picchu to Ollantaytambo). The train schedule is only confirmed a day before the start of the trip. If you will be joined a group a day before the beginning of the tour, we can not guarantee that you will have the same train as the rest of the group
Itinerary of the train is a subject to change depending on the table of Peru Rail schedules and availability
To qualify as a student, it is necessary to have a valid ISIC card. Scan the card and email us the copy at the time of your booking.
OPTIONAL ITEMS TO TAKE:
Shorts
Walking stick (with rubber tip)
Plasters and bandages
Sandals
Extra money
Bathing suit (for the hot springs in Aguas Calientes)