INCA TRAIL TO MACHUPICCHU 2 DAYS
Duration: 2 days | 1 night
The 2-day Inca Trail has always been a marvel. It is part of a network of trails that spans 30,000 km, from Mendoza in Argentina to the Ecuador-Colombia border. This route is a crucial piece of the ancient Inca road system. During this trek, you will immerse yourself in the most astonishing nature as you traverse subtropical forests, valleys, and majestic snow-capped mountains. Additionally, you will have the opportunity to observe an incredible variety of plants, birds, and animals while passing through archaeological sites and experiencing the vibrant traditional culture of the Sacred Valley of the Incas. The journey will take you through carefully preserved stairs and tunnels, culminating in the legendary Machu Picchu.
The trip begins at kilometer 104 (104 km along the railway line from Cusco) and entails a four-hour uphill trekto Wiñay Wayna and a few more hours to Machu Picchu. This is ideal for treks who wish to explore at least part of the Inca Trail but don't have the time (or energy) for a full 4-day journey.
Just like the 4-day version of the Inca Trail, regulations introduced in 2002 prohibit individuals from undertaking the trip alone. Most of the new rules apply to the 2-day journeys.
This route is rated as moderate and should only be taken by physically fit individuals who exercise regularly. The trek starts at 2100m (KM 104) and ascends to 2700m (Wiñay Wayna) before descending to 2400m (Machu Picchu). Since the trek is done at a much lower altitude than the shorter 2-day trek on the Inca Trail, you don't have to worry as much about acclimatization, although many people still feel breathless when they reach Wiñay Wayna, so this journey should certainly not be considered an easy option.
Apart from the waterfall right in front of Wiñay Wayna, there is no other place to refill your water bottle (remember to filter it before drinking). Therefore, you should start your excursion with at least 1.5 liters of water.
ITINERARY FOR THE 2-DAY INCA TRAIL
DAY 1

Cusco - Wiñay Wayna - Aguas Calientes

We will pick you up from your hotel and depart by bus from Cusco to Ollantaytambo. Then, we will continue by train to kilometer 104, where we will start our trek. During the journey, we will enjoy a delicious lunch at Wiñay Wayna. Afterwards, we will continue our trek towards Machu Picchu. Finally, we will have dinner and spend the night in Aguas Calientes.

DAY 2

Aguas Calientes - Machu Picchu - Cusco

Begin the day with a delicious breakfast at the hotel. Then, board a bus that will take you to Machu Picchu, where you will enjoy a fascinating guided tour of the ancient Inca city. After exploring this amazing place, you will return to Aguas Calientes. Finally, you will embark on the return journey to Cusco by bus and train.
DAY 1: Cusco - Km 104 - Machu Picchu Pueblo
Treks Km 104: "From Chachabamba to Inti Punku, the Sun Gate"
Today, we will embark on an exciting trek through the most impressive part of the Inca Trail. We will explore beautiful Inca sites, admire a wide variety of flora and fauna, and marvel at the fantastic panoramas of the majestic Andes Mountains. Our 16 km journey begins in the Sacred Valley and follows the original path of the Inca Trail to the Inca site of Wiñay Wayna, before continuing on to Machu Picchu through the Sun Gate, known as Inti Punku.
As we make our way towards Machu Picchu, we will traverse the lush green cloud forest that blankets the mountain, delighting in the diversity of plants, flowers, and birds we encounter along the way. If we're lucky, we may even spot some larger mammals, such as viscachas (a type of chinchilla) and spectacled bears.
After a full day of trekking, we will reach the Sun Gate (Inti Punku) in the late afternoon, where we will catch our first glimpses of Machu Picchu perched on the mountain below us. The lighting at this time of day is perfect for capturing photographs, as there are few tourists around. It will be the ideal moment to take some snapshots of the site. After passing through the Sun Gate, we will continue along the trail a little further before taking a detour that will lead us to Aguas Calientes in the valley below, where we will check into our hotel.
Meals: Picnic lunch and dinner.
Accommodation: Hotel, "Campsite available upon request."
Distance: 16 km (approximately 6 hours of Treks)
Difficulty: Easy/Moderate.
Treks time: Approximately 6 hours (including the picnic lunch during the journey).
Terrain: Treks trails, some steep and uphill sections on open paths.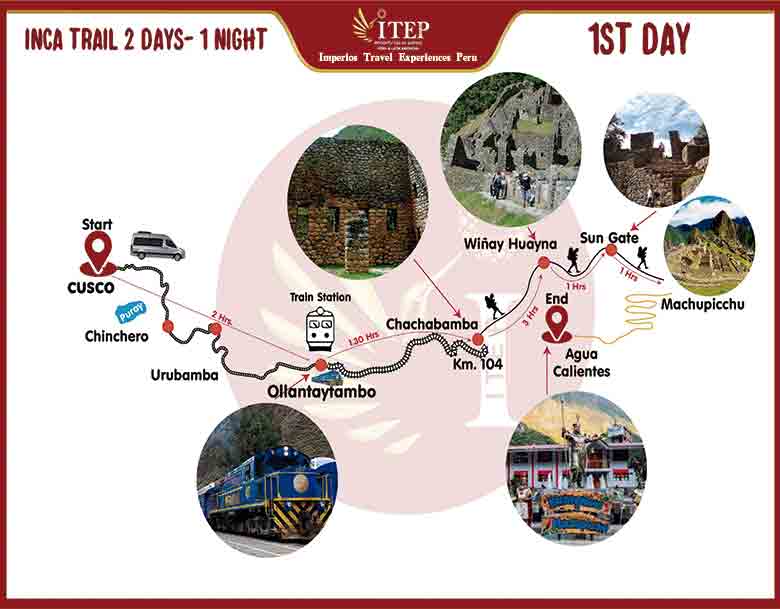 DAY 2: Machu Picchu "The Marvel of the Sunrise" - Cusco.
We will wake up early and take one of the first buses back to Machu Picchu for entry. There, we will enjoy a 2-hour guided tour of the site, where we will learn about the Incas and visit all the most important areas of the citadel. After the tour, you will have free time to explore the site on your own. If you have the necessary permits, you can choose to climb Huayna Picchu (2 hours round trip) or Machu Picchu Mountain (3 hours round trip).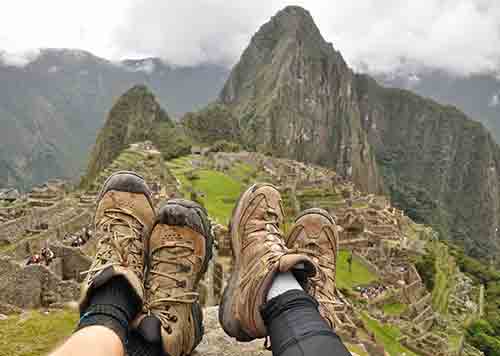 You will also have time to enjoy some of the following activities on your own if you wish (not included in the price):
Treks up Huayna Picchu or Machu Picchu Mountain and appreciating the beauty and magnificence of Machu Picchu from there.
Other optional activities in Aguas Calientes include visiting the new local museum or bathing in the hot springs.
Return to Cusco: You will descend to Aguas Calientes by bus (included) and then board the Expedition train to the Ollantaytambo train station. "The train departure time may vary depending on the itinerary and availability." At the Ollantaytambo train station, we will meet you with our private van and transfer you to your hotel in Cusco.
Meals: Breakfast
Distance: 8.9 km / 5.5 miles "By bus in 25 minutes"
Difficulty: Easy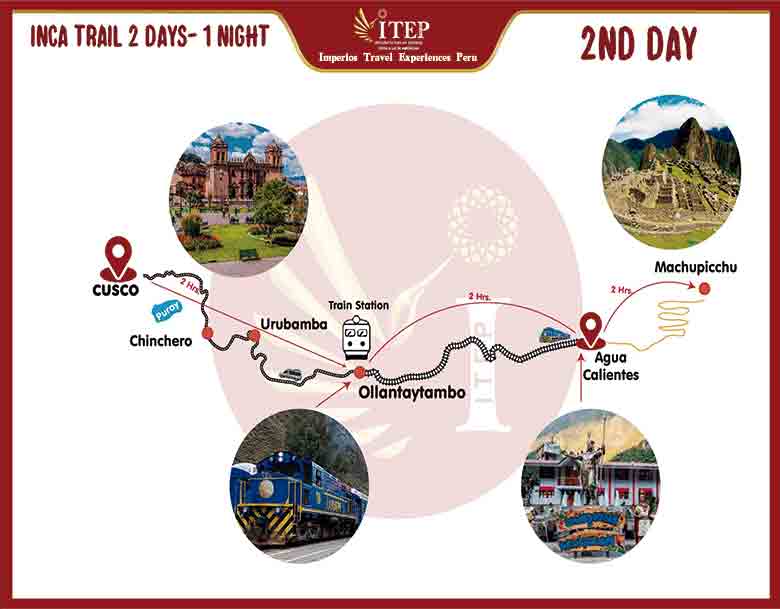 *** The choice between Huayna Picchu or Machu Picchu Mountain is subject to availability. Please let us know if you wish to add one of these additional Treks at the time of booking.
*** We only accept Imperios Travel customers in our vehicles: we do not use public transportation.
About the hotels in Machu Picchu: Please note that hotels may change according to your request, depending on the booking time and availability. Camping is also possible; we just need to comply with the conditions set by the government of Machu Picchu or the restrictions imposed by the Peruvian government for safety reasons.
Include Inca Trail 2 days
Before starting your trek, an informative meeting will be held at our office. During this meeting, you will meet your official Inca Trail guide and the rest of the group. The meeting is scheduled for 6:00 PM on the evening before the start of the journey. If you are unable to attend at that time, please let us know so we can coordinate another schedule.
Tourist Transportation: In the morning, you will be picked up from your hotel in Cusco and travel in private transportation to the Ollantaytambo Train Station.
Expedition Service on the Tourist Train: The train will depart from the Ollantaytambo Train Station to Chachabamba, also known as "Km 104," which is the starting point of the Short Inca Trail to Machu Picchu. If you wish, you can choose to upgrade to the Vistadome train at an additional cost.
Experienced Inca Trail Adventure Guide: Your official Inca Trail guide speaks English, has professional training, and is certified as a tour guide. They are native to this region and have a great passion for sharing their cultural heritage. Throughout the journey, your guide will provide you with information about the culture and surroundings, and even participate in ancient ceremonies with the group. Their main objective is to ensure your safety and comfort so you can fully enjoy the Inca Trail experience.
Culturally Experienced Guide in Machu Picchu: You will also have a certified official tour guide who speaks English and has experience in the culture of Machu Picchu. This guide will accompany you during your visit to the sacred city of Machu Picchu.
Overnight in Machu Picchu Village: A hotel in Aguas Calientes, also known as Machu Picchu Village, has been carefully selected for your overnight stay. Hotel prices vary based on your expectations and budget. Please check the available options.

Night 1: The first night at the hotel is not included. You can choose from different hotels in Aguas Calientes, with prices varying according to your preferences and budget.

2-Day Short Inca Trail Entry: Includes access to the "Sun Gate of Machu Picchu" to start your journey on the Inca Trail.
Machu Picchu Inca Site Entry Ticket: This package includes entry to the archaeological site of Machu Picchu.
Meals: 1 lunch and 1 dinner will be provided during the journey. There are also vegetarian options or special menus available at no additional cost. However, please note that breakfast on the first day and lunch after the visit to Machu Picchu on the second day are not included.
Water: Inka Trail Expeditions will supply you with all the water you need only at our office in Cusco for the first day of Treks. Once you arrive in Machu Picchu Village/Aguas Calientes, you will find many shops and restaurants where you can purchase water. You should bring your own water bottles or camelbacks. It is recommended to carry around 3 liters per person.
Medical Kit and Oxygen Bottle: Our team will carry a first aid kit, which includes an emergency oxygen bottle.
Return Train Ticket: Transportation by train from Aguas Calientes, also known as Machu Picchu Village, to the Ollantaytambo Train Station is included. The train departure time will be confirmed during the meeting and is subject to availability.
Return Transfer to Cusco: At the end of the journey, private tourist transportation will be provided from the Ollantaytambo Train Station to your hotel in Cusco on the second day.
24-Hour Customer Service: Our telephone service is available 24 hours a day to facilitate communication and assist with your trip preparations.
Not Included Inca Trail 2 days:
Walking Sticks: If desired, you can rent a set from our company.
Day 1: Breakfast: Approximately $5 to $10 USD, prices may vary depending on your selection.
Meals in Machu Picchu village: Lunch and Dinner in Aguas Calientes. Approximately $20 to $25 USD, prices may vary depending on your selection.
Personal clothing and gear.
Travel Insurance.
Tips for our staff: Please note that our agency staff is well compensated, so tipping is optional. We recommend a range of $6 to $8 USD per day per traveler for all trek staff, but it can vary based on your satisfaction.
Additional costs or delays beyond the control of the management (such as changes in the landscape, adverse weather conditions, modifications to the itinerary due to safety concerns, illness, changes in government policies, political instability/strikes, etc.).
Thank you for choosing ITEP "Imperios Travel Experiences Peru"!
With ITEP "Imperios Travel Experiences Peru" every step is a great Adventure!!! Working hard for create a Memorable Lifetime Experience for you!!!.
STUDENT DISCOUNT: $20 off per person
Student discounts apply to anyone who has a valid UNIVERSITY STUDENT CARD at the time of the trek or who is 17-years-old or younger. For those using a university student card to receive the discount, we need to see a copy of the card at booking. For those booking children 17-years-old or younger, we need a copy of their passport at booking time. Please send us a copy of your student card
ADDITIONAL ITEMS:
There are several optional upgrades you can include in this trip. Below is a quick list of it, but check our Overview section for more details.
Walking Poles –$15 USD per pair per trek (Professional Poles that can be extended)
Vistadome Train Upgrade "Panoramic train" –$80 USD per person (Return Only)
Huayna Picchu Sacred Mountain –$75 USD per person (Please request when you book your Trek)
Machu Picchu Sacred Mountain – $75 USD per person (Please request when you book your Trek)
Buffet Lunch Celebration in Santuary Lodge on the last day in Machupicchu. $40 USD per person (all fresh drinks are included).
Extras
Walking sticks (15 $ for a pair of sticks).
Extra porter for personal items (60$ for 7 Kilos – max. 7 Kilos).
Upgrade to Single room in Aguas Calientes (35$) pr 01 night.
Upgrade to Vistadome train (80$ ).
Entrance ticket to Huayna Picchu (75$) – There is only a limited space at Huayna Picchu (400 persons per day), so it is a good idea to book in advance.
We can help you to book hotels (standard and luxury) in whole Peru.
Hotels in Cusco: no matter what the standard you would like (Standard, Economy, First Class, or Luxury) you should ask us to book your room as we know all the different rates for every hotel in Cusco and might secure you a pretty sweet deal.
Discounts
To qualify as a student, it is necessary to have a valid ISIC card. Scan the card and email us the copy at the time of your booking. We will then offer a $20 discount per student.
For children younger than 16, we offer a $20 discount (you also need to scan and email us a copy of the passports).
For children younger than 7, we offer a $50 discount (same here: you need to scan and email the passports).
You need
Original passport (and Visa of Student if applicable).
Walking boots.
Waterproof jacket/rain poncho.
Warm jacket, hat and gloves.
T-shirts.
Comfortable trousers.
Sun hat.
Sunglasses.
Sun protection cream (factor 35 recommended).
Re-usable plastic or metal water container or camel bags.
Insect repellent.
Toiletries.
Personal medication.
Camera and films.
Torch with spare batteries (headlamps are the best).
Optional Items to Take | Inca Trail Tour to Machu Picchu 2 Days.
Shorts.
Walking stick (with rubber tip).
Plasters and bandages.
Sandals.
Extra money.
Bathing suit (for the hot springs in Aguas Calientes) where the entrance fee at the door is US$4.
WHEN TO BOOK THE INCA TRAIL 2 DAYS
The government has strictly limited the number of people permitted on the Inca Trail 2 days (permits are issued to about 200 trekkers per day plus 300 porters these 500 permits include Inca trail 2 days). We recommend that you make a trek booking as early as possible we recommend 4 months in advance.
It's recommended to book the Inca trail to Machu Picchu 2 days in advance, before booking flight tickets and hotels, because there are limited spots to reservation for Inca trail at INC and PERU RAIL (train Tickets).