INCA JUNGLE TRAIL TO MACHU PICCHU
Duration: 4 days | 3 nights
(Included biking and a full day in Machupicchu)
If you're in search of a truly unforgettable adventure, the Inca Jungle tour to Machu Picchu is the perfect option for you. This incredible journey offers you the opportunity to explore the stunning natural beauty of the Peruvian jungle while immersing yourself in the fascinating history and culture of the ancient Inca Empire. In this blog post, you will find all the necessary information to plan your own adventure in the Inca Jungle to Machu Picchu and make the most out of this once-in-a-lifetime experience. From the best times of the year to undertake the hike to what to pack, we've got all the details covered. Whether you're an experienced hiker or a beginner adventurer, keep reading to discover everything you need to know before embarking on this incredible journey.
We offer the best option for your exciting journey to Machu Picchu: the Inca Jungle Trail. This newly discovered trail combines cycling and hiking to the Inca City of Machu Picchu, forming part of the ancient Royal Inca Path. Along this route, you will be able to appreciate the magnificence of this archaeological site and enjoy its breathtaking scenic beauty. Additionally, you will have the opportunity to observe legally cultivated plantations of the sacred coca leaf, with permission from the Government of Peru. This experience will be unforgettable.
Over the course of four days, you will explore the Peruvian jungle by bike and on foot, culminating in a sunrise view of the Inca city of Machu Picchu. The tour also includes a visit to the Inca citadel. If you book your tour to Machu Picchu within a month, it may be possible to secure entry to the sacred mountain of Huayna Picchu, which is regulated by the Peruvian government.
If you book before one month prior to the start of the tour, you will be able to secure access to the sacred mountain of Huayna Picchu, which has access restrictions imposed by the government of Peru.
Here are the meals we offer on our journey:
| | |
| --- | --- |
| BREAKFAST (B) | It includes a delicious selection of fruit salad, oatmeal, pancakes, cereals, tea, coffee, milk, bread, butter, flavored jam, honey, among others. |
| SNACKS (D) | It includes a bag with cookies, sweets, and possibly an apple, bananas, or oranges. |
| LUNCH (L) | It is the most abundant meal of the day and always includes a soup, whether it be asparagus, tomato, corn, or other vegetables, as well as noodle soup. Then a meat dish (chicken, fish, pork, beef) is served accompanied by a grain (usually quinoa or white rice), vegetables, a variety of salads, and cold and hot beverages. |
| TEA TIME (T) | It takes place at 4 o'clock in the afternoon and includes tea, coffee, chocolate muffins, cookies, popcorn, among others. |
| DINNER (D) | Similar to lunch, it includes a dessert such as chocolate pudding, rice pudding, or other options. |
Menu is along the trip, no all on the same Day
IMPORTANT.
It is important to mention that dessert is offered every night during meals.
Hot beverages are provided with each meal, including coca leaf tea, which is excellent for dealing with altitude.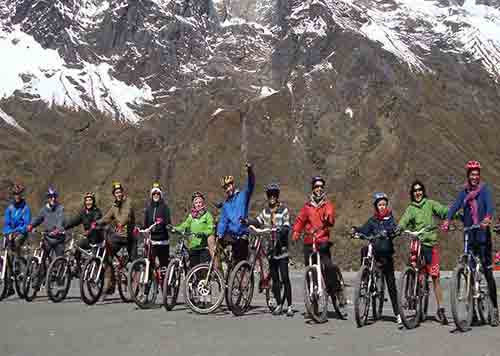 Day 1 | Cusco - ABRA MALAGA - Santa Maria (Biking and Rafting)
Pickup from your hotel will be at 5:30 am. We depart from the majestic city of Cusco and head towards the sacred Valley of the Incas. If you haven't had breakfast in Cusco, you'll have the option to have breakfast here. Then, we continue to Abra Malaga (4350 m), the starting point of our biking journey. After a brief orientation, your guide will provide you with the necessary equipment for the activity.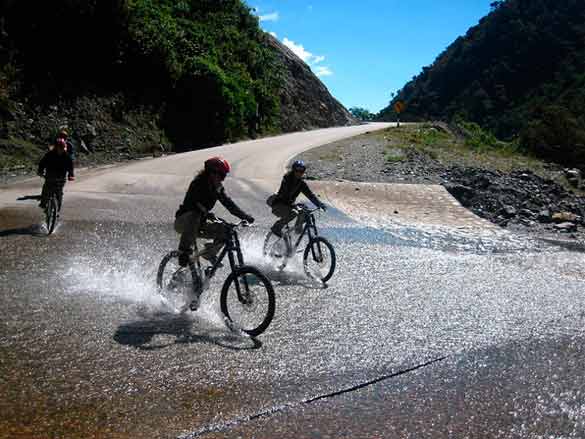 We will begin a downhill bike descent of approximately 3 hours and 55 km until we reach the town of Huamanmarca. During the ride, we will discover the beauty of snow-capped mountains and tropical forests. It was here, in the jungle, where our adventure in the Peruvian Amazon began.
We will cross small streams and enjoy the climate change from cold to tropical. We will make several stops along the way to check the bikes and equipment. Then, we will head to the town of Santa Maria (at 1,200 m above sea level) where we will have lunch and spend the first night in a hotel.
In the afternoon, you will have the opportunity to go rafting on the Vilcanota River. This river offers Class III and V+ rapids. For this activity, we will provide you with a helmet, windbreaker, and Class V life jacket. This activity takes place from April to December, and swimming skills are required to participate, in accordance with the regulations of Peru.
Thus, our first day of hiking through the Inca jungle towards Machu Picchu concludes.
Biking time: approximately 3.5 hours.
Meals: Lunch and dinner.
Difficulty: Moderate.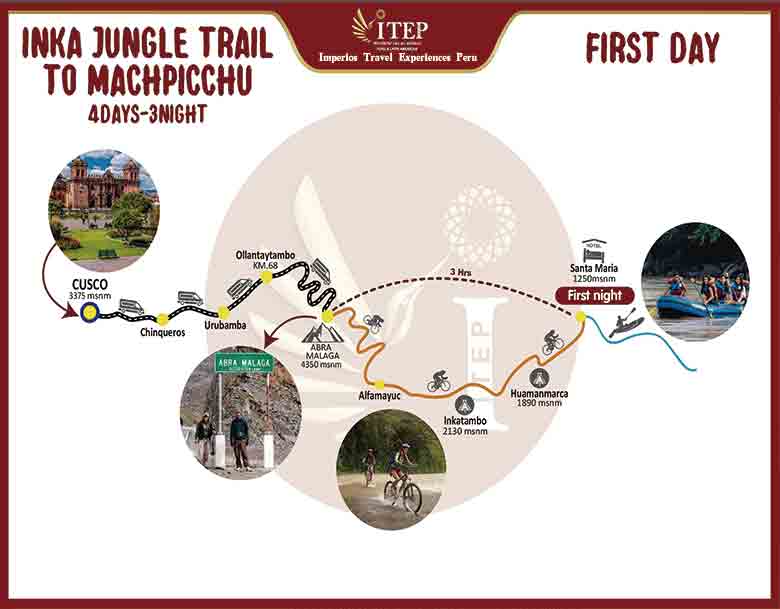 DAY 2 | SANTA MARÍA - INCA TRAIL - COCALMAYO // HOT SPRINGS - SANTA TERESA - TREKKING DAY
After enjoying a delicious breakfast, we will begin our first day of hiking towards Santa Teresa. During the first two hours of our journey, we will ascend through various terrains. We will make several stops along the way to appreciate the abundant flora and fauna of the area.
We will also visit the home of a local family to learn about their customs and traditions. Next, we will cross a section of the Inca Trail that connects the sacred Citadel of Machu Picchu with Vilcabamba, the last Inca refuge. Our guide will provide us with information about the history of the Incas and the Inca communication system (Inca Trail). From this point, we will enjoy breathtaking views of the Huangkarkasa valley and the majestic Salkantay mountain.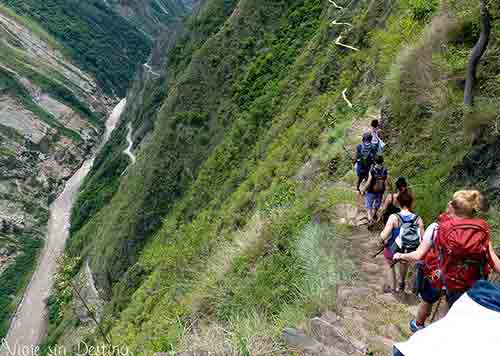 Then, we will descend towards the town of Quellomayo, where we will enjoy a delicious lunch and a well-deserved rest in the hammocks of a restaurant. The last two hours of our hike will take us to the hot springs of Cocalmayo, where we can relax and enjoy this charming place.
Once the whole group is ready, we will head to the city of Santa Teresa, where we will spend the second night.
Walking time: Approximately 9 hours (including a picnic lunch along the way) and 2 hours for lunch.
Hike and terrain: Mostly steep trails and some open slopes.
Distance: 12 km.
Meals: Lunch, breakfast, and dinner.
Difficulty: Difficult.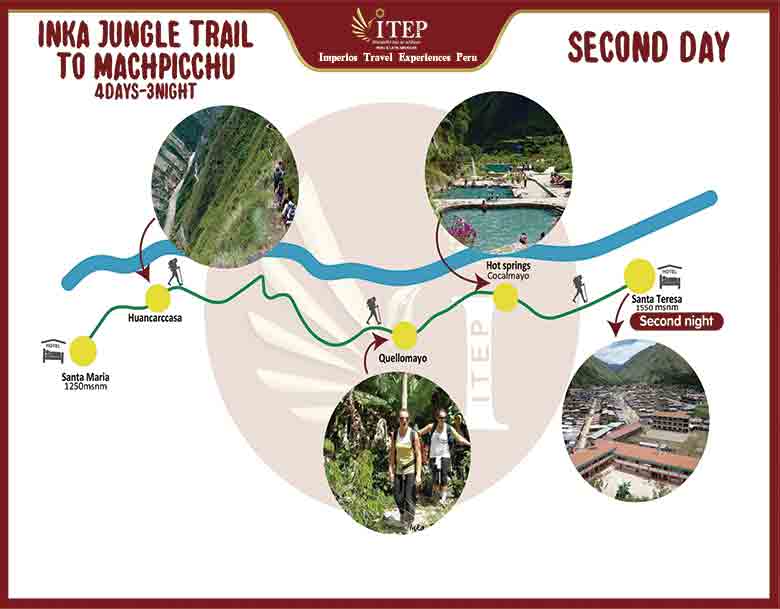 Day 3 | Inca Trail 'First Glimpse of Machu Picchu' and Ziplining
We will spend the night in Aguas Calientes at 1,900 m/6,232 ft.
After enjoying a delicious breakfast on Day 3, you will have the opportunity to participate in ziplining activities. This thrilling activity lasts approximately 2 hours.
Later, after a 2 to 3-hour uphill journey to Llactapata Pass (2,736 m/8,974 ft), from the southeast, you can catch a distant glimpse of the Machu Picchu sanctuary. We will make a brief stop to explore the recently restored ruins of Llactapata. Afterwards, we will continue along the railway until we reach Aguas Calientes, also known as Machu Picchu Pueblo (around 3 hours of walking). Upon arrival, you will check in at your hotel and enjoy a celebratory dinner with your guide, followed by a final briefing to prepare you for the next day's experience.
Note: If you do not wish to walk from the hydroelectric town to Aguas Calientes, you have the option to take a train (not included in the experience) that takes approximately 40 minutes. You will meet the rest of the group at the Aguas Calientes station. (The guide will confirm your preferences the night before).
Walking time: 5-6 hours
Hiking level: Moderate to challenging
About our night in Machu Picchu Pueblo: The hotel in Aguas Calientes will vary according to your requests and expectations.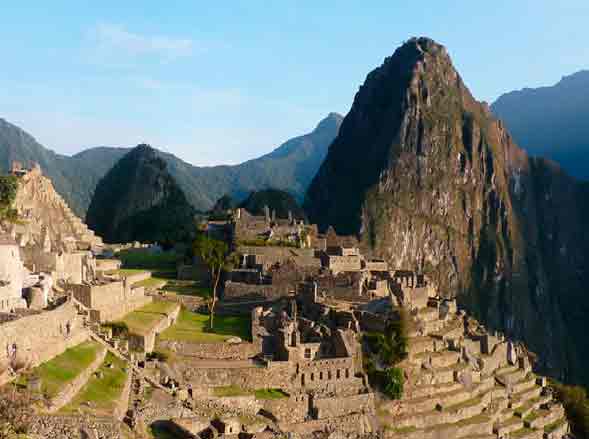 A Brief History:
Llaqtapata was discovered by Bingham in 1912. "We found evidence that some Inca chieftain had built his house here and had included in the plan ten or a dozen buildings. Bingham located the site on the top of a ridge between the Aobamba and Salcantay valleys, about 5,000 feet above Huaquina farm." "Here we found many ruins. Two or three modern huts. The Indians said that the place was called Llaqtapata." However, Bingham did not thoroughly investigate the site, and it took another 70 years before it was fully explored. Walking time: Approximately 9 hours (includes picnic lunch on the way), 2 hours for lunch.
Hike and terrain: Mostly steep trails and some open slopes.
Distance: 18 km.
Meals: Lunch, breakfast, and dinner.
Difficulty: Moderate.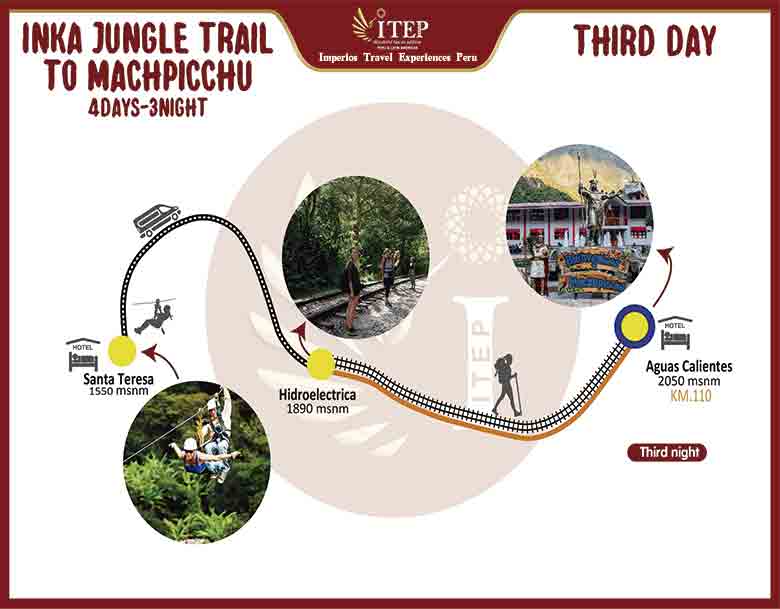 DAY 4 | MACHU PICCHU AND RETURN TO CUSCO.
On this day, you will use bus services to reach the archaeological site of Machu Picchu.
If you plan to hike to Huayna Picchu or Machu Picchu Mountain, it is necessary to make reservations in advance for your trip, at a cost of US $35.
Today is the most important day of the tour as you will visit one of the seven wonders of the world. The tour will start very early at 5:00 a.m., so you can witness the sunrise at the Inca citadel of Machu Picchu.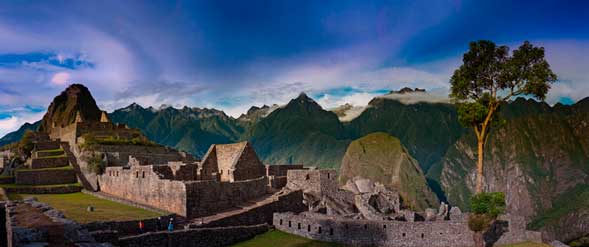 Once inside the archaeological site, you will have a guided tour of 2 hours through the Inca city of Machu Picchu, where you can see its most important temples, including the Temple of the Sun and the Temple of the Three Windows. After the guided tour, you will have free time to explore Machu Picchu on your own. If you made a reservation in advance to climb Huayna Picchu (2,800 meters) or Machu Picchu Mountain (3,082 meters), you will have the opportunity to do so after the guided tour. Reservations to climb either of the mountains must be made 3 months in advance and have an additional charge of US $35. The quota for climbing Huayna Picchu is limited to 400 people per day. It is also recommended that you take time to relax, meditate, and rest, taking advantage of the magical and spiritual energies of this great place. After enjoying Machu Picchu, you will return to Aguas Calientes, take the train back to Ollantaytambo, and then the bus back to Cusco.
HUAYNA PICCHU: This access is optional and has an additional cost. Only 200 people are allowed entry at 7:00 a.m., and another 200 people at 10:00 a.m. Therefore, if you wish to have access, you must confirm your excursion in advance.
Meals: Breakfast
Distance: 4 km / 3.7 miles
Difficulty: Easy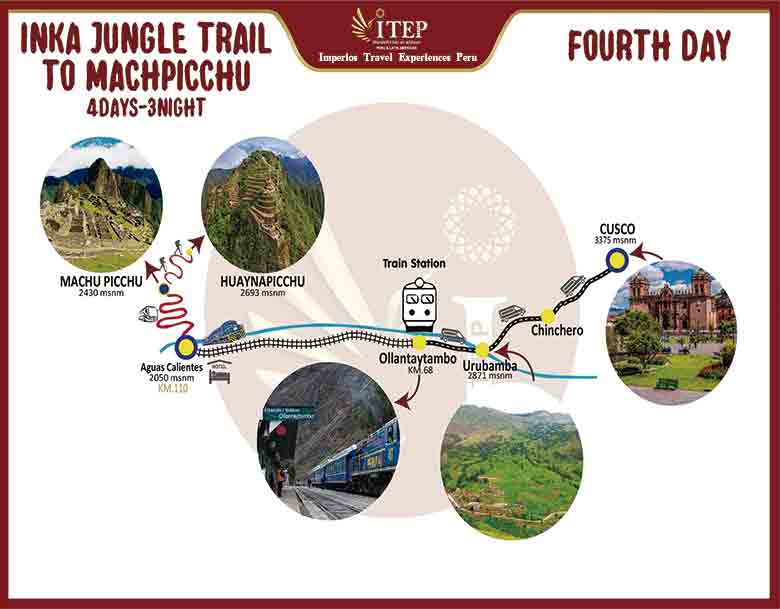 NOTE:
Itineraries are subject to change depending on the time of booking.

Campsites may vary depending on the weather and the health status of the travelers.

The train included in all excursions is the Expedition Turista service (until Ollantaytambo). The train schedule is confirmed days before the start of the trip. If you joined a group a few days before the start of the excursion, we cannot guarantee that you will travel on the same train as the rest of the group.

The train schedule is subject to changes according to the Peru Rail timetable and its availability.

To qualify as a student, it is necessary to have a valid ISIC-CARD (International Student Identity Card). Please scan and send us a copy by email at the time of booking.
INCLUDED:
Transfers In / Out
Transportation Cusco-Alfamayuc. (Start bikking)
Professional bilingual Tour guide.
Assistant tour guide (for groups of 9 or more people)
Entrance Fee to Machu Picchu.
Bus tickets to Machupicchu Inca City and to Machupicchu town.
3 breakfasts, 2 lunches, 2 afternoon snacks, 2 dinners and various snacks to be eaten throughout the day "meals after last breakfast (on day 4)are not included"
Cook. (Professional) Vegetarian (vegan) food on request at no extra cost!
Drinking water along the Inka trail.
First Aid Kit
01 Oxygen Ball
Duffle bag transfer of them to the next camp sites.
Bikes and biking equipment.
02 night in basic hotel in Santa Maria and Santa Teresa.
01 night in basic hotel in Aguas Calientes.
Return train tickets in Expedition Tourism Service (Machu Picchu.Ollanta and bus to Cusco) and transfer to the hotel.
YOU NEED:
Original passport
Walking boots
Waterproof jacket/rain poncho
Warm jacket, hat and gloves
T-shirts
Comfortable trousers
Sun hat
Sun protection cream (factor 35 recommended)
Re-usable plastic or metal water container or camel bags.
Water (only for first 4 hours of trek, then we will provide you with drinking -previously boiled- water).
Insect repellent
Toiletries
Personal medication
Camera and films
Torch with spare batteries (headlamps are useful)
OPTIONAL ITEMS TO TAKE:
Shorts
Walking stick (with rubber tip)
Plasters and bandages
Sandals
Extra money
Bathing suit (for hot springs in Aguas Calientes)