LARES TREK TO MACHU PICCHU
04 Days | 03 Nights
LARES TREK TO MACHU PICCHU - 4 DAYS
Embark on an unforgettable adventure with our exciting 4-day hiking package in Lares, Peru. Starting with a bus ride from Cusco to the picturesque town of Calca, you'll soak in the Lares hot springs before embarking on an uphill hike to Huacawasi camp. Enjoy the impressive flora and fauna as you ascend to the top of Abra Huacawasi mountain and then descend to the town of Auroruy Cocha and the Yanahuara camp.
The wonders of Cusco
The third day takes you to Ollantaytambo, an archaeological site that shows the skill of the Incas in construction and architecture. Afterwards, a train ride will take you to the town of Machu Picchu, Aguas Calientes, where you will spend the night before visiting the majestic Machu Picchu Sanctuary. With the option to climb Huayna Picchu's steep staircase for stunning views, this package offers a truly unique experience. Don't miss this opportunity to explore the rich history and natural beauty of Peru!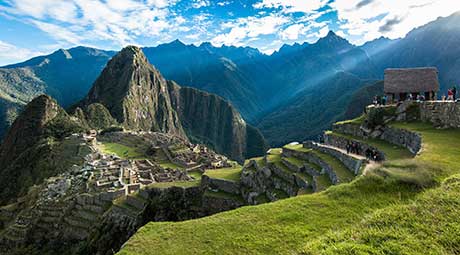 Día 01: "CUSCO – CALCA – LARES HOT SPRINGS – HUACAWASI"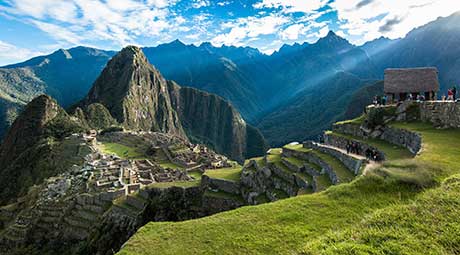 Recojo de su hotel en Cusco a las 5.00 a.m., donde un autobús lo transportará al poblado de Calca durante 45 minutos. Después de un pequeño descanso, el viaje en autobús continúa durante 2 horas hasta las aguas termales de Lares, donde disfrutaremos de un buen almuerzo antes de que comience nuestra caminata, puede nadar en las piscinas termales naturales con el entorno de montaña. La caminata del día es cuesta arriba, dura 4 horas luego llegara al campamento de Huacawasi, donde nos espera una deliciosa cena.
HIKE DURATION: APPROXIMATELY 4 HOURS.
DISTANCE: 8KM.
DAY 02:"HUACAWASI – ABRA HUACAWASI -AURORUY COCHA – YANAHUARA"
Early in the morning, the guide will wake you up with a nice cup of tea and breakfast. Then, we ascend to the top of Abra Huacawasi mountain (4300 m), where we will have a stunning view of the surrounding mountain, flora and fauna. From there, the Lares hike will take us downhill for 1 hour to the town of Auroruy Cocha, where our chef will prepare a fantastic lunch for us. For the next 4 hours, the route continues downhill to the Yanahuara camp, where we will enjoy dinner together and settle in for the night.
DURATION OF THE WALK: APPROXIMATELY 10 HOURS.
DISTANCE: 13KM.
DAY 03:"YANAHUARA – THE CENTRAL TRACK – OLLANTAYTAMBO – AGUAS CALIENTES"
On this day we will trek from our camp early in the morning at 6.30 am after a solid breakfast and good morning tea. First, we will have a short walk downhill for 40 minutes to La Pista Central, where a bus will be waiting to transport us to Ollantaytambo; The bus ride only takes 30 minutes. In Ollantaytambo we will enjoy a good lunch and you will be able to walk through the town and its market. It is optional to visit the archaeological site of Ollantaytambo, which will give you a great idea of how skilled the Inkas were in their constructions and architecture. After visiting Ollantaytambo, we finished the Lares hike and continued by train to the town of Machupicchu called Aguas Calientes. There we will settle into our hotel and enjoy a pleasant dinner.
HIKE DURATION: APPROXIMATELY 2 HOURS.
DISTANCE: 13 KM.
DAY 04 Peru: "SANTUARIO MACHUPICCHU – CUSCO"
After having a very early breakfast at the hotel, we will go to the bus station to go up to the Sanctuary of Machu Picchu (30 minutes). Our trip leader will give a 2-hour introductory guided tour of the ruins, after that we have the option to climb the steep Huayna Picchu staircase, a steep and challenging hike that lasts approximately 2 hours and offers great views of Machu Picchu. You will also have time to enjoy some of the following activities on your own if you wish (not included in the price)
Return to Cusco: You will descend to Aguas Calientes by bus and then board the train to Ollantaytambo, where you will meet our transportation and be transferred to your hotel in Cusco.
The hike to the Huayna Picchu or Machu Picchu mountains depends on availability; Please let us know if you would like to add one of these additional hikes at the time of your reservation.
MEALS: BREAKFAST DISTANCE: 6KMS/3.7 MSNM.
DIFFICULTY: EASY.
INCLUDES:
Pre-departure information.
Tourist transportation: We will pick you up from your hotel in Cusco in the morning and you will travel by transportation to the "Pueblo de Lares
Professional adventure tourism guide.
Camping equipment: Dining and kitchen tents, tables, chairs and cooking equipment (all carried by our porters and horses).
Entry ticket to the Lares hot springs.
Entrance ticket to the Inca site of Machu Picchu.
Bus from Consettur to the Inca city of Machupicchu.
1 duffel bag: You can store your personal luggage, up to 5 kg (11.02 lb), including your sleeping bag; This bag will be carried by our horses for the first 3 days.
Professional trekking cook.
Meals: 3 breakfasts, 3 lunches, 3 dinners (vegetarian, vegan or special menus available at no additional cost) Please note (first breakfast and last lunch is not included"
Medical kit and oxygen bottle: Our team will bring a first aid kit, which includes an emergency oxygen bottle.
Train tickets: From Ollantaytambo to Aguas Calientes "town of Machupicchu" and return to the Ollantaytambo train station.
Return transfer to Cusco: Private tourist transportation from Ollantaytambo train station to your hotel in Cusco.
24-hour guest service: We will have a telephone service available 24 hours a day to facilitate communication and preparation with the agency in charge of your trip.
NOT INCLUDED:
Sleeping bags: You can rent one from our company if you don't have your own. Our sleeping bags are effective and durable at protecting from temperatures as low as -18ºC (0ºF). They are shaped like a mummy and include a sleeping liner.
Canes: You can rent a set from our company if you wish.
Day 1: Breakfast: approx. Usd5 to usd 10.00, the price may vary according to your choice.
Last day: Lunch and dinner in Aguas Calientes. Approx. Usd 20 to 25.00, the price may vary depending on your selection.
Clothing and personal equipment.
Travel insurance.
Additional costs or delays beyond management's control (bad weather, modification of the itinerary due to a security issue, illness, change in government policy, political instability/strike, etc.)