SALKANTAY TREK TO MACHUPICCHU & SKY LODGE
04 DAYS | 03 NIGHTS
Our classic Salkantay Trek is a alternative to the traditional Inca Trail. The Sacred path is a cutting edge experience for adventure travelers looking for a little more privacy and authenticity. With more spectacular views, the Salkantay Trek to Machu Picchu offer a quiet and rich contemplation of Nature.
SALKANTAY TREK MACHU PICCHU RESERVATIONS?
Experience:
Salkantay trek, Inca Trail to Machupicchu
Duration (days) Salkantay Trek:
04 Days including Machupicchu
Duration (nights) Salkantay Trek:

02 nights in our Lodge del Cielo "Sky Lodge" along the
Salkantay trek route "Included in final price"
+ 01 night in Aguas Calientes "Last night hotel can vary according your request"

Language:

English & Spanish
"Other Languages on request"

Close Airport:
Cusco /Perú
The attraction:
This Salkantay trek, was nominee as the 25 best Trek in the World, by National Geographic Adventure Travel Magazine. Salkantay has some outstanding views and the altitude will descend till 1,000 meters above sea level, the lands cape is gorgeous and not too steep. Although the total distance is only about 45 miles (74km).
Travel Style Salkantay Trek:
Active, trekking, adventures made for outdoor tour lovers.
Trip Type Salkantay Trek:

Small Group

Small group experience; Max 16, Avg 12 "have in mind small group size means more authentic experience".

Age requirement Salkantay Trek:

12+ All travellers under age 18 must be accompanied by an adult.

Physical Rating/ Grading: 1 2 3 4
4 - Demanding
Some high-altitude hikes or more strenuous activities, but accessible for most healthy travelers.
STRENUOUS: Full-day hikes (6-12 hours), mountainous, steep terrain (hiking up or down as much as 3,500 feet) on many hikes. Trips with hiking at average altitudes of 10,000 to 14,500 feet are in this category.
The Distance: The Salkantay trek difficulty starts with the distance. It's 74 km (45 miles) in total, covered over Salkantay trek 4 days and 3 nights:
| | |
| --- | --- |
| Day 1: | by car: Cusco – Soraypampa; Trekking Soraypampa – Humantay Lake: 13 Km (8.08 miles) "Acclimation day/ Moderate" |
| Day 2: | Soraypampa to Collpapampa: 26 Km (16.16 miles) "Challenging day" |
| Day 3: | Collpapampa / La Playa to Aguas Calientes: 16 Km (9.94 miles) +19 Km (11.81 miles) by car and train 8 hours Trek "Moderate day" |
| Day 4: | Aguas Calientes to Machu Picchu: 4 Km (2.49 miles) "Easy Day". |
| | |
| Price: | Prices will vary according service level and inclusions. |
| Classic Services | Salkantay Sky Lodge "Lodge del Cielo" with Expedition Train "Backpacker" Please Check our Prices and inclusions table in attached |
| Activity: | Trekking, Adventure |
| Country: | Perú |
| City: | Cusco |
| Acclimatization: | Please keep in mind that you will need at least 1or 2 days in Cusco before your hike to Machupicchu. |
| Highlights: | Overnight in our Lodge del Cielo "Sky Lodge", Humantay lake / Salkantay Mountain Tarawasi, and Machupicchu royal city. |
Day to Day Itinerary Salkantay Trek
SALKANTAY TREK DAY 1: CUSCO-MOLLEPATA - SORAYPAMPA.
Overnight at Soraypampa Lodge del Cielo "Sky Lodge" at 3,869 masl/12,690 ft About Our Lodge del Cielo base in Soraypampa: Our camp is located at 10 minutes walking from the village of Soraypampa, this gives us a huge advantage to have a 360 panoramic view of the Humantay lake and glaciar, also it is a perfect place, away from the crowd and where we can appreciate the beautiful scenery of the Andean Valley and enjoy the company of our pretty Alpacas.
Note: On the evening before this day there will be a briefing with your guide in Cusco. After an early breakfast, our pick up will start at 6:00 am from your Cusco hotel by ITEP guide and vehicle "Pick up time can vary and will be confirmed only on the day of your briefing".
Tarawasi: In our way we will visit the Tarawasi Archaeological center (approx. 1.5 hrs. from Cusco). The archeological complex of Tarawasi is located in the district of Limatambo, providence of Anta (Cusco region), to the left of the Limatambo river and 2675 MASL.
This name comes from the union of two Quechua words "Inca Language", which would be: "Tara" that means bush and the second one is "Wasi" that means home. The construction of this complex would may be constructed by Inka Pachacuteq during the epoch of his reign. Due to the structure of the archaeological complex indicated that was a ceremonial center that is located in the beginnings of Chinchaysuyo, also there is a construction of a temple which would be found seated on the Ushnu. A ceremonial altar with a pyramidal shape that was used for important ceremonies and due to its location is indicated that this also served as a resting place en route to the Chinchaysuyo.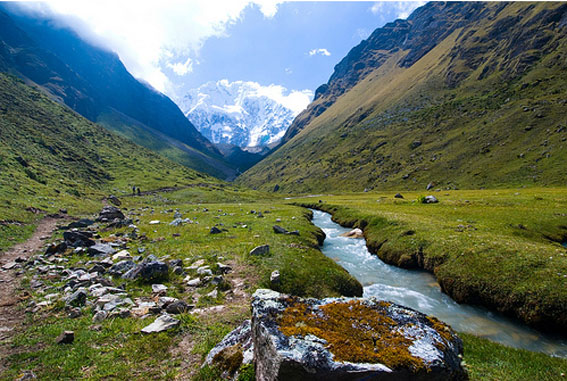 After leaving Tarawasi, we pass through the mountain village of Mollepata where we stop for a short break before ascending to Soraypampa. Here in Soraypampa our first campsite is going to be" Lodge del Cielo". After Lunch time, our excursion takes us to Humantay Lake, fed by glaciers far above on the slopes of the impressive Mt. Humantay. Our 4-hour walk is necessary in order to reach the lake, but the view is well worthy and those brave enough, can go for a swim! performed by our local Tour Guide, in full view of the awe-inspiring Mt. Salkantay Trek, tops off this unique experience. Return to the Lodge. Walking Time: Approximately 6 hours (including a picnic lunch in the route) Walk and Terrain: Walk, on open roads, some steep ascending trails.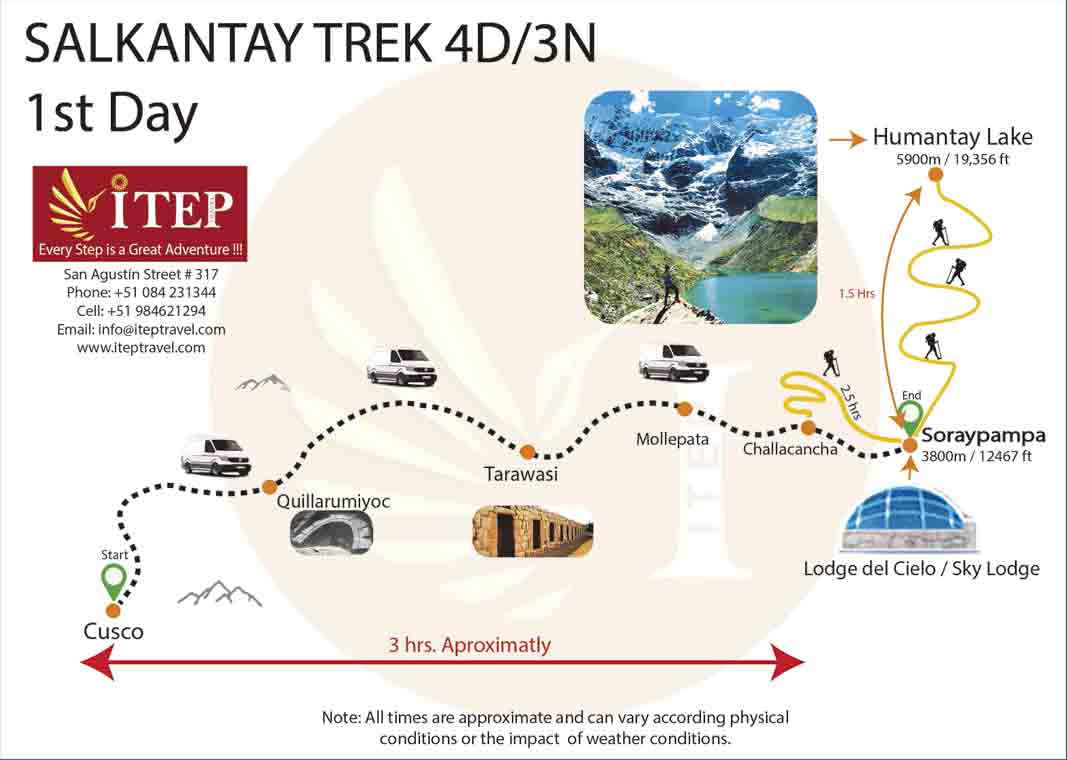 SALKANTAY TREK DAY 2: CROSSING THE SALKANTAY PASS "CHALLENGE DAY"
Overnight at Collpa pampa cam site Sky Lodge at 2,870 masl/9,414 ft
Today very early in the morning at 4:00 am we will wake up with a very hot wake up té, at 4:30 am after a nice breakfast and at around 5:00 am we will be starting our trek to climb the Salkantay Pass "we will take advantage to walk in a fresh early morning and before the sun comes out ,the characteristic heat of the Andes. We continue our journey towards Machu Picchu, walking up the Rio Blanco valley and circling Humantay Peak across Salkantay Peak. The highest point of the ride is the Salkantay Pass at 4,638 masl (15,213 ft). At the pass we stop to take a nice view of snow-capped peaks of the Vilcabamba Range in every direction, with the glaciated south face of Salkantay trek towering above us. We will keep our eyes out for Andean condors, often visible in this area. From the pass we descend towards the "Wayracmachay": ('the cave where the wind lives') where we going to enjoy a delicious lunch, later on we continue 03 hours trek downhill until we reach our Campsite in the route; dinner and overnight at the Sky Lodge.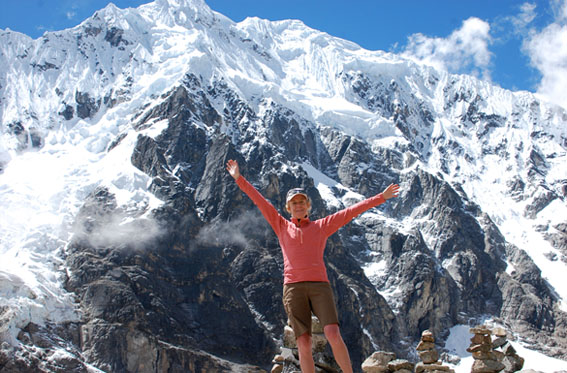 Trekking Time: Approximately 12 hours (including picnic lunch in the route) Our style is just walk slow, enjoy the scenery, and talk with our tour guide. A local man can make this trail in just 3 hours. But we going to do it in 10 hours including the Lunch time. Walk and Terrain: Walk, on mostly steep trails, and some open slopes.
A LITTLE OF HISTORY: The name Salkantay or Salkantay is coming from the Inca´s word Sallqa, a Quechua word meaning wild, uncivilized, savage, or invincible, and was recorded as early as 1583.The name is thus often translated as "Savage Mountain". Directly to the north of Salkantay Trek lies Machu Picchu, which is at the end of a ridge that extends down from this mountain. Viewed from Machu Picchu's main sundial, the Southern Cross is above Salkantay's summit when at its highest point in the sky during the rainy season. The Incas associated this alignment with concepts of rain and fertility, and considered Salkantay to be one of the principal deities controlling weather and fertility in the region west of Cuzco. About Our camp site"Lodge del Cielo"in Collpampampa: Our camp is located at 10 minutes walking from the village of Chaullay, Chaullay is a very crowded campsite lodge. Our Camp site in Collpa pampa gives us a huge advantage to have a 360 panoramic view of the Salkantay Valley, also it is a perfect place, away from the crowd and where we can get to know the local families

SALKANTAY TREK DAY 3 | OVERNIGHT IN AGUAS CALIENTES VILLAGE (1,900 MASL/6,232 FT)
This day we walk along the Santa Teresa river valley, through more populated rural areas. We pass through banana, passion fruit, avocado orchards and coffee plantations. The coffee from this region is considered as the best organic coffees in the world. Then we board a car from "La Playa village" until Hydroelectric village "Train station", we are going to continue our walk a side of the rail way until Aguas Calientes well known as Machupicchu Village takes around (3 hours) to Aguas Calientes, Machu Picchu town. Upon arrival, we check into a hotel for a celebration dinner with our tour guide and one last briefing for our next day experience! Note - Those who prefer not to hike from Hydroelectric Village to Aguas Calientes can take the train experience 40 minutes' trip "price is not included". They will meet the rest of the group at the train station in Aguas Calientes together. (The guide confirms your preferences the night before.)
Trekking Time: Approximately 5 hours
Car and Train: Approximately 2 hours
Walk and Terrain: Walk on narrow trails
About Our overnight in Machupicchu Village: Hotel in Aguas Calientes will vary according your request and expectations.
SALKANTAY TREK DAY 4: FULL DAY MACHUPICCHU
We have breakfast and then take the bus (6am) up to Machu Picchu.. A walking tour (approximately 2 hours) is given by your guide and after this you can explore the mysterious city by yourselves. If you have energy you can also climb Huayna Picchu (2720m/8890ft)!!! (It takes about 45 minutes to reach the top.) Optional evening visit to the Hot Springs "entrance fees US$4". Afternoon train back to Ollantaytambo. Expedition Service (to Ollantaytambo) and bus to Cusco. We'll be in Cusco approximately at 10:30pm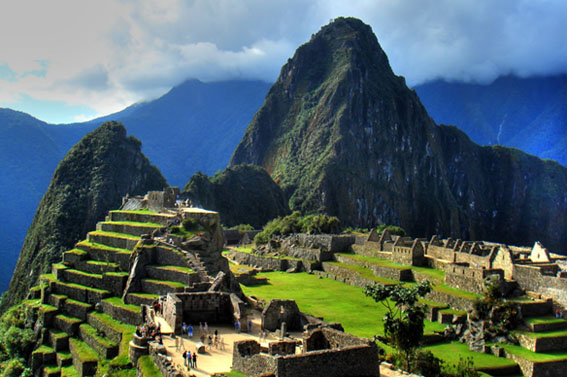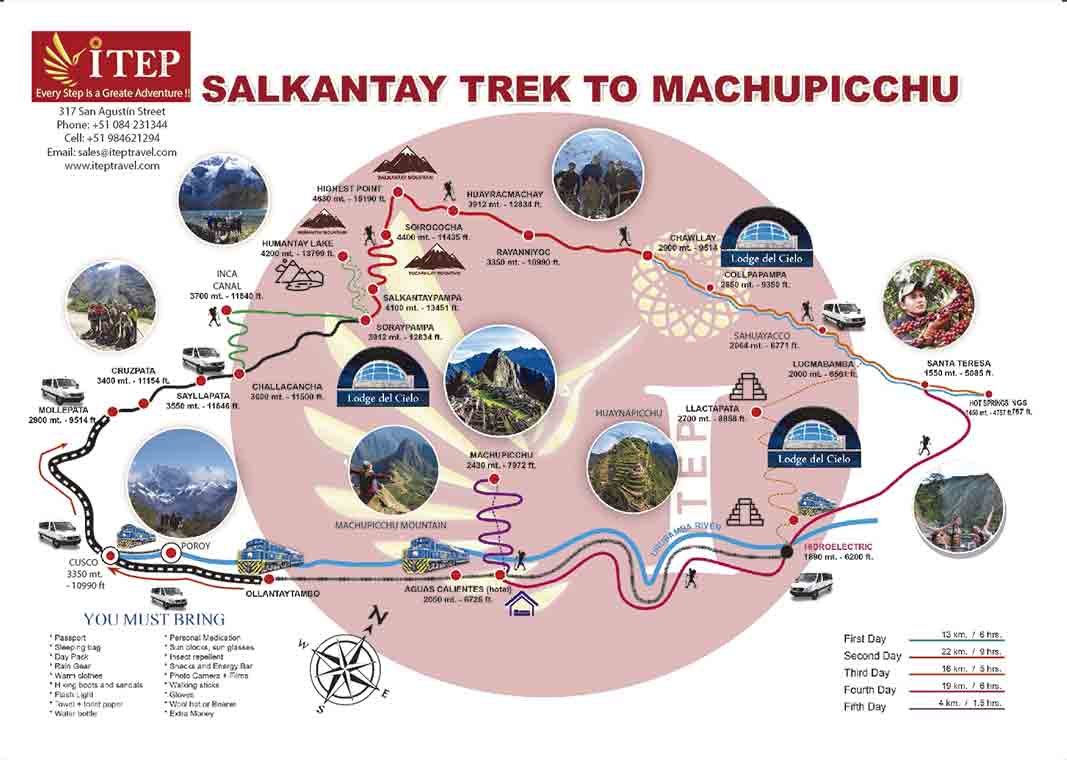 NOTE:
Itinerary are subject to change depending on time of booking and campsites spaces in the moment that we arrive in there).
The camps can vary depending on climate and health status of clients.
Train Included in all tours is Expedition Service (to Ollantaytambo) train times will only be confirmed close to the time of the trek,if join a group late in the day we can't guarantee you will travel on the same trains as the rest of the group.
Train time are subject to change depending on Peru Rail timestable and availability.
To qualify as a student, it is necessary to have a valid ISIC card. scan and email us at the time of booking.
Included Salkantay Trek:
Transfers In / Out
Transportation Cusco-Mollepata. (Start walking)
Professional bilingual Tour guide.
Assistant tour guide (for groups of 9 or more people)
Entrance Fee to Machu Picchu.
Bus tickets to Machupicchu Inca City and to Machupicchu town.
3 breakfasts, 3 lunches, 3 afternoon snacks, 3 dinners and various snacks to be eaten throughout the day "meals after last breakfast (on day 4)are not included"
Cook Professional
First Aid Kit
01 Oxygen Ball
Horses (to carry tents, food and cooking equipment)
Horses (to carry duffle bags)
Quadruple & waterproof Camping tent "02 people only"
01 Sleeping Mattress per person
01 night in hotel in Aguas Calientes.
Return train tickets Expedition Service (Machupicchu.Ollanta and bus to Cusco)
Not Included:
Sleeping Bags: You can rent one from our company if you do not have your own. Our sleeping bags are effective and durable to protect from temperatures as low as -18ºC (0ºF). They are mummy form and include a sleeping liner. The bags are cleaned after every use.
Bus Concetur to Machupicchu inca City: Most of the times the wait to board the bus to Machupicchu is from 1 hour to 1:30 min, So we prefer that you decide a day before your visit to the Inca city of Machupicchu. If you wish to take the bus considering the waiting time. Or if you prefer to do the last stretch of ascent walking up 45 to 1 hour "everything will depend on your physical state, after the trekking done".
Day 1: Breakfast: Approx. Usd5 to usd 10.00, Price can vary according your selection.
Last Day: Lunch and Dinner in Aguas Calientes. Approx. Usd 20 to 25.00, Price can vary according your selection.
Climb Huayna Picchu / Machu Picchu sacred mountain more USD 75 per person
Vistadome Panoramic train more USD 50 per person
Walking Sticks: You can rent a set from our company if you would like.
Horse with saddle + muleteer from Soraypampa - Laguna Humantay USD 25 per person
Horse with saddle + muleteer from Soraypampa - Abra de Salkantay USD 45 per person
Personal clothing and gear
Travel Insurance
Tips for our staff: Please note that our agency staff is well paid, so feel free to tip or not tip as much as you wish.
Option: If you feel tired after the trek on day 3, you have the option to take a train from Hidroelectrica to Aguas Calientes. (Cost: USD $34.00)
Additional costs or delays out of control of the management (landscape, bad weather condition, itinerary modification due to a safety concern, illness, change of government policy, political instability/strike, etc.)
You Need Salkantay Trek:
Original passport
Sleeping bag (not included but can be hired from us)
Walking shoes
Waterproof jacket/rain poncho
Warm jacket, hat, and gloves
T-shirts
Comfortable trousers
Sun hat
Sun protection cream (factor 35 recommended)
Insect repellent
Toiletries
Personal medication
Camera and films
Torch with spare batteries (headlamps are useful)
Optional Items to Take:
Shorts
alking stick (with rubber tip)
Plasters and bandages
Sandals
Extra money
Bathing suit (for hot springs in Aguas Calientes)