SALKANTAY TREK TO MACHU PICCHU & SKY LODGE
04 DAYS | 03 NIGHTS
(included a full day in Machupicchu)
Our classic Salkantay Trek is a alternative to the traditional Inca Trail. The Sacred path is a cutting edge experience for adventure travelers looking for a little more privacy and authenticity. With more spectacular views, the Salkantay Trek to Machu Picchu offer a quiet and rich contemplation of Nature.
Program
Service level: BASIC
DAY 1
4:30 a.m.
Transfer from Hotel – MOLLEPATA

10:00 am - 4:30 p.m.
Trekking MOLLEPATA - CRUZPATA - SORAYPAMPA
DAY 2
6:00 a.m. - 4:00 p.m.
Trekking SORAYPAMPA – HUAYRACPUNKU
HUAYRACPUNKU - COLLPAPAMPA
DAY 3
Trekking 8:00 a.m. to 4:00 p.m.
COLLPAPAMPA-LA PLAYA
LA PLAYA - HYDROELECTRIC - MACHUPICCHU TOWN
DAY 4
Trekking 8:00 a.m. - 4:00 p.m.
Full day MACHUPICCHU 6:00 a.m. - 4:00 p.m.
Afternoon Optional. Visit Hot Spring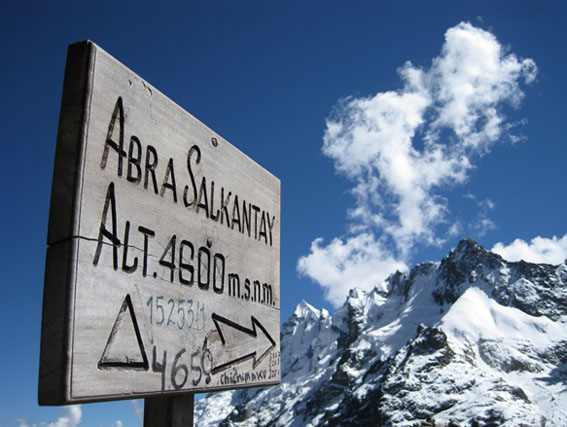 DAY 1: CUSCO-MOLLEPATA - SORAYPAMPA.
4:30 am Pick up from hotel,by tourist bus we travel to Mollepata. An anden village were a nice and hot local breakfast is waiting for us , 9:00 a.m. we begin our journey ,a hike up to Tres Cruces, lunch with a spectacular view of the Limatambo Valley, we will continue our trek to Markokasa, from this point we see the Salkantay Mountain and about 4:30 p.m. arrive to Soraypampa, (3500 meters or 20.671 feet), our first campsite (4000m/12750ft; the highest and coldest camp site of the trip) taking in the beautiful landscape along the way.
Meals: Breakfast, Lunch, Teatime, Dinner.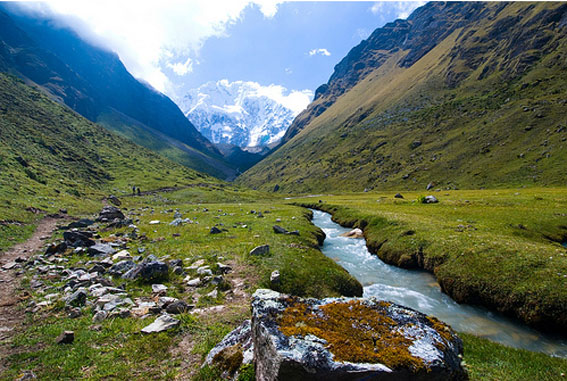 DAY 2: SORAYPAMPA-HUAYRACPUNKU-COLLPAPAMPA..
We will have a hot breakfast ataround 5.30am and begin our walk to the highest pass on this trek(4650m/15200ft) located halfway between 2 huge mountains; Salkantay on theright and Humantay on the left (Humantay; 4120m/13500ft and Salkantay; 6271m/20575ft). From the pass, the views of the 2 snow-capped mountains are incredible. Thereis a possibility of snow here. we will have a small and a short ceremony,
This ceremonies known as Payment to Earth or Pachamama (Jaywarikuy), in which we need toleave into the rocks some coca leafs for Mother Earth requesting the permit tocontinue and have a fabulous and memorable trip.
we will continue our walk (downhill) through a dramatic cloud forest towards wearrive to Huayracpunku where we will have lunch. We hike again afterlunch in the direction of the start of the jungle until we reach our second campsite, Colcapampa (3000m/9800ft).Other possible campsite is Challway.
lunch at a place called Huayrac, begin to descend towards Challhuay pampa. Following the time course ofthe river Salkantay, at this point we will have the opportunity to see the Andean beautiful scenery in this place we camp. (2900 mapprox.)
Meals: Breakfast, Lunch, Teatime, Dinner.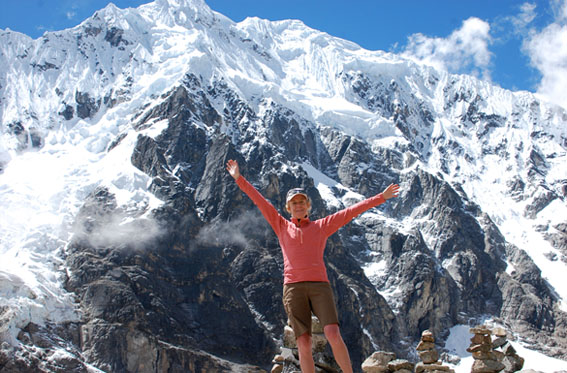 DAY 3: COLLPAPAMPA - LA PLAYA-LUCMABAMBA- HYDROELECTRIC - MACHUPICCHU PUEBLO..
Today we will pass through valleys and have wonderful views
After breakfast, at 6.30am, we start trekking for the day through the upperjungle crossing the Lluskamayo River and a variety of little brooks. The way is more stable with a warm climate, Lunch on the way "la Playa", after luch a transport we'll take us to the Hydroelectric of Santa Teresa, resting time and ready for enjoy our day with colorful flowers and beauty waterfalls, until arrive in Machupicchu Village or Aguas Calientes Upon arrival, you will be accommodated at the hotel (included on this package).
Night a nice dinner for Us is included in a touristic restaurant.
Meals: Breakfast, Lunch, Teatime, Dinner.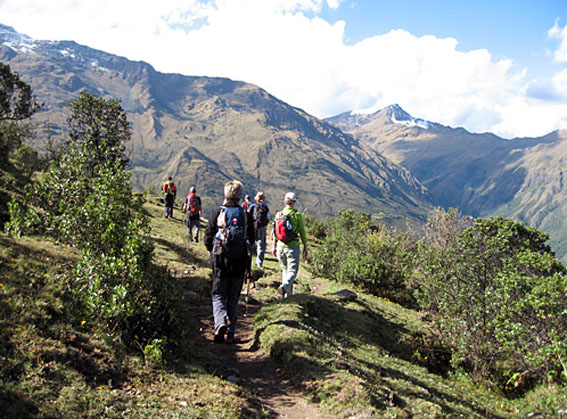 DAY 4: FULL DAY MACHUPICCHU
We have breakfast and then take the bus (6am) up to Machu Picchu.. A walking tour (approximately 2 hours) is given by your guide and after this you can explore the mysterious city by yourselves. If you have energy you can also climb Huayna Picchu (2720m/8890ft)!!! (It takes about 45 minutes to reach the top.) Optional evening visit to the Hot Springs "entrance fees US$4".
Afternoon train back to Ollantaytambo. Expedition Service (to Ollantaytambo) and bus to Cusco. We'll be in Cusco approximately at 10:30pm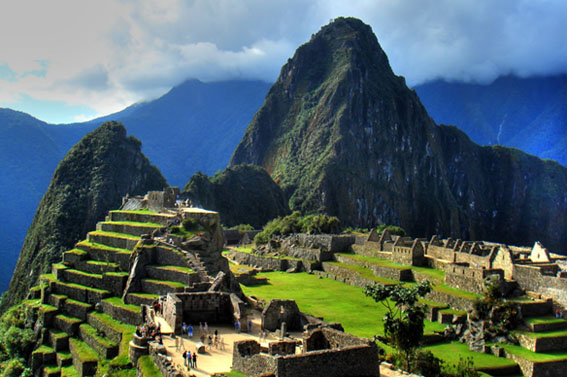 NOTE:
Itinerary are subject to change depending on time of booking and campsites spaces in the moment that we arrive in there).
The camps can vary depending on climate and health status of clients.
Train Included in all tours is Expedition Service (to Ollantaytambo) train times will only be confirmed close to the time of the trek,if join a group late in the day we can't guarantee you will travel on the same trains as the rest of the group.
Train time are subject to change depending on Peru Rail timestable and availability.
To qualify as a student, it is necessary to have a valid ISIC card. scan and email us at the time of booking.
Included:
Transfers In / Out
Transportation Cusco-Mollepata. (Start walking)
Professional bilingual Tour guide.
Assistant tour guide (for groups of 9 or more people)
Entrance Fee to Machu Picchu.
Bus tickets to Machupicchu Inca City and to Machupicchu town.
3 breakfasts, 3 lunches, 3 afternoon snacks, 3 dinners and various snacks to be eaten throughout the day "meals after last breakfast (on day 4)are not included"
Cook Professional
First Aid Kit
01 Oxygen Ball
Horses (to carry tents, food and cooking equipment)
Horses (to carry duffle bags)
Quadruple & waterproof Camping tent "02 people only"
01 Sleeping Mattress per person
01 night in hotel in Aguas Calientes.
Return train tickets Expedition Service (Machupicchu.Ollanta and bus to Cusco)
You Need:
Original passport
Sleeping bag (not included but can be hired from us)
Walking shoes
Waterproof jacket/rain poncho
Warm jacket, hat and gloves
T-shirts
Comfortable trousers
Sun hat
Sun protection cream (factor 35 recommended)
Insect repellent
Toiletries
Personal medication
Camera and films
Torch with spare batteries (headlamps are useful)
Optional Items to Take:
Shorts
alking stick (with rubber tip)
Plasters and bandages
Sandals
Extra money
Bathing suit (for hot springs in Aguas Calientes)
Related Tours