IMPERIAL CUSCO 3 Days
Services only, includes Machu Picchu by Expedition Tourist Train. Perfect for those passing through Cusco. Transfer + City tour + Machu Picchu
INTRODUCTION:
Essence alive in the capital of the Incas.
Living essence in the capital of the Incas Cusco is the capital of the Inca Empire, known as Tahuantinsuyo. This tourist package is designed for those who do not have much time in Peru and yet want to know the essence of Cusco. We offer you the option to visit the main attractions of Cusco, such as the main temple of the Incas Koricancha and the magical city of Machu Picchu.
ITINERARY ESSENCE OF CUSCO
PROGRAM:
DAY 1
Arrival in Cusco and transfer to the hotel
Afternoon.- City tour:14:00-18:30 hours
Visit the temple of the sun Qoricancha, Sacsayhuaman, Qenqo, Pucapucara, Tambomachay
DAY 2
Transfer from the Hotel – Train station.
06:30 a.m. – 22:30 hours
Visit to the Inca citadel of Machu Picchu
DAY 3
Transfer Hotel – Airport or bus station
Train Schedule subject to change depending on the timetable and train availability
DAY 1.- ARRIVE TO CUSCO, CITY TOUR.
Arrival and transfer in Cusco
At the schedule time, our uniformed personnel, with a sign with your name on, will be waiting for your arrival at Cusco airport or the bus terminal. We will immediately take you to your hotel. The tourist mobility for this service we offer is fully equipped for your comfort. Travel time will vary according to the location of your hotel.
Arrival at the hotel, registration and accommodation.
Later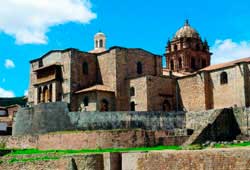 13:30 pm CITY TOUR
At the scheduled time we will pick you up from your hotel at 14:00 pm to start our tour of the city, where our professional guide will provide you with all the detailed information on all the attractions that we will visit, also the tour guide will be attending to any questions and / or need that each of our visitors require.
The places we will visit are:
The main temple of the Sun known as the "Qoricancha", "Sacsayhuaman" known as the head of the Puma in reference to the city of Cusco that was built in a shape of a Puma, and the head of the puma was exactly Sacsayhuaman. We will immediately visit Qenqo temple in honor of mother Earth or Pachamama. Then we will continue with our bus to Pucapucara which in Inkas time was an entry control to the sacred city of Cusco, later visit to Tambomachay Inka temple in honor of the natural element of water.
We will return to Cusco. It will be up to you to decide if you want to be return to your hotel or to stay in the beautiful main square of Cusco.
DAY 2.- TOUR TO MACHUPICCHU

6:30 a.m. Transfer from your hotel to the train station.
We will take the train from Cusco to Machupicchu village ( Aguas Calientes), arriving in this town at 10:30 am immediately we will board a bus to Machupicchu Inca City.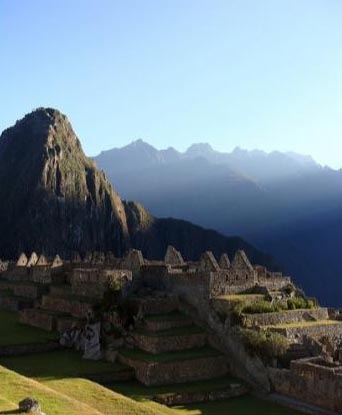 11:00 a.m. Starts of our guided tour of 2 hours of the main Inka palaces and its attractions.
After that you will have free time to enjoy at your own discretion and pace this world wonder.
We recommend visiting the house of the chosen, the intiwatana (the solar clock, to tell the season of the year), kallancas (sheds for warriors), baths and aqueducts, as well as large areas with terraces.
Also you can climb the sacred mountain of Huayna Picchu, visit the sun gate and Inka bridge or anything you want to do at your convenient.
If you want to visit the Hot Springs, this day you´ll have enough time to enjoy it.
In according time we will be approaching the railway station to board the train and start our journey back to Ollantaytambo and then take a touristic bus to Cusco.
The train usually return at 18:30.pm
22:30 p.m. arrive to Cusco.
Transfer to your hotel
DAY 3.- TRANSFER FROM THE HOTEL TO AIRPORT
In according time and depending on your itinerary, we´ll provide you with the transfer from your hotel to the airport or bus station, assistance by our staff.
NOTE: About Huaynapicchu "the sacred mountain" in Machupicchu, this income is additional and optional, the entry is restricted only 200 people can enter at 7:00 am and another 200 people at 10 am. So if you want to have your entry fee, you must confirm your ticket in advance.
INCLUDED
Transfer in/out (airport- hotel-airport)
Personnel assistance in English and Spanish language.
City tour in Cusco
Excursion to the Inca city of Machu Picchu.
Entrance fees to the different tourist center.
Entrance fees to Machupicchu
Train tickets round trip expedition's tourism service.
Bus round trip (Consettur to Machupicchu)
Lunch in Machupicchu
Professional bilingual guide (English – Spanish) for all tours.
Personalized assistance for your entire time in Cusco.
NOT INCLUDED:
Entrance to recreational sites, such as "Clubs" "Hot Springs, Amusement Parks"
Not programmed supply.
Others not specified in the program.
NOTE:
Admission to Waynapicchu need to be confirmed at the time of booking and it is subject to space availability. (Maximum 400 people per day)
To send you all the information about how to book please email us at: info@imperiostravel.com and we will respond as soon as possible by sending all the necessary information and / or responding your concerns.