Cusco Imperial
6 DAYS | 5 NIGHTS
Include a City tour of Cusco, Sacred Valley of the Incas, Maras - Moray tour, South Valley of Cusco and Machupicchu Inka city. We leave every day. With this program, visit the most important attractions of Cusco.
INTRODUCTION:
Essence alive in the capital of the Incas.
With this package, you can enjoy more free time, walk the streets of Cusco, visit its handcrafted neighborhoods, in addition, observe more of Cusco people and its intimate habits.
You'll be happy to know all the beauty of Cusco and its energy.
Advice: Prepare yourself to receive the magical energy that only Cusco can give.
DAY 1.- ARRIVAL IN CUSCO.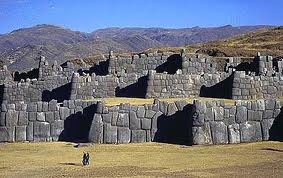 Arrival and transfer in Cusco
At the scheduled time, our uniformed personnel, with a sign with your name on, will be waiting for your arrival in Cusco airport or bus terminal. We will immediately take you to the hotel. The tourist mobility service we offer is fully equipped for your comfort. Travel time will vary according to the location of your hotel.
Arrival at the hotel, registration, and accommodation
Later
13:30 pm CITY TOUR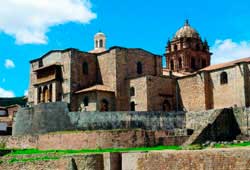 At the scheduled time pick up from hotel at 14:00 pm to start our tour of the city, where our professional guide will provide you with all the detailed information on all the attractions that we visit, also the tour guide will be attentive to any questions and / or need that each of our visitors require.
The places we visit are:
The main temple of the Sun known also as the "Qoricancha". Then, "Sacsayhuaman" known as the head of the Puma in reference to the city of Cusco that was built in a shape of a Puma, and the head of the puma was exactly Sacsayhuaman. Immediately after, we visit Qenqo temple in honor of mother Earth or Pachamama, we continue with our bus to Pucapucara that, in Inkas, time was an entry control to the sacred city of Cusco, later visit Tambomachay Inka temple in honor of the natural element of water.
We return to Cusco. It will be up to you to decide to either stay in the beautiful main square in Cusco or be taken to your hotel.
DAY 2.- TOUR MARAS MORAY AND SALT MINES OF MARAS.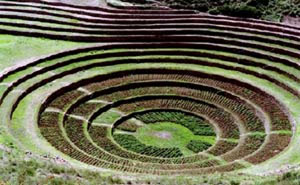 9:00 AM Pick up from your hotel to begin our tour. In this tour we´ll visit Maras a colonial town which gives us great Andean landscapes worthy of international postcards, this village offers the attractions of the salt mines of Maras since pre-Inca and which at present continue being exploited. Later, visit the terraces of Moray, which are recognized as an Inka center of Agricultural experiment, in this form they were obtaining a great variety of new food products.
In this tour we visit the community of Chinchero, a place where we can see how the population is engaged in the activity of weaving, using
Inca techniques and natural colors, customs that are now so clearly present in their daily lives.
On our return to Cusco, we can see beautiful snowy peaks and large hectares of seeding, which will give us beautiful moments
DAY 3.- TOUR SACRED VALLEY OF THE INKAS.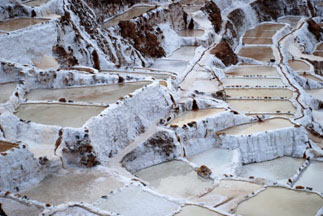 8:30 a.m. Pick up from your hotel to begin our tour of the Sacred Valley of the Incas, we will be leaving the city and reach the viewpoint of Taray, from here we can enjoy how the beautiful Inca terraces and existing farmland surround the sacred river of the Incas "Willcamayuc". Later, we´ll visit Pisaq the archeological Park, also the Indian market which is very colorful as the local people.
The Pisaq Andean Market is the best place to shop for crafts and souvenirs.
After some free time we continue our journey to the village of Urubamba, where will have lunch at a delicious buffet.
Continuing our journey, we'll reach the last living Inca town "Ollantaytambo".
Ollantaytambo reminds us of a mythical love story, a drama of love that prevails against all obstacles. It is believed that this city was built by General Inka Ollanta in a time of rebellion against the Royal army of the Inka by preventing its binding to the beautiful princess Cusi Qoyllor "beautiful star".
A further 40 minutes' drive takes us to Chinchero surrounded by the colonial houses, where we will again discover the magnificence of the Incan constructions, terraces and the beauty of the local people in their traditional dresses, all surrounded by the local temple, where we´ll appreciate the painting of local people who later were well-known as the creator of the "Escuela Cusqueña" founders. The Colonial church is rich in art and jewelry and well appreciated by their population.
Lunch is included on this tour in the town of Urubamba.
19:00 pm Arrival in Cusco and transfer to your hotel.
Overnight in Cusco
DAY 4.- MACHUPICCHU
6:30 a.m. Transfer from hotel to the train station
We will take the train from Cusco to Machupicchu village, arriving in this town at 10:30 am, immediately we board a bus to Machupicchu Inca City.
11:00 a.m. Starting our guided tour of 2 hours of the main Inka palaces and their attractions.
After that you will have free time to enjoy at your own discretion and pace this world wonder.
We recommend visiting the house of the chosen, the intiwatana (the sundial, marking the seasons), kallancas (sheds for warriors), baths and aqueducts, as well as the large areas with terraces.
Also, you can climb the sacred mountain of Huayna Picchu, visit the sun gate and Inka bridge or anything you want to do at your convenience.
If you want to visit the Hot Springs, this day you´ll have enough time to enjoy it.
In according to the time, we will be approaching the railway station to board the train and start our journey back to Ollantaytambo and then take a touristic bus to Cusco.
The train usually returns at 18:30 pm
22:30 p.m. Arrival in Cusco.
Transfer to your hotel
DAY 5.- TOUR SOUTH VALLEY OF CUSCO.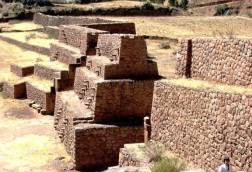 9:00 AM Pick up from your hotel, immediately we go to the south valley of Cusco which gives us cultural diversities.
Throughout this valley, people are distinguished from one another.
As Oropesa, known as the Peruvian capital of bread. Tipon which is known for its traditional foods like baked guinea pig. We will also pass through Saylla, offering to people the cusqueñan Chicharron "little pieces of roasted pork, with boiled corn and an Andean mint salad".
Tipon is also an Archeological park that hosts large water sources from Inkas time and also enormous Inca terraces. History says it was a place of exile for the Inca Wiracocha, because he left the city of Cusco in a time of war.
Pikillacta: the Pre-Inca city of Pikillacta corresponds to the pre-inka Culture of Wari, this city sits on top of Huacarpay lagoon.
Then we visit Andahuaylillas colonial Church, where we´ll find a beautiful colonial temple known as the Sistine Chapel of America, in this temple you can see beautiful paintings of great Peruvians and foreigners artists.
The Colonial temple is rich in jewelry and art.
After a great day, return to Cusco, making brief stops to visit some of the villages mentioned above.
Arrival in Cusco approximately at 15:00 pm
DAY 6.- TRANSFER OUT HOTEL/AIRPORT OR BUS STATION.
In according time and depending on your itinerary, we'll provide you the transfer from your hotel to the airport or bus station, assistance by our staff.
INCLUDED:
Personal assistance in English and Spanish.
Excursion of the City tour in Cusco.
Tour of the Sacred Valley of the Incas
Tour Maras Moray and Salt mines of Maras.
Tour to the South Valley of Cusco.
Excursion to the Inca city of Machu Picchu.
Entrance fees to the different tourist centers.
Entrance fees to Machupicchu
Train tickets round trip Expedition's tourism service.
Hotel for 5 nights in Cusco
All the breakfasts in the hotel.
Bus round trip (Consettur to Machupicchu)
Lunch in Machupicchu
Lunch in the Sacred Valley
Professional bilingual guide (English – Spanish) for all tours.
Personalized assistance for your entire time in Cusco.
NOT INCLUDED
Entrance at recreational sites, such as "Clubs", "Hot Springs, Amusement Parks"
Not programmed supply.
Others not specified in the program.
NOTE:
Admission to Waynapicchu needs to be confirmed at the time of booking and it is subject to space availability. (Maximum 400 people per day).
To send you all the information about how to book please email us and we will respond as soon as possible by sending all the necessary information and / or responding your concerns.