CLASSIC INCA TRAIL TO MACHU PICCHU
4 DAYS / 3 NIGHTS
The classic 4-day Inca Trail is renowned for its breathtaking views of the Andes, adorned with snow-capped mountains from June to October, as well as the fascinating Inca ruins scattered along the path. Immerse yourself in Peru's history as our expert guides lead us in the footsteps of the Incas, accompanied by the Porters of the Sacred Valley, their modern-day descendants.
Imperios Travel Peru offers a variety of trekking options along the Inca Trail, allowing you to combine this adventure with other attractions in this wonderful country. And, as always, our travel experts have carefully curated all the tourist components of this journey, ensuring that you can simply relish in the beautiful landscape on your way to Machu Picchu.
OUR ITEP CAMPING EQUIPMENT
CLASSIC STYLE: "CLASSIC TENTS AND FOAM MAT"
Indulge in a restful night's sleep with our spacious four-season Pro-Aconcagua tent in the Classic Style. While these tents are designed for quad occupancy, we ensure that only two people occupy them, providing ample space to stretch out and comfortably store your belongings. The A-frame design features dual-sided doors for easy access. Additionally, a front vestibule offers extra outdoor storage for your shoes and hiking poles. A foam mat is included to provide insulation from the ground. For enhanced comfort, you can opt for an air mattress upgrade, which adds three inches of plushness to complement the foam mat. We use high-quality inflatable Therm mattresses for added luxury.
LUXURY GLAMPING STYLE: "TENT AND BED"
Peru Glamping is where awe-inspiring nature meets modern luxury camping. It's an opportunity to embark on an experiential journey that combines adventure with the comforts of contemporary living. Our approach involves venturing off the conventional tourist paths, immersing yourself in authentic cultural experiences, and embracing the richness of your surroundings. Some refer to it as luxury camping, while others call it wizard camping. No matter the name, this style of camping aims to inspire and guide those seeking a unique travel experience that promotes cultural immersion, expands horizons, and fosters deeper connections with the environment. Enjoy the luxurious pleasure of sleeping under the stars with our exquisite tent and comfortable bed setup.
PROGRAMA:
DAY 1
Transfer at 6:30 a.m.
Take the bus to Km 82/Piscacucho.
From 10:00 a.m. to 4:30 p.m.
Embark on a trekto Machu Picchu.
From Piscacucho to Wayllabamba.
DAY 2
trek from 8:00 a.m. to 4:00 p.m. on the 4-day Inca Trail to Machu Picchu, passing through Wayllabamba, Llulluchapampa, and Pacaymayu.
DAY 3
Hiking from 8:00 a.m. to 4:00 p.m.
4-day Inca Trail to Machu Picchu.
Pacaymayu - Phuyupatamarca - Winayhuayna.
DAY 4

Start the trekat 4:30 a.m. and continue until 8:00 p.m. Enjoy the scenic trek towards Machu Picchu.

Winayhuayna – Machu Picchu:
Start the trek at 8:00 a.m. and finish at 4:00 p.m.

Tour to Machu Picchu:
Experience a guided tour of Machu Picchu.
After the tour, you have the afternoon free to explore at your leisure.

Return journey:
Return by train to Ollantaytambo and then take a minibus back to Cusco.

Optional: Visit the Hot Springs in Machupicchu-Aguas Calientes.
DAY 1: VAN RIDE TO THE SACRED VALLEY OF THE INCAS, THEN TRANSFER TO KM 82 "ENTRANCE OF THE 4-DAY INCA TRAIL".
Trekking to Km 82 "Piscacucho to Wayllabamba"
The adventure begins! A private van will pick you up early in the morning at 5:30 a.m. For about an hour, you will be driven to the Sacred Valley of the Incas, where our truck will take us to Piscacucho, also known as km 82, the starting point of the classic Inca Trail. Along the way, we will make a stop for breakfast in Ollantaytambo at around 6:30-7 am to recharge (breakfast not included). Arriving at km 82 by 11:30 a.m., we will have time to organize ourselves.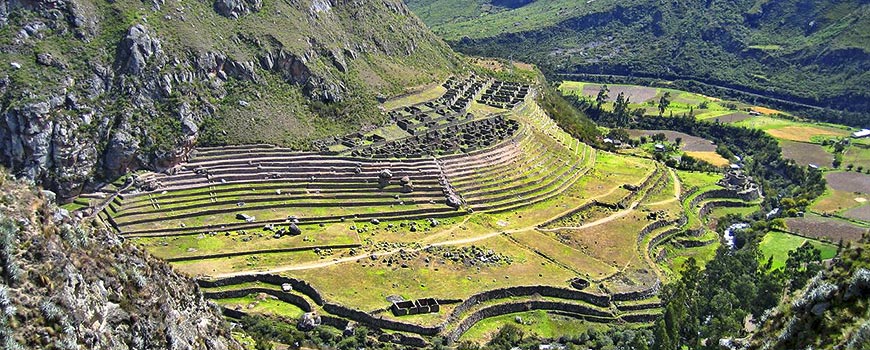 At the start of the trail (at 2720 m), we cross the Vilcanota River and follow its course to the right. The first day proved relatively easy, walking on the Inca flatlands. We enjoyed breathtaking views of the Inca Castle ("Huillca Raccay"), the vast and impressive Inca site at Llactapata (officially known as "Patallacta"), and the imposing snow-capped peak "W'akay Willca" (5860m/19225ft), also known as Veronica in books. We set up our first camp in Wayllabamba (3000 meters/9842 feet), nestled in the green and temperate valley that shares its name. During the nights, the temperature hovered around 5°C, although it may vary depending on the month.
Throughout the day, we will delight in spectacular views of the snow-capped Veronica Mountains (5860m/19337ft), the lush green valley that surrounds us, and a variety of flora and fauna.
Inca Trail 4-day Details:
Meals: Lunch, snacks, tea, and dinner.
Accommodation: Camping facilities.
Distance: 11kms/6.8 miles (approximately 6 hours of walking)
Difficulty: Easy/Moderate.
Walking Time: Approximately 6 hours (including a picnic lunch along the way)
Hiking and Terrain: Walking at a moderate pace on open paths, with some steep uphill sections.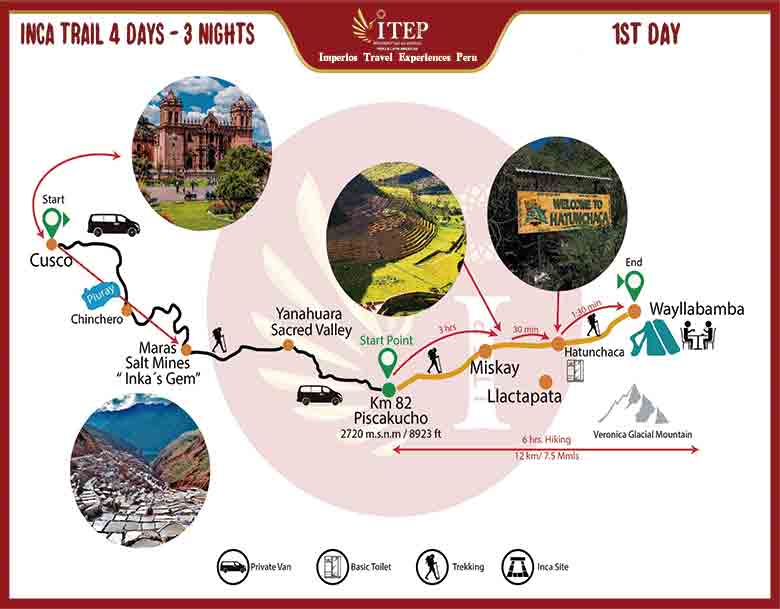 DAY 2 | Trekking "Wayllabamba to Pacaymayuc/Runkuraqay"
After waking up between 5 and 5:30 am and enjoying a hot breakfast, we embark on our journey to conquer the highest pass, Abras de Warmihuañusca or "Dead Woman's Pass," at 4200 meters / 13779 ft. This day will give you a true sense of achievement when you reach the summit! After a well-deserved break, we make our way back to Pacamayo (3550m) for lunch.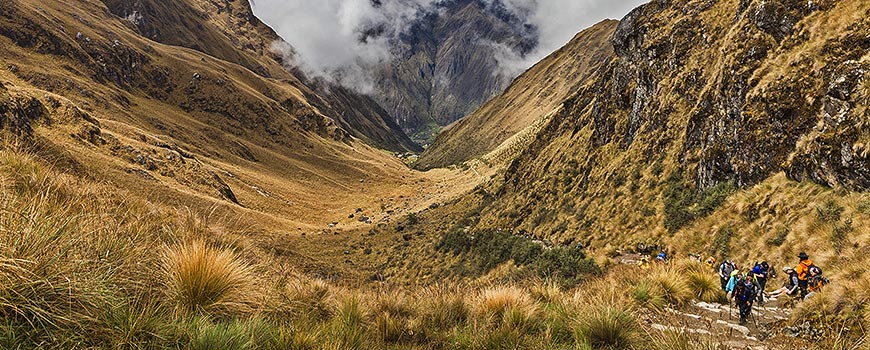 During the ascent to the pass, you will have the opportunity to spot various groups of hummingbirds and other birds. Take your time to admire the incredible diversity of native plants and the majestic 'Polylepis' or Q'ueuña trees that thrive in the enchanting cloud forest at an altitude of 3650 meters / 11972 feet! Following lunch, we continue with another two-hour steep climb towards the Ronkoracay Pass (approximately 4000 meters / 13,123 feet). We reach the campsite, where the temperature drops to around °C at night.
Inca Trail 4 days
Meals: Breakfast, water, lunch, snacks, afternoon tea, and dinner.
Accommodation: Camping facilities.
Distance: 16kms/10mls (approximately 9 hours of hiking time)
Difficulty: Moderate/challenging.
DAY 03: TREK - PHUYUPATAMARCA - WIÑAYWAYNA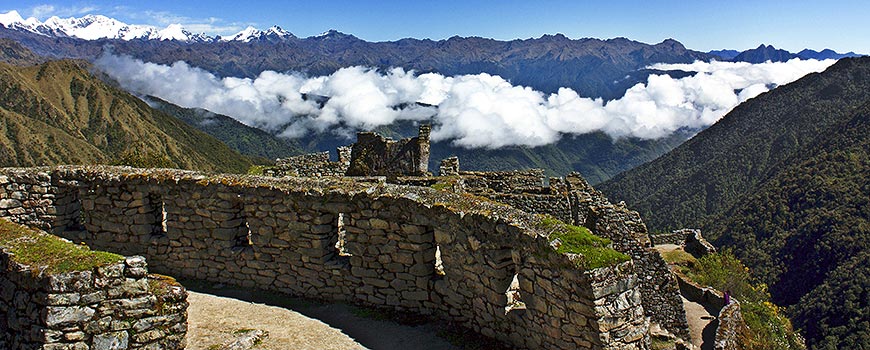 This day will be truly impressive, especially as you ascend on the third day! We wake up early at 6 am to enjoy a delicious breakfast and start the day with a pleasant trek towards the archaeological site "Phuyupatamarca," which translates to "City in the Clouds." This place marks the third highest point of the 4-day Inca Trail, at an altitude of 3680 meters. The views of the mountains, valleys, and surroundings are simply breathtaking! From the Inca site of "Phuyupatamarca," it's just a short walk to the third pass.
After exploring the site, we continue our trek, crossing 3000 steps through the lush rainforest until we reach the impressive Inca agricultural site called "Intipata." After spending some time at this place, we continue our journey until we reach the third camp at Wiñay Wayna, located at 2680 meters above sea level. Today, we will only trek for about 4-5 hours, so we arrive at the camp just in time for lunch! In the evening, the temperature hovers around 12°C.
Just a few steps away from the camp is the famous Inca site of "Wiñay Wayna," which means "Forever Young." Even if you feel tired after a day of hiking, this is a moment you shouldn't miss, as it is the most impressive site of the 4-day Inca Trail.
Details of the 4-Day Inca Trail:
Meals: Includes breakfast, water, lunch, snacks, tea, and dinner.
Accommodation: Camping facilities and hot showers are provided.
Distance: 10 km / 6.2 miles (approximately 5 hours of hiking)
Difficulty: Moderate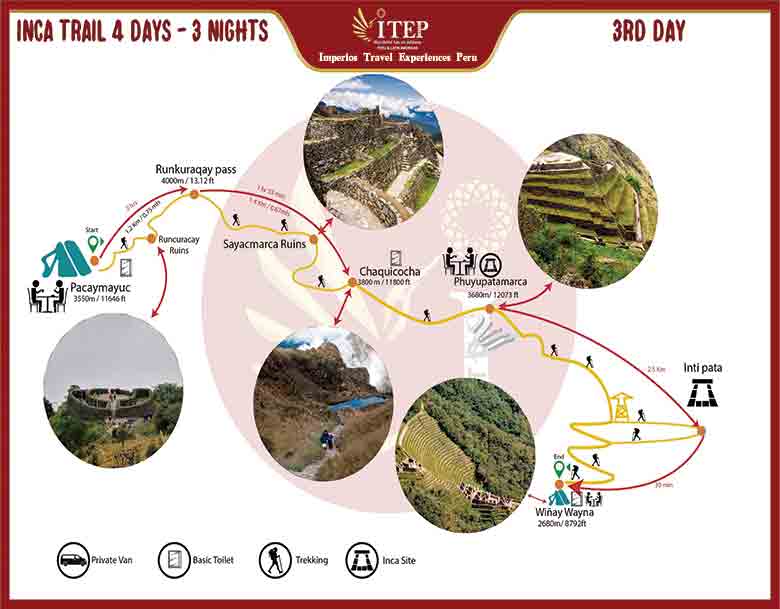 DAY 4: WIÑAYHUAYNA TREK - GUIDED VISIT TO INTI PUNKU AND MACHU PICCHU.
At approximately 4 am, we wake up, have breakfast, and start the fourth day on the Inca Trail to reach Machu Picchu on time. This is the final stage of our journey, reaching Inti Punku, or the Sun Gate, at 6:00 AM. At that moment, the majestic ancient fortress of Machu Picchu rises on the horizon with its imposing beauty, an astonishing sight that leaves everyone in awe. We uncover the truth about the challenges the Incas faced during their arduous journey to the grand temple of Machu Picchu. From there, we head towards the citadel of Machu Picchu (2400 m / 7872 ft). After a 40-minute walk, we enter the citadel from the top through the "House of the Guardians". Then, we proceed to the control checkpoint where we check-in and leave our personal belongings. A professional guide accompanies us through the impressive ruins and main streets. We can stroll through the city's plazas and climb the intricate stone steps. Machu Picchu is considered the world's spiritual center of esoteric wisdom. At the end of the guided tour, we will have free time to explore the site on our own.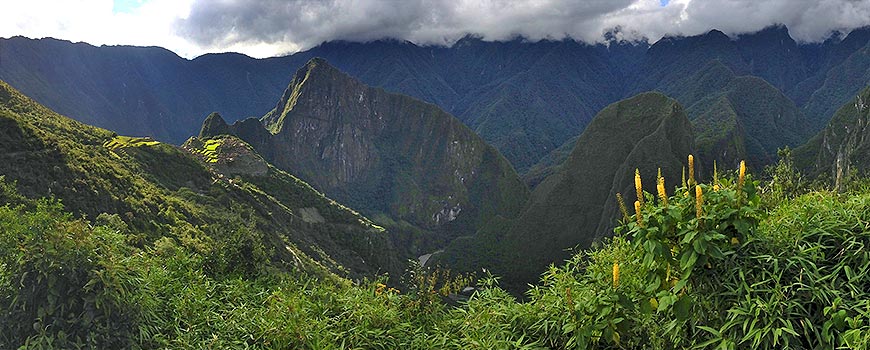 We will also have time to enjoy some optional activities (not included in the price) if desired:
Hiking Huayna Picchu or Machu Picchu to appreciate the beauty and magnificence of Machu Picchu from above.
Other optional activities in Aguas Calientes include visiting the new local museum or enjoying a bath in the hot springs.
Return to Cusco: We will descend to Aguas Calientes by bus (included) and later board the Expedition train bound for the Ollantaytambo Train Station. The train departure time may vary depending on availability. At the Ollantaytambo train station, a private van will be waiting to take us back to our hotel in Cusco.
Details of the 4-day Inca Trail:
Meals: Breakfast
Distance: 8.9 km / 5.5 miles (by bus in 25 minutes)
Difficulty: Easy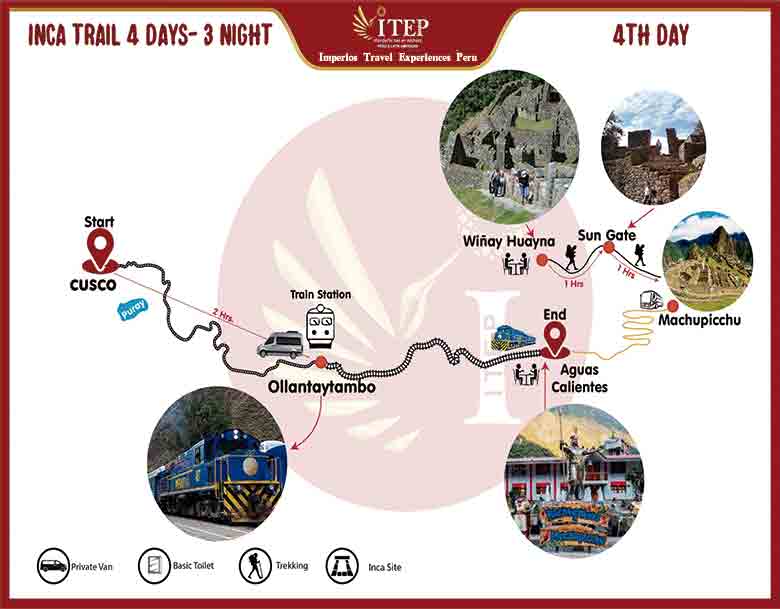 *** The choice between Huayna Picchu or Machu Picchu is subject to availability; please let us know if you would like to add one of these additional treks at the time of your reservation.
*** We only accept ITEP EcoTravel clients in our vans/cars - We do not use public transportation.
Important Note:
The itineraries and campsites provided by the INC (the organization that operates the 4-day Inca Trail) are subject to change depending on ticket availability. They may also vary due to weather conditions or the health of the treks. The train transportation (round trip to Ollantaytambo) included in each tour is for transfer purposes only. The train schedule will be confirmed during the travel period, so if you join the group later, we cannot guarantee that you will be on the same train as the rest of the group. Additionally, the train schedule is subject to changes based on the availability of the train company.
What's Included in Inca Trail 4 days?
Pre-departure briefing: You will meet your 4-day Inca Trail guide and your group at our office for an orientation before starting the trek. At this time, we will provide you with the duffel bags that will be carried by our porters. The briefing will take place at 6:00 p.m. on the evening prior to the trip's start. If you cannot attend at that time, please let us know to coordinate an alternative schedule.
Tourist transportation: You will be picked up from your hotel in Cusco in the morning and travel by private transportation to Piscacucho, the starting point of the 4-day Inca Trail to Machu Picchu.
Experienced adventure guide on the Inca Trail: Our guides are bilingual, professionally trained, and certified tour guides. All of them are natives of this region and have a true passion for teaching others about their heritage. Your guide will explain the culture and surroundings throughout the entire journey, and they will even lead you in ancient ceremonies! They will ensure your safety, health, and comfort during the trek so that you can fully enjoy your time on the 4-day Inca Trail.
Experienced guide at Machu Picchu: You will also have a bilingual and certified guide to explore the sacred city of Machu Picchu.
Private campsites: Each campsite has been carefully selected to provide you with an authentic experience..

Night 1: Experience the first night at Wayllabamba along the Royal Inca Trail 4-day route, resting in our spacious 4-season Pro Aconcagua Doite tents. Although designed for 4 people, we allocate only 2 occupants per tent, allowing ample space for you to relax and store your duffel bags. Each tent also features a small vestibule at the front, providing extra outdoor area to keep your boots and walking sticks, keeping the interior clean and dirt-free.

Night 2: Enjoy the second night at Wayllabamba on the Royal Inca Trail 4-day journey, where you will once again find comfort in our 4-season Pro Aconcagua Doite tents. These tents, intended for 4 occupants, are exclusively shared by 2 people, granting you generous room to unwind and safely store your belongings. With the added convenience of a front vestibule, you can conveniently leave your boots and walking sticks outside, keeping the interior tidy and free from debris.

Night 3: Relish the third night at Wayllabamba while trekking the Royal Inca Trail for 4 days, taking respite in our reliable 4-season Pro Aconcagua Doite tents. Although designed to accommodate 4 individuals, we allocate only 2 occupants per tent, ensuring abundant space to relax and securely store your duffel bags. The tents also come with a convenient front vestibule, offering additional outdoor area to leave your boots and walking sticks, eliminating the need to bring in dirt.
Note: Normally, the campsites, lodges, or hotels do not change after confirmation. However, this may vary depending on government regulations and authorizations, as well as weather conditions and the physical needs of our visitors. Any changes in this aspect will be informed in advance and as quickly as possible by ITEP Travel.
Camping Equipment: Our porters and horses will carry tents, a dining and kitchen tent, tables, chairs, and cooking equipment.
Entrance Ticket to the Inca Trail. Entrance Ticket to the Machu Picchu Inca site.
Professional Trekking Chef: We have a specialized chef who will cook delicious meals along the trail, accompanied by an assistant, to replenish your energy throughout the route. You will never go hungry!
Meals: 3 breakfasts, 3 lunches, and 3 dinners are included. We also offer vegetarian, vegan, and special menus at no additional cost. Please note that the first breakfast and the last lunch are not included.
Boiled Water: From the first lunch to the last breakfast, Inka Trail Expeditions will provide all the necessary water. The water will be boiled, filtered, and cooled before distribution. You should bring your own water bottles or hydration packs. We recommend carrying around 3 liters. We will refill our water bottles at each meal.
Morning Tea: Every morning at the campsite, you will wake up to a cup of coca tea. Our staff will bring the tea to your tent so you can warm up before starting the day.
Daily Tea during the trek: Every evening before dinner, our cooks will offer popcorn, cookies, coffee, hot chocolate, teas, and hot water. After a long day of hiking, you won't have to wait until dinner to relax, warm up, and enjoy a snack.
Hygiene Products: Before each meal, you will be provided with a small towel to clean your hands. Additionally, there will be a bucket of warm water each morning for your personal hygiene.
Medical Kit and Oxygen Bottle: Our team will carry a first aid kit, including an emergency oxygen bottle.
Train Tickets: It includes transportation from Aguas Calientes ("Machupicchu village") to the Ollantaytambo train station. The departure time will be confirmed at the meeting and is subject to availability.
Return Transfer to Cusco: We offer private tourist transportation from the Ollantaytambo train station to your hotel in Cusco (Day 4).
24-Hour Customer Service: We have a 24-hour telephone service to facilitate communication and preparation with the agency before your trip.
<
Not Included:
Sleeping Bags: You can rent one from our company if you do not have your own. Our sleeping bags are effective and durable to protect from temperatures as low as -18ºC (0ºF). They are mummy form and include a sleeping liner. The bags are cleaned after every use.
Bus Concetur to Machupicchu inca City: Most of the times the wait to board the bus to Machupicchu is from 1 hour to 1:30 min, So we prefer that you decide a day before your visit to the Inca city of Machupicchu. If you wish to take the bus considering the waiting time. Or if you prefer to do the last stretch of ascent walking up 45 to 1 hour "everything will depend on your physical state, after the trekking done".
Walking Sticks: You can rent a set from our company if you would like.
Day 1: Breakfast: Approx. Usd5 to usd 10.00, Price can vary according your selection.
Last Day: Lunch and Dinner in Aguas Calientes. Approx. Usd 20 to 25.00, Price can vary according your selection.
Personal clothing and gear
Travel Insurance
Tips for our staff: Please note that our agency staff is well paid so please feel free to tip or not as you wish "Recommendation usd 6 to usd 8 per day per traveler for all the trek staff"- Once again it is optional and can vary according your satisfaction.
Additional costs or delays out of control of the management (landscape, bad weather condition, itinerary modification due to a safety concern, illness, change of government policy, political instability/strike, etc.)
Extras
Walking sticks (15 $ for a pair of sticks).
Extra porter for personal items (90$ for 7 Kilos – max. 7 Kilos).
Upgrade to Single room in Aguas Calientes (60$) for nights.
Upgrade to Vistadome train (80$ ).
Entrance ticket to Huayna Picchu (75$) – There is only limited space at Huayna Picchu (400 persons per day), so it is a good idea to book in advance.
We can help you to book hotels (standard and luxury) in the whole of Peru.
Hotels in Cusco: no matter what standard you would like (Standard, Economy, First Class, or Luxury) you should ask us to book your room as we know all the different rates for every hotel in Cusco and might secure you a pretty sweet deal.
Discounts
To qualify as a student, it is necessary to have a valid ISIC card. Scan the card and email us a copy at the time of your booking. We will then offer a $20 discount per student.
For children younger than 16, we offer a $20 discount (you also need to scan and email us a copy of the passports).
For children younger than 7, we offer a $50 discount (same here: you need to scan and email the passports).
You need
Original passport (and International Student card (ISIC) if applicable).
Walking boots.
Waterproof jacket/rain poncho.
Warm jacket, hat, and gloves.
T-shirts.
Comfortable trousers.
Sun hat.
Sunglasses.
Sun protection cream (factor 35 recommended).
Re - usable plastic or metal water containers or camel bags.
Insect repellent.
Toiletries.
Personal medication.
Camera and films.
Torch with spare batteries (headlamps are the best).
Optional Items to Take | Inca Trail Tour to Machu Picchu 4 Days
Optional Items to Take | Inca Trail Tour to Machu Picchu 2 Days.
Shorts.
Walking stick (with rubber tip).
Plasters and bandages.
Sandals.
Extra money.
Bathing suit (for the hot springs in Aguas Calientes) where the entrance fee at the door is US$4.
WHEN TO BOOK THE INCA TRAIL TOUR 4 DAYS
The government has implemented strict limitations on the number of individuals allowed on the Inca Trail for the 4-day trek. Permits are issued to approximately 200 trekkers per day, along with 300 porters. These 500 permits cover the 4-day Inca Trail experience. We strongly advise booking your trek well in advance, preferably around 4 months ahead of time.
We recommend making a reservation for the Inca Trail tour to Machu Picchu at least 2 days prior to booking your flight tickets and hotels. This is crucial due to the limited availability of spots for the 4-day Inca Trail at both the INC (Instituto Nacional de Cultura) and PERU RAIL (train tickets) booking systems.