Inca Trail to MachuPicchu and Huaynapicchu
5 days | 4 nights
This is our ultimate highlights holiday of Peru, you'll experience the grandeur of the Inka Civilization. Explore the most breathtaking natural sights of the Inca Trail. And the top Inca heritage site Machu Picchu, including the Huaynapicchu sacred Mountain. Please contact us and one of our specialist consultants will help you come up with your perfect holiday.
Preparing with us your Inca Trail Experience This trek is often known as "the five days Inca Trail Huaynapicchu mountain"
OUR ITEP CAMPING EQUIPMENT
ITEP "Imperios Travel Experiences Perú" is dedicated of making sure we have the best Campsite available in the route Classic Royal Inca trail tour to Machupicchu.
Here's everything you need to know about our camping style in the Classic Royal Inca trail to Machupicchu... Our team (Guides, Cooks, Porters, and Horsemen) and our equipment are what really make ITEP Imperios Travel Experiences Perú stand out from all of our competitors….
Please take the time to look at the information on what we really offer you in comparison to our competitors!
Imperios Travel Experiences Perú Our Best Camping Equipment
"Please check our Prices and inclusions in order to have more information about your camping equipment"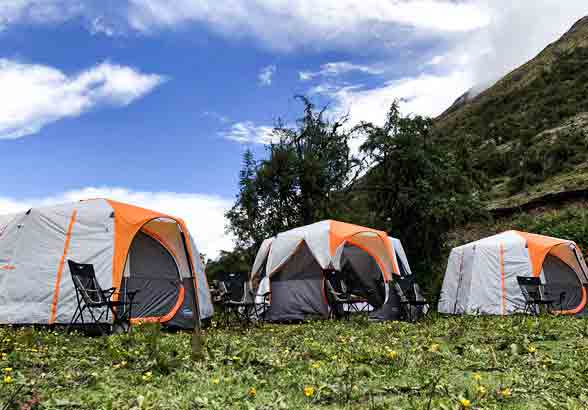 Classic Style "Classic Tents and foam mat"
Enjoy a good night sleep in our spacious Pro-Aconcagua 4 season tent. All our tents are built to be four-man tents, but you will be used only for two people. This leaves a lot of room to spread out comfortably and store your duffels. They are an A-frame design, with entrances on both sides of the tent. They also include a vestibule in front, giving you some extra outdoor space to leave your boots and walking sticks. A foam mat is included to separate and insulate you from the ground. For added comfort, you may want to consider upgrading, by renting an inflatable sleeping pad, which adds three inches of comfort on top of the provided foam mat. We use Thermarest inflatable air mattresses.
Luxury Glamping Style "tent and Bed"
Perú Glamping is where stunning nature meets modern luxury camping. Experiential travel is an authentic way to connect adventure with nature. Together, the experience is about stepping off the beaten path, walking away from superficial tourist activities and embracing an immersive cultural environment. Some call it luxury camping. Some call it glamorous camping. Either way, this camping style is dedicated to inspiring and guiding those who are seeking a different kind of trip, the kind that encourages cultural immersion, a broadening of horizons, and a deeper engagement with one's surroundings with enjoying this upscale approach to sleeping under the stars.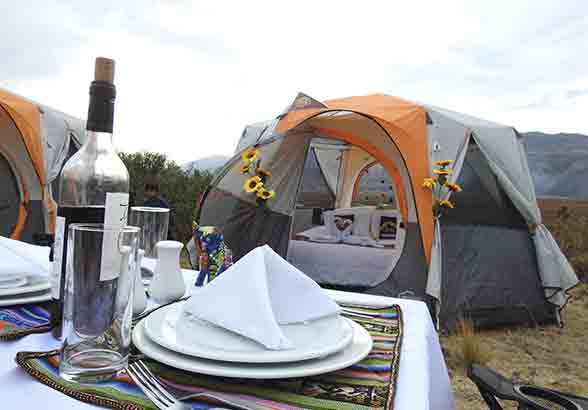 Is this tour for me?
Experience:

Royal Inca Trail to Machupicchu

Duration (days):

05 Days including Machupicchu

Duration (nights):

03 nights in camping along the Inka Trail Campsite "Included in final price", last night "4th night" hotel in Aguas Calientes is needed "not included in final price"

Language:

English & Spanish "Other Languages on request"

Close Airport:

Cusco /Perú

The attraction:

The Royal Inca Trail is the most famous hike in South America; the four-day Inca Trail is walked by dreamers every year. Although the total distance is only about 26 miles (45km).

Travel Style:

Active hiking, trekking, biking, rafting, and kayaking adventures all over the world, made for outdoor types.

Trip Type:

Small Group

Small group experience; Max 8, Avg 6 "Be in mind small group size means more authentic experience".

Age requirement:

12+ All travelers under age 18 must be accompanied by an adult.

Physical Rating/ Grading:

1 2 3 4 5

4 - Demanding

Some high-altitude hikes or more strenuous activities, but accessible to most healthy travelers.

STRENUOUS:

Full-day hikes (6-8 hours), mountainous, steep terrain (hiking up or down as much as 3,500 feet) on many hikes. Trips with hiking at average altitudes of 10,000 to 14,500 feet are in this category.

STRENUOUS:

The Distance: The Inca Trail difficulty starts with the distance. It's 45 km (26 miles) in total, covered over 4 days and 3 nights. The hike is generally broken down into:
Day 1: 11 km (6.8 miles).
Day 2: 12 km (7.5 miles).
Day 3: 16 km (10 miles).
Day 4: 4 km (2.5 miles).
Day 5: 8.9 km (5.5 miles).
DAY 1: Transfer by ITEP Van from Cusco to Maras Salt Mines and then trek to the sacred Valley of the Incas, later transfer to Km 82 "Inca Trail Entrance".
Trekking Km 82 "Piscacucho to Wayllabamba"
Today begins your adventure of a lifetime; Our Classic Inca Trail includes the Gem of the Incas "The Maras Salt Mines". We will pick you up from your hotel in our private van very early in the morning at 5:30am. Transfer to Maras and a Wonderful little trek around the Salt mines of Maras, a precious gem: The Maras Salt mines. A myriad of salt crusted terraces precariously nestles against the steep mountain sides, while a steady stream of mineral rich water trickles down with a silent gargling that somehow defies time. The ponds, you ought to know, have been in use since the times of the Incas and before.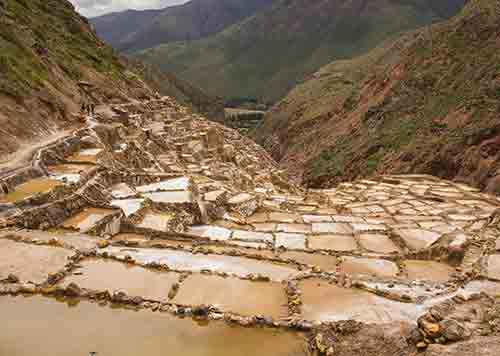 After it an hour transfers to the Sacred Valley of the Incas, where our van going to take us to Piskacucho, which is called kilometer 82, where the Classic Inca Trail begins. On the way, we stop for breakfast in Ollantaytambo at 6:30-7am to load up on energy for our start of the trail. (Breakfast is not included). Upon arrival at kilometer 82 at 11:30am, we will have some time to organize ourselves, At the Inca Trail first control point be ready to show your entrance tickets, passports and (if paying a student rate) your student card.
At the start of the trail (2720m/8923ft) we cross the Vilcanota River and follow its route to the right. The first day is relatively easy, a warm-up along the Inca flat terrain. There are great views of the Incan Fortress ('Huillca Raccay'), the vast and incredible Inca site of Llactapata, (officially called 'Patallacta'), and the beautiful snow-capped peak of 'W'akay Willca' (5860m/19225ft) known in books as Veronica. Our first campsite Wayllabamba (3000m/9842ft) in the temperate green valley of the same name. Temperatures at night are around 5ºC depending on the month.
During the day, we will enjoy spectacular views of the snow-capped mountains Veronica, (5,860m/19,337ft), the lush green valley around us and a myriad of flora and fauna.
Meals: Lunch, snacks, afternoon tea and dinner.
Accommodation: Camping facilities.
Distance: 11kms/6.8 mls (6 hours more or less of hiking)
Difficulty: Easy/Moderate.
Walking Time: Approximately 6 hours (including picnic lunch in route)
Walk and Terrain: Walk, canter, on open roads, some steep ascending trails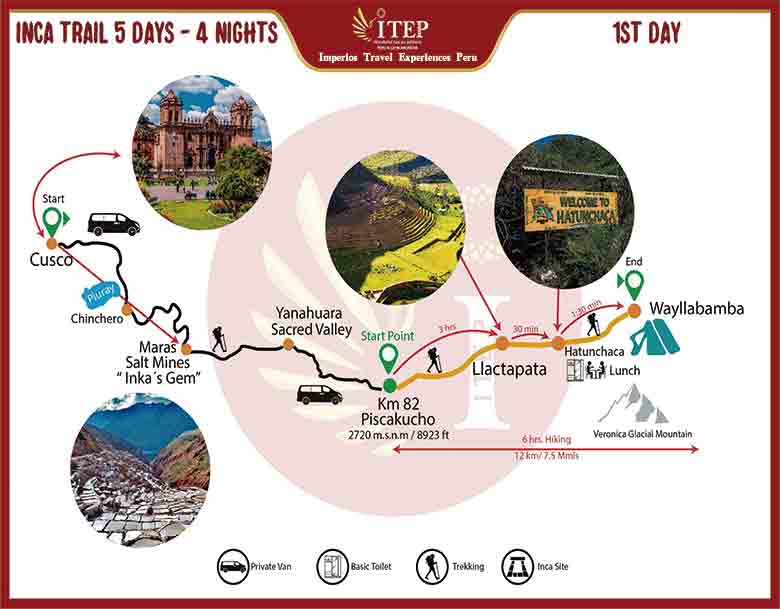 DAY 2: Trekking "Wayllabamba to Pacaymayuc/ Runkuraqay"
After waking up at 5 to 5:30am and enjoying a hot breakfast, we start a steep ascent towards the highest pass, abra de Warmihuañusca or 'Dead Woman's Pass' at 4200m/13779ft. On this day, you will feel a real sense of achievement upon reaching the top! After a well-deserved rest, we begin the descent to where we stop for lunch, which is located at Pacaymayuc (3550m/11646ft).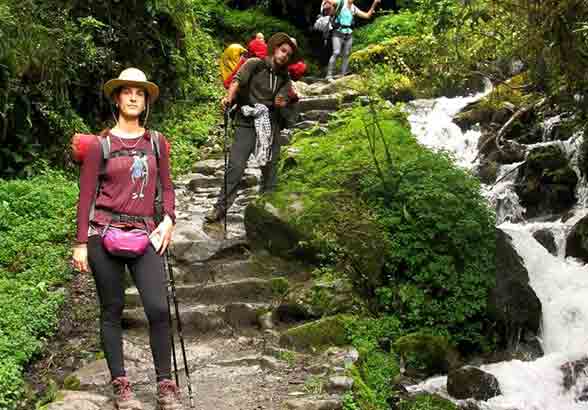 On our way up to the pass, we will be able to see an array of hummingbirds and a combination of other species of bird life. There will be plenty of time to appreciate the incredible variety of native plants and the ´Polylepis´ or Q'ueuña trees which grow in the astonishing cloud forest located at 3650m/11972ft! After lunch, begins the second two-hour steep climb to Runkuraqay pass (almost 4000m/13,123ft). We arrive at our campsite by 5 pm. Temperatures at this campsite are around 4ºC during the night.
Meals: Breakfast, water, lunch, snacks, afternoon tea and Dinner.
Accommodation: Camping facilities.
Distance: 16kms/10mls (9 hours more or less of hiking time)
Difficulty: Moderate/challenge.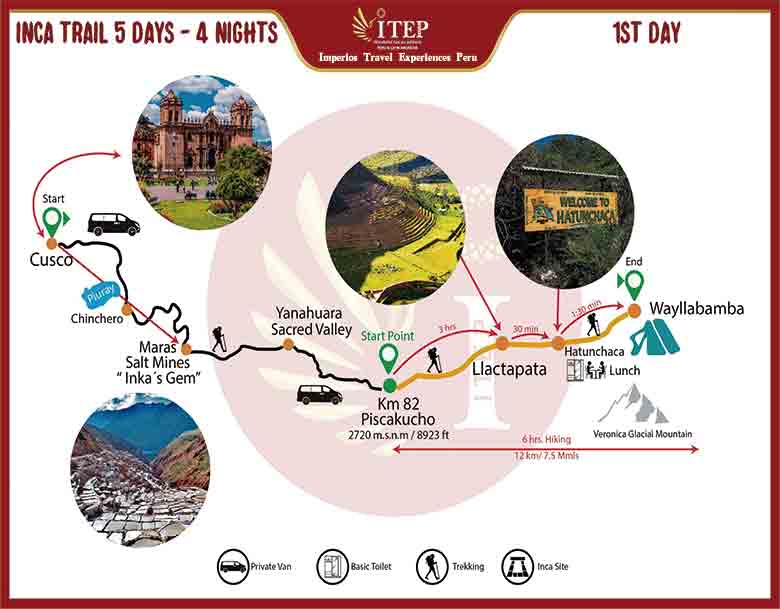 DAY 3: Trekking "Pacaymayuc to Wiñayhuayna"
This is the most impressive day so far; keep this in mind as you ascend on day three! We wake up for breakfast at 6am and start the day with a gentle climb to visit the archaeological site of 'Phuyupatamarca' (meaning 'Town in the Clouds').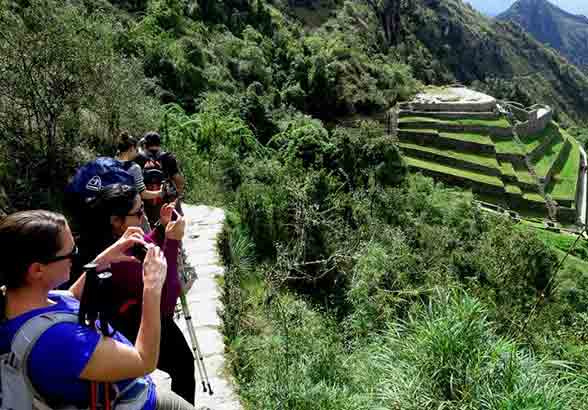 Here we reach the third highest point on the Inca trail (3680m/). The views of the mountains, canyons and surrounding areas are spectacular! The Inca site of 'Phuyupatamarca', is located a few minutes' walk from the third pass. After visiting this site, we continue walking down 3000 stairs through the cloud forest to the impressive agricultural Incan site of 'Intipata. After taking some time to visit this site, we continue until we arrive at our third campsite Wiñay Wayna. (2680m/8792ft). Today, we will only walk about 4 to 5 hours. We arrive at camp by lunchtime! Temperatures during the night are about 12º C. A short walk from our campsite is the famous Incan site of 'Wiñay Wayna' ('Forever Young'). Even if you are feeling tired after your day's trek, it´s a moment you cannot miss, the most impressive site on the Inca trail.
Meals: Breakfast, water, lunch, snacks, afternoon tea and dinner.
Accommodation: Camping facilities and hot showers.
Distance: 10kms/6.2mls (5 hours more or less of hiking)
Difficulty: Moderate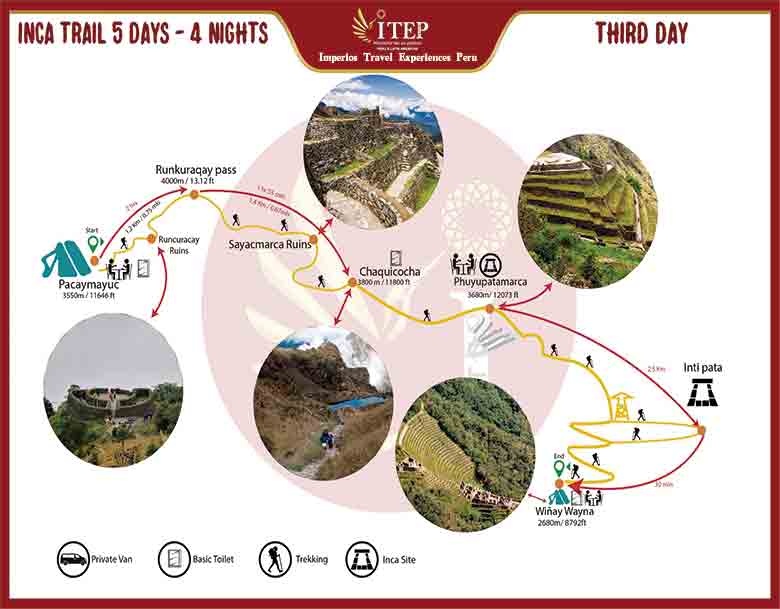 DAY 4: Trekking "Wiñayhuayna – Inti Punku & Machupicchu guided Tour"
At around 4:00am it´s time to wake up, have breakfast and start day 4 on the Inca trail to get to Machu Picchu on time. This is the final part of your journey, arriving by 6:00am to reach Inti Punku or The Sun Gate. At that point, the majestic Machu Picchu Citadel is in front of us with its intense beauty – an incredible sight for all to see.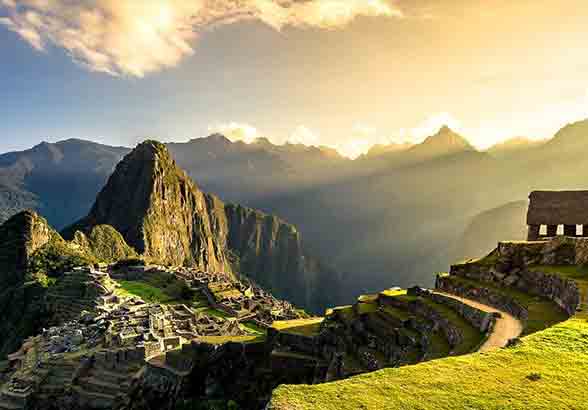 The reality of what the Inca people must have encountered on their taxing journey to this expansive temple of Machu Picchu. At this point, we walk downhill towards the Machu Picchu Citadel. (2400m/7872 ft.) After walking 40 minutes, we enter the citadel from the top through the "House of the Guardians". From there we proceed to the control point where we register and leave our belongings. Your professional guide will direct you throughout the astounding ruins and its main streets. You can wander around the town squares as well as climb the intricately carved stairways made from stone. Machu Picchu is considered as the world's spiritual center by esoteric wisdom. Once the guided tour is over, you will have free time to explore the site on your own.
You will also have time to indulge in a few of the following activities on your own if you choose (not included in the price). Other optional activities in Aguas Calientes include a visit to the new local museum or bathe in the hot springs.
Overnight in Aguas Calientes: You will descend to Aguas Calientes by bus (included) and you going to have a resting night in this small and beautiful village
Meals: Breakfast
Distance: 6kms/3.7mls
Difficulty: Easy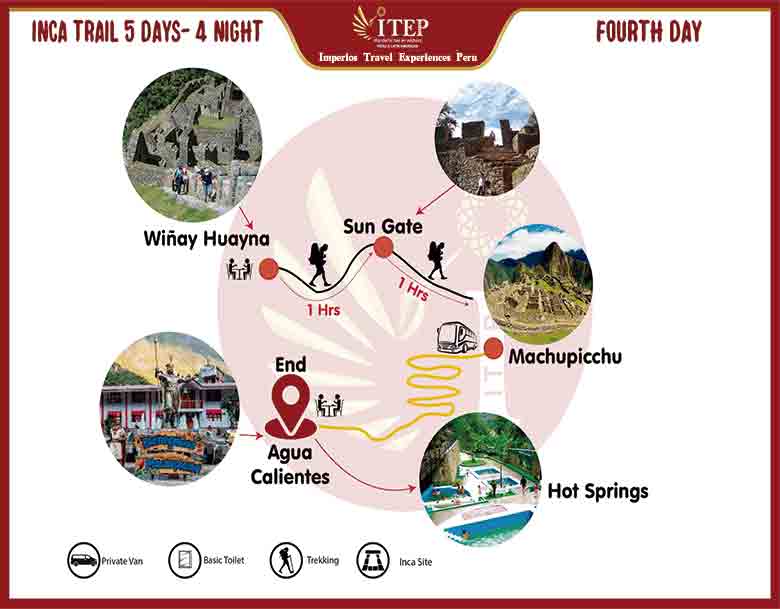 DAY 5: Machupicchu Second entrance with Machupicchu Sacred mountain or Huaynapicchu Sacred Mountain.
Note:
1.- "Machupicchu Sacred Mountain is different than the Machupicchu Inca City".
2.-Huaynapicchu Mountain is in front of Machupicchu Sacred Mountain, Machupicchu Inca City is in the middle of the two mountains "Spaces are limited in both mountains and for Machupicchu inca city".
3.- Machupicchu Sacred Mountain is higher than Huaynapicchu Mountain.
4.-The climb for these mountains are without tour guides, it means by yourself "the trek duration in each mountain "one way" is 1 hour to 1:30 hours.
5.- The trail is full of signs and park rangers and this day is an exclusive personal day for you".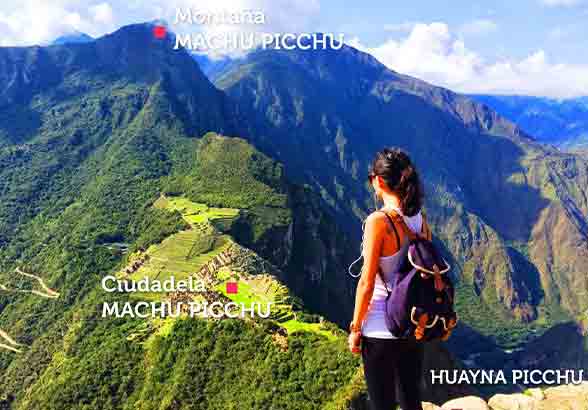 Waking up early (05:00am) we'll take one of the first buses back up to Machu Picchu to enter the site as soon as it opens (06:00am).After it, you'll have free time to explore the site by yourself and with your permits, you going to have the opportunity to climb either Huayna Picchu mountain(2 hours round trip) or Machu Picchu mountain (3 hours round trip). Other optional activities in Aguas Calientes include a visit to the new local museum or bathe in the hot springs.
Back to Cusco: You will descend to Aguas Calientes by bus (included) and later board the Expedition train "train schedule will vary according availability" Train is to the Ollantaytambo Train Station where you will meet our private van and be transferred to your hotel in Cusco.
Meals: Breakfast at your hotel
Distance: 8.9kms/5.5mls "By Bus in 25 minutes"
Difficulty: Easy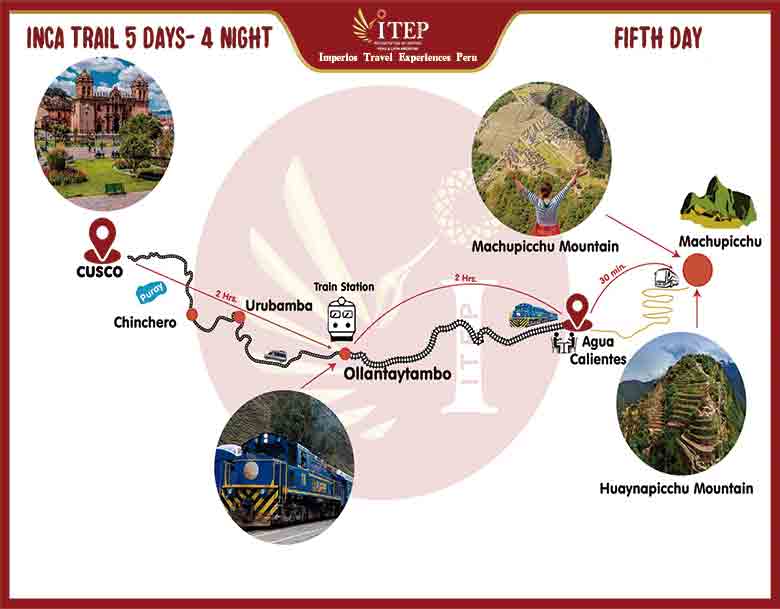 *** We only take ITEP EcoTravel clients in our vans / cars – We do not use public transport.
About Machupicchu Hotels:
Please note: Hotels may change (be different according your request) depending on booking time and availability; Campsite for Inca Trail 5d4n also is possible, we just need to follow Machupicchu government conditions or on restrictions undertaken for safety reasons by the Peruvian Government.
INCLUDES
Transfers
Transportation from Cusco to Km 82/Piscacucho (where we start walking).
Professional bilingual tour guide (English/Spanish).
Guided visit to Machu Picchu and the ruins along the trail.
Entrance Fee to Inca Trail and Machu Picchu.
2nd entrance fee to Machupicchu and Machupicchu or Huaynapicchu Mountain.
Bus tickets to Machupicchu Inca City and to Machupicchu town.
4 breakfasts, 4 lunches, 4 dinners and various snacks to be eaten throughout the day.
Professional Cook: all our fresh vegetables are washed in iodine water prior serving and we provide only boiled, filtered or iodized water for drinking. Vegetarian food on request at no extra cost! All dietary requirements from vegans, lacto-allergies and general dislikes can be catered so long as prior warning is given when booking the trip.
Porters service (to carry the tents and cooking equipment only).
Drinking water along the Inka trail.
Dining tent with tables and chairs.
First Aid equipment.
1 Oxygen Tank.
1 night in a basic hotel in Aguas Calientes.
One way bus ticket from Machu Picchu to Aguas Calientes.
Expedition train ticket from Aguas Calientes to Ollantaytambo.
Transfer from Ollantaytambo train station to your Hotel in Cusco.

NOT INCLUDES
1st Breakfast, Last Lunch
Extra Porters or Horses for carry persona staff (Optional US$ 80.00 per 4 days)
Other not mentioned

RESERVATIONS

For availability of spaces for this service, please contact us info@imperiostravel.com and we`ll send you detailed information, prices, terms and conditions.
Please keep in mind that significant price reductions are available for groups. All our tours are fully guaranteed, departure every day. Contact us for more information for the tour that you are choosing, or to begin customizing your own itinerary. recommendations:
"Imperios Travel is a tour operator travel agency in Peru and the city of Cusco, We really know what we do and offer, We are well managed, with several offices in Peru and a long list of travel destinations , offering all travel alternatives in Perú, from family trips, honeymoon trips and luxury travel, including adventure tours and exploring trips to the jungle, for almost any budget"
NOTE: imperios Travel, specializes in organizing the ideal travel plan to Peru, with hotels and destinations that you choose, because we have all confidential and promotional rates. For guidance on how to organize your custom package. Please write us.
Related Tours
The Inca Trail 2 days has always been a marvel, part of a network of 30.000 km. Enjoy extraordinary landscapes, diverse ecological floors

After your Inca Trail trek you can get a great view of the Machu Picchu inca citadel, you can also climb Huayna Picchu mountain or Machu Picchu sacred mountain

classic Inca Trail to Machu Picchu 4 days, the most important and most popular hiking trail in South America ¡Book Now!