TOUR MACHU PICCHU TOURISTIC TRAIN
MACHU PICCHU 2D1N BY TRAIN PERURAIL / INCA RAIL
Our Machu Picchu tour in 2 days ; Machupicchu one of the Seven Wonders of the ,our group is arriving very early to enjoy Machu Picchu without many people and see the sunrise.
An unforgettable trip will take you to visit the lost Machupicchu city of the Incas. You can enjoy your trip to Machu Picchu as you imagine, we provide you with all that you need to visit Machu Picchu in two days and enjoy a night of lodging in the town of Aguas Calientes.
Highlights
In this tour, we will visit one of the wonders of the Modern World.
This tour adapts to your travel itinerary and your needs.
Enjoy the changing of the landscape of the Andes towards the Amazon while traveling in one of our panoramic train to Machupicchu.
Explore the small town of Aguas Calientes which is in the middle of the amazon mountains.
Guided tour in Machu Picchu
Touristic train Experience

Adult

Student

(18 a 24)

Child (13 a 17)

Opcional: Upgrade:

Extranjero

Usd 320

Usd 300

Usd 300

Panoramic Train:

Vistadome USD 50

Lunch Santuary Lodge: Usd 35.00

Huaynapicchu Mountain or Machupicchu Mountain: USD 75

Perú /Colombia/Ecuador/Bolivía

Usd 300

Usd 280

Usd 280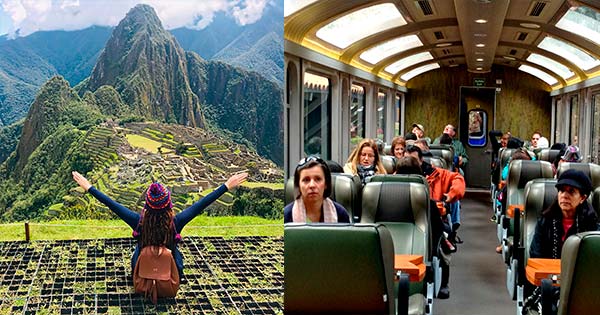 DAY 01: CUSCO - OLLANTAYTAMBO - AGUAS CALIENTES
We pick up from the hotel at 10:00 am then we transfer you for 1.45 hour to Ollantaytambo train station from where you will take a train at 12:55 the go by train for 1:30 hours to Aguas calientes then you go to the hotel, at the hotel you meet the guide around 7:00 pm to get the details about the next day in Machu Picchu.
Cusco: 3,350 m (10,990 pies).
Ollantaytambo: 2,790 m (9,153 pies).
Aguas Calientes: 2,020 m (6,627 pies).
DAY 02: MACHU PICCHU - AGUAS - CALIENTES - CUSCO
You wake up around 4:30 am to have breakfast then you go to the bus station and the bus leaves at 5:30 am to Machu Picchu which takes around 25 minutes then you go into Machu Picchu at 6:00 to visit with the guide for around 3.5 hours then you go out of Machu Picchu to take bus back to Aguas Calientes and from Aguas Calientes to take train at 14:55 back to Ollantaytambo then from Ollantaytambo bus to Cusco for 1.45 minutes and you will back in Cusco around 7:00 pm
Optional climb the Huayna Picchu Mountain: Spaces are Limited
HuaynaPicchu is one of the mountain peaks that surround Machu Picchu. It is probably the most famous as it towers over Machu Picchu in the background in many photos. The ascent takes place on a narrow and extremely steep path and takes around 45 – 60 minutes, depending on the pace. Once at the summit, a fantastic view of the whole of Machu Picchu and the surrounding mountains awaits.
Since the path is very narrow and exposed in some places, we recommend this hike for experienced and sure-footed hikers. We highly recommend sturdy shoes.
Due to the duration of the hike, the maximum time limit of 4 hours for visiting Machu Picchu.

Machu Picchu: 2,430 m (7,972 pies).
* Huayna Picchu: 2,720 m (8,923 pies).
MACHU PICCHU BY TRAIN 2D1N
INCLUSIONS:
Briefing one day before the trip to Machu Picchu (6:00 - 7:00 PM Office in Cusco or at your hotel or by phone)
Cusco Tourist Transport - Ollantaytambo Train Station.
Tourist Train Ollantaytambo - Aguas Calientes.
1 hotel night in Aguas Calientes.
Informative talk with your guide in the hotel lobby.
Breakfast offered by our Hotel.
Bus up from Aguas Calientes to Machu Picchu.
Entrance ticket to Machu Picchu.
Guided tour in Machu Picchu for 02 hours.
Free time.
Bus down from Machu Picchu to Aguas Calientes.
*Visit to the Museum of Machu Picchu (Optional).
Lunch or dinner after your visit to Machu Picchu.
Tourist Train return Aguas Calientes - Ollantaytambo.
Tourist Transport Ollantaytambo - Cusco (downtown)
100% Guaranteed travel organization, train reservation and tickets to Machu Picchu.
MACHU PICCHU BY TRAIN 2D1N NOT INCLUDED:
Food before visiting Machu Picchu.
Water or alcoholic beverages.
What you Should know:
We are a serious travel company and we know that you need a package that includes most of the extra services, that is why we recommend that you do not get carried away by other companies or travel agencies that do not include what we we offer in our service.
It is good to know what you are hiring and not have problems during your trip, the rest does not meet even 40% of what we are offering on our website.
We are the only travel company in the city of Cusco that has a good reputation on the Internet. Do not be hypnotized by low prices, since the only thing you would be hiring is to get many problems due to lack of planning and organization of your trip to Machu Picchu.
We will be pleased to meet all your travel expectations to the Inca city of Machu Picchu.
What should you bring to the MACHU PICCHU
Original passport, with an expiration date of no less than 7 months. *Very important, we will ask you for a copy with the entry stamp to the Country, in order to start the tour.
Also valid identity document for entering Peru (only tourists from South America). Important: You must receive the Andean Migration Card (TAM), it will be offered by Immigration when you enter Peru. *Very important, we will ask you for a copy with the entry stamp to the Country, in order to start the tour.
Warm clothes for Cusco: Layers of variable temperatures, especially at night. Such as: Thermal, gloves, scarves, socks and a wool cap for cold nights.
Light and fresh clothing for Machu Picchu: windproof jacket, fleece, t-shirts for the tour (polyester, nylon).
Hat, cap and sunglasses.
Camera and spare batteries.
Personal medical kit.
Insect repellent.
Pills for altitude sickness "Soroche Pills".
Trekking shoes or waterproof boots for greater comfort, if they are sneakers with rubber or thick soles, it is an excellent option.
Rain gear: A good raincoat, rain pants (Only for rainy season).
Extra money for drinks and tips, souvenirs, etc (soles or dollars).
Swimwear for the hot springs (optional).
Above all positive attitude and good humor.
Documents to travel to Peru and visit Machu Picchu
Valid passport: At least 7 months remaining validity, for citizens of Mexico, United States, Canada, Central America, European Union, Russia and Asia.
Identity Document or ID: Citizens such as Argentina, Bolivia, Brazil, Colombia, Ecuador, Chile, Paraguay and Uruguay do not need a passport to enter Peru, thanks to the agreements between these nations.