RAINBOW MOUNTAIN VINICUNCA CUSCO
Full Day
In the Rainbow Mountain Vinicunca in Cusco 1 day Hike, you will hike through a vibrant green valley with the Magnificent views of Ausangate snow-capped Mountains, seeing the local fauna such as Llamas, Alpacas and Ausangate Glacier towering in the distance, on the final part, you will hike through the gorgeous red valley, where you feel as though you are out of this planet .
The trek offers a selection of wildlife including condors, vicuñas, wild cats and pumas. The colorful sandstone mountains in the Vinicunca area are probably the coolest thing you'll ever see in Peru.
Why you should hike Rainbow Mountain with us?
We skip the crowds!— Everybody else goes to Rainbow Mountain at the same time. That means they're all up at the top at the same time. There is only one spot to take the classical picture of the Rainbow Mountain(Vinicunca) and it wouldn't be pleased with a huge crowd of people. Since we leave from Cusco at 03:00 am. You will get the Rainbow Mountain before the crowd.
Our guide always bring oxygen tanks which is important as you get over 5040 meters/16,500 feet above sea level! Not all travel agencies offer this, so this is definitely something to look out for when choosing the best Rainbow Mountain tour operator.
We also visit to the Red Valley.
Small groups(a máximum 15 people).
You will take your time and you will enjoy the hike without pressuse.
Friendly, attentive, tour guides with fluent English and ample knowledge on all things concerning Rainbow Mountain(vinicunca) Peru.
Vinicuna Rainbow Mountain

Adult

Student

(18 a 24)

Child(13 a 17)

Optional: Upgrade:

Foreign

Usd 50

Usd 45

Usd 45

Private experience on request

Perú /Colombia /Ecuador/Bolivía

Usd 50

Usd 45

Usd 45
ITINERARY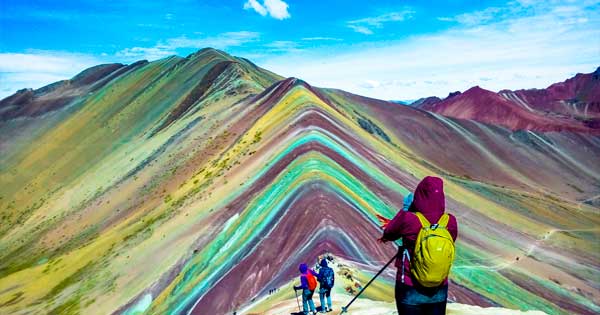 Pick up from your hotel around 03:00 am. We proceed to drive nearly 3 hours in a private van to the trailhead where we will provide you box breakfast upon arrival to fuel up for the trek ahead of you.
After enjoying our breakfast we start hiking. We are going to hike around 2 hours roughly until the top of the RAINBOW MOUNTAIN, we will have time to explore the area and take pictures. you will spend approximately 30 minutes to 1 hour (depend on your trekking speed and weather conditions).
After enjoying the Rainbow Mountains for about one hour, we go to Option to visit the RED VALLEY which takes another 30 minutes. Then we get back to the trailhead (1 hour roughly), where we catch our van, then we drive for one hour more to our Lunch spot Cusipata(3,250m/11,000feet) where you will be given delicious food by our professional chef and get back to Cusco arriving at your hotel around 05:00 pm roughly.
Included
English-speaking guide, plus an assistant guide for a big group.
First aid kit, including oxygen.
Breakfast and lunch prepared by our chef.
Snacks for the trek.
Private transportation to and from your hotel in Cusco.
Banquet.
Entrance fees to Rainbow Mountain.
pick up and drop off from the hotel.
Pre-Trek briefing the night before the trek to go over the itinerary, meet your guide(s) and answer any questions.
Not Included
Personal trekking gear including, backpacks, trekking poles, and Trekking shoes. However, they may be rented from the company.
Gratitudes for guides.
Personal riding horse. Additional horses may be rented according to the needs of the individual and group.
WHAT TO BRING FOR RAINBOW MOUNTAIN PERU TOUR
1 Liter and half of the water (per person- at least!).
Personal snacks (optional).
Water-resistant trekking shoes.
Warm clothing (thermal underwear, fleece, hat, gloves, and socks).
Waterproof clothing (poncho).
Synthetic or cotton clothing (socks, trousers, shorts, t-shirts).
Sunhat and sunglasses.
Sun cream.
Water bottles such as Nalgene.
Basic medications.
Walking sticks.
Personal items.
ADDITIONAL INFO FOR RAINBOW MOUNTAIN DAY TRIP
It is not recommended for people who have heart problem or other serious medical condition
Operates in all weather conditions, please dress appropriately
Minimum age is 08 years old.
Not recommended for people over 60 years of age.
It is not recommended for pregnant travelers
Travelers should have a moderate physical fitness level
Not wheelchair accessible
THINGS TO KNOW
Higher elevation also means colder, nearly freezing temperatures, so be prepared. Whether you decide to take a one-day tour, make sure to wear very warm clothes. Also bring coca leaves to fight off altitude sickness and carry the minimum gear possible to ease the hike.
Try to go all the way to the viewpoint. You get a 360° view not just a rainbow Mountain, but of the nearby glacier and a gorgeous valley in the other direction. We think most people didn't realize what they were missing by not going all the way up.
The best time to visit the Rainbow Mountain is going to be in the morning or evening hours, either right after sunrise, or right before sunset.
The hike to the top is no joke. Constantly changing weather conditions, combined with high altitude, can be a challenge for experienced hikers. But if done right it's manageable even for those who don't hike much.
Don't go to the Rainbow Mountain in the afternoon in the rainy season because of lighting. Since the high concentration of mineral. There is a high chance to get stricken by lighting.
When you go to the Plaza de Armas in Cusco, you'll find tons of agencies that offer this same tour "cheap" but remember: you get what you pay for. In many cases, some agencies may charge much less but will send you on a tour where the groups are 25, 35 more tourists and one guide. We offer our exclusive service tour where the minimum is 2 and the maximum is 8 people per group.
Dont forget Passport stamp on Rainbow mountain. It cost 2 soles.
OUR RECOMMENDATIONS
Make sure you are acclimatized to Cusco's altitude before you set off on your hike to the Rainbow Mountain. This is by far the best insurance for a smooth and enjoyable trip. We recommend you spend at least 2 days in Cusco prior to the excursion.
Don't forget wáter!. Drinking lots of water will help with the altitude. We advise bringing at least 2 liters per person on the hike with you and have an extra bottle to leave in the van for when you get back.
Go to sleep early and try to avoid drinking or partying the night before, because We will pick you up at 03:00 am and the physically challenging trek will be much more bearable without a hangover.
If you have altitude sickness symptoms, descend as quickly as you can. It's nothing to mess around with.
If you are going to Machu Picchu the day before your trip to the Rainbow Mountain, tell your travel company to book your return train ticket early.